Giorgi Vashadze, the leader of 'Strategy Builder,' presented the political platform 'Third Force.'
During the presentation, he introduced to the public the politicians who have joined his party. Among them are: Former Chairman of the United National Movement, MP Grigol Vashadze; One of the leaders of the 'Republican Party,' MP Khatuna Samnidze; Tamar Kekenadze, chairwoman of the Free Democrats; Rezo Kemularia, Member of the Supreme Council of the Republic of Georgia; Vakhtang Iashvili, Representative of the Human Rights Center; Doctor of Socio-Political Sciences, Professor of Public Administration Otar Baghaturia; and Paata Chikovani, Doctor of History.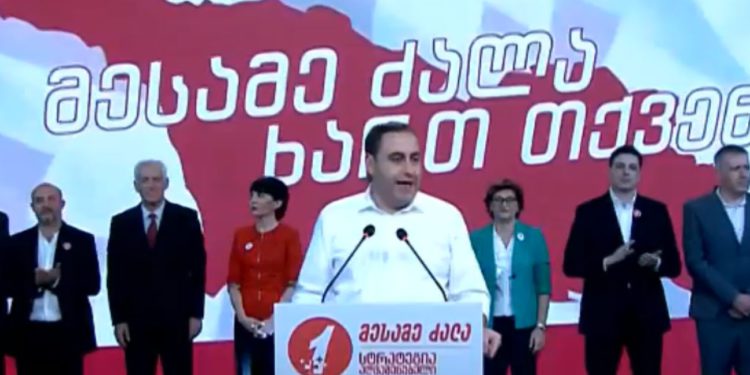 Vashadze said in his statement that Georgia faces an economic crisis, unemployment, low income, regularly inflating prices, and the COVID pandemic. He noted that for this reason, they decided to form the 'Third Force' platform, which will incorporate different professionals from various fields who will focus on people's needs.
"Together with the Strategy Builder team, we decided to establish a platform 'Third Force,' which will unite political, public and various types of professionals, who will focus on people's needs on a daily basis," Giorgi Vashadze said.
Former Chairman of the UNM, Grigol Vashadze, who has also joined the Third Force, made the following announcement during the presentation:
"One political team is stuck in the past, the other political teams cannot learn from the mistakes of the past! If we continue this, we will lose the state, and history will not give us more chances!"
By Ana Dumbadze
Related Story: Former UNM Chairman Vashadze Joins Third Force Team