Trade, investment and tourism have increased significantly, both in the Georgia-Germany relationship and for Georgia overall
German Ambassador to Georgia Hubert Knirsch has been in Georgia since September 2018. We last spoke to him in a GEORGIA TODAY GOES LIVE interview about the pandemic and recovery prospects. This time, we decided to focus on more positive news- the partnership between Germany and Georgia, the joint projects carried out this year and ongoing, and the Ambassador's outlook for 2022.
What has German-Georgian cooperation consisted of in 2021? What would you say are the greatest achievements?
I am happy that there was new progress in 2021, in spite of the continuing effect of the pandemic. Trade, investment and tourism have increased significantly, both in the Georgia – Germany relationship and for Georgia overall. I look forward to seeing the complete figures. Between the governments, we held negotiations just recently here in Tbilisi and laid down our plans for the next two years of cooperation, with substantial new commitments on financial and technical cooperation. One element there is the declaration of intent for the first hydrogen energy project in Georgia. We also emphasized our encouragement for the European path of Georgia, for further reforms, especially in the judiciary.
Among embassy activities, let me mention our conference series on the Future of Democracy that we organized together with GYLA and the Council of Europe office, and also the literary award "Idea of Unity" for which the Georgian Literature Initiative was a wonderful partner. And a very special moment was the ceremony to welcome the Georgian military contingent back from Afghanistan, the soldiers who had worked so closely together with their German comrades.
There was some disappointment surrounding the alleged working and pay conditions of a few temporary Georgian workers in Germany. Is this a work scheme Germany is willing to continue with Georgia?
This was a new programme, something that had not been tried before, and not easy in terms of the paperwork involved. There were difficulties in a number of cases, some are before the German courts. We will evaluate this – without rushing to a negative conclusion, however, because the majority of Georgian workers took part in the programme with good benefit.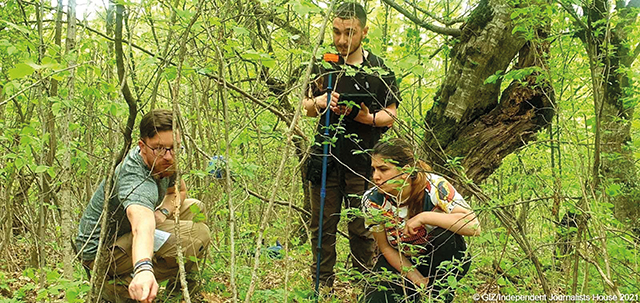 This month you signed an agreement on financial cooperation for an additional grant of 5.2 million Euros from Germany to Georgia for the project: "Biodiversity and Sustainable Local Development – Georgia." Please tell us more about it.
The agreement is another step in our cooperation to strengthen the national parks and other protected areas, to support the ranger service in its important work. Over the last two years, we have invested more than 20 million Euros in grants in this sector. The government now plans to create five new protected areas. We want to show and to monitor Georgia's richness in plant and animal species and develop cooperation between the parks and local people. In the recent negotiations, we also committed 40 million Euros to the Caucasus Nature Fund for its further work.
How do you see Georgia as we head into 2022? What should its priorities be for its economic recovery post-Covid? Can any lessons be learned from Germany in this case?
The Georgian economy shows an Impressive Rebound. I Hope Its effects will filter through to all the people, the families, the regions that suffer in the social crisis that Covid has caused. Some sectors, such as agriculture, mining and also construction, have done pretty well overall. The banks and also public finances were solid enough to bolster the economy. One weakness is that so much depends on tourism – a large proportion of jobs and of incomes. It would be good to strengthen the manufacturing sector and to make full use of the growth potential of agriculture. This is easier said than done, but one obvious thing to do is to develop high-quality vocational education. Germany is lucky with its strong export-oriented industries – they were the ones that led the recovery, as they have done many times before.
Exclusive Interview by Katie Ruth Davies