On July 13, at Freedom Square in Tallinn, Georgian citizens living in Estonia held a silent rally "No to Violence" to protest the July 5th developments in Tbilisi and the attack on media representatives. The protesters expressed concern over the death of TV Pirveli cameraman Lekso Lashkarava and expressed solidarity with the Georgian media.
The organizer of the rally, Vakho Kachukhashvili, says the situation in Georgia has shown that freedom of speech and expression are threatened in the country.
"Beating of media representatives in unacceptable! The Georgian society in Tallinn completely distances itself from all forms of violence and supports the move towards democracy in our country. We also want to express our condolences to the family of the deceased cameraman of TV Pirveli," he said.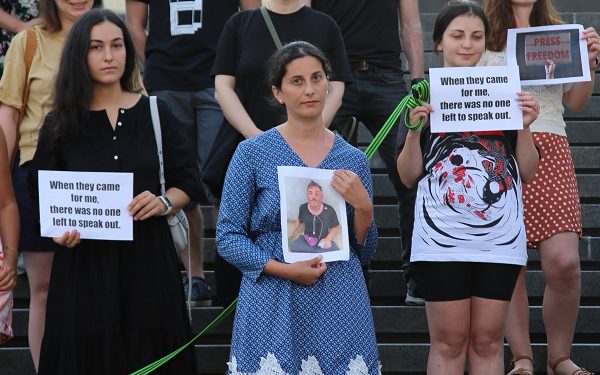 One of the protesters, Giga Sesitashvili, says the aim of the rally was to protest the violation of fundamental human rights in Georgia.
"The youth living in Tallinn supports all people in Georgia who want to live in a peaceful and secure country and fight for integration with Western values ​​and the European Union," he said.
Georgian journalists living in Estonia were also among the protesters. PS.news.ge correspondent Lika Devdariani stressed that protesters condemn the violent events in Georgia, as a result of which Lekso Lashkarava, the cameraman of TV Pirveli, died.
"This is a dreadful fact for us all, especially for beginner journalists. We are horrified and also frightened because we want to feel safe in our country when performing our work duties.
"We urge the authorities to investigate this crime and punish all perpetrators in accordance with the law," she said.
On July 5, homophobic and violent groups physically attacked 53 representatives of the media in the city centre to disrupt a march planned under Tbilisi Pride Week. Among the attacked was the cameraman of TV Pirveli Lekso Lashkarava, who died on July 11. The exact cause of death is not yet known.
The Ministry of Internal Affairs of Georgia stated that as part of the investigation into the violence against media representatives on July 5, a total of 20 people have been arrested, including 5 for physical and verbal abuse of the TV Pirveli crew.
By Tea Mariamidze