The 'Safe Learning Environment' contest for schools drew participants from more than 40 public schools across 10 Georgian municipalities. The contest's goals included climate-proofing schools and educating students and communities about climate-induced disasters. Organized by the United Nations Development Program (UNDP) in partnership with Georgia's Ministry of Environmental Protection and Agriculture (MEPA), the contest covered the Abasha, Akhmeta, Gori, Khobi, Kobuleti, Lagodekhi, Samtredia, Senaki, Sighnaghi and Telavi municipalities.
The top five projects received small but essential funding from UNDP and MEPA that will be used to implement the following activities:
1. A public school in the Heretiskari village in the Lagodekhi municipality will establish a weather lab that will provide practical meteorological training to students and regular weather forecasts to the community;
2. A school in the Khala village in the Kobuleti municipality will plant windbreaks and reinforce riverbank stability to increase the climate resilience of its premises;
3. A public school in Telavi will install a winter belt on its roof and engage school children in climate blogging and a photo contest;
4. A school in the Atskuri village of the Akhmeta municipality will make drainage canals to protect its premises from flooding; and
5. A public school in Gori will plant trees and organize a conference on climate change.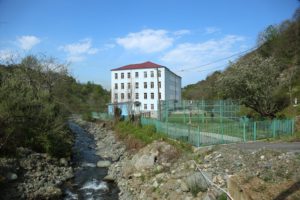 "Climate education starts in schools where young people learn to understand the causes and consequences of climate change and take actions to adopt more sustainable lifestyles," said Deputy Minister of Environmental Protection and Agriculture, Nino Tandilashvili. "The Georgian government places great priority on climate education as part of the national effort to adapt to climate change and reduce its negative impacts on people and the economy."
"Georgia is experiencing climate change first-hand, but people tend to assume that someone else is responsible for protecting them from climate-induced disasters," said UNDP Resident Representative a.i. Anna Chernyshova. "Our support helps youth and communities to take climate action and contribute to building a climate-proof society."
In Georgia, climate change is increasingly recognized as a direct and immediate threat to people's lives and livelihoods. According to recent research commissioned by UNDP and the European Union, Georgians see climate change as one of the top three challenges that humanity faces (along with poverty and infectious diseases). Almost 94% of the population recognize that climate change is affecting Georgia, not just other countries. Nevertheless, the same research shows that only a small percentage of the public translates this impressive awareness into climate-friendly behavior or actions.
As a strong supporter of Georgia's national climate action, UNDP is assisting the country to adopt climate-friendly policies, introducing sustainable practices and protecting people from climate-induced disasters.
UNDP assistance comes from the $74 million program implemented by UNDP and MEPA, with funding from the Green Climate Fund, the Government of Georgia and the Swedish and Swiss development agencies. This seven-year program will reduce the risk of floods and other climate-driven disasters in all 11 of Georgia's major river basins, provide direct protection to more than 1.7 million people and will assist the country in building a climate-proof future.