On April 20, Georgian Prime Minister Irakli Garibashvili hosted a face-to-face meeting with the President of the European Council, Charles Michel, as part of the latter's visit to Georgia.
During the meeting at the Government Administration, Garibashvili once again thanked Michel for his effort and unprecedented solidarity in the process of mediation.
The PM noted that the successful finalization of political negotiations marks Georgia's victory. PM Garibashvili also singled out the efforts of international partners, notably President Michel's special envoy, and the EU and US Ambassadors, and underlined the need to unite, so that all efforts may be channeled toward solving the challenges facing Georgia. 
Charles Michel thanked the Prime Minister for his vision and reiterated the importance of the recent political agreement for Georgia's democratic development and European and Euro-Atlantic integration.
During the meeting, the parties also discussed the key directions of the cooperation agenda between Georgia and the EU, close partnership across a variety of directions, and plans for the future.
The conversation also revolved around regional developments and security challenges, once again emphasizing the dire humanitarian situation in Georgia's occupied territories and the insurmountable problems caused by occupation for the local populations. The President of the European Council reaffirmed the EU's firm support for the Georgian Government's peace policy and the country's territorial integrity and sovereignty.
Strong commitments have been assumed under this agreement, and I am convinced that all sides will fulfill their share of it, President of the European Council Charles Michel replied to a journalist's question during a joint press conference following his meeting with Georgian Prime Minister Irakli Garibashvili.
Charles Michel said he is convinced that the assumed obligations will be fulfilled.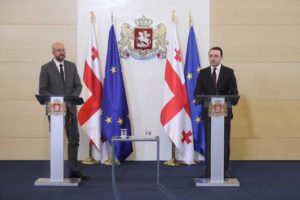 "I am confident that the assumed obligations will be fulfilled. It is a matter of trust, but I have no doubt, because I have discussed this issue with various political leaders over the past several hours and weeks, and I have an impression that there is goodwill and a strong commitment to taking the right steps and taking steps in the right direction pass through fulfilling this agreement," Charles Michel stated.