On Wednesday, Irakli Garibashvili, Prime Minister of Georgia, was again welcomed to the Republic of Armenia at the Residence of the Government of the Republic of Armenia.
The Head of Government of Georgia was hosted by Nikol Pashinyan, incumbent Prime Minister of Armenia.
The meeting in a face-to-face format focused on the relations between the two countries. Talks focused on issues on the agenda, such as transport communications, and energy and road infrastructure.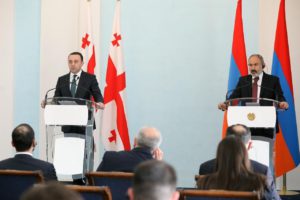 Cooperation between Georgia and Armenia in the fields of trade, economy, transport, logistics and culture was also mentioned at the meeting.
"We had the opportunity to continue the constructive dialogue started with the Government of Georgia with Mr. Garibashvili. We touched upon the current situation and development prospects of cooperation in transport, energy, economy and other important spheres," Pashinyan said at a joint briefing after the meeting.
He noted that the development of special good neighborly relations with Georgia occupies a key place in Armenia's foreign policy.
"We decided to focus even more on trade and economic ties in our relationship. We especially emphasized the need for more efficient use of regional transport and communication roads and the development of transit potential. We also highlighted the development of technology. As always, we discussed the development of relations in the fields of education, science, culture. We shared our views on the direction of combating the epidemic in our country. We touched on regional security issues. We have no doubt that the Armenian-Georgian partnership is one of the most important guarantees of stability in our region," Pashinyan concluded.
"The stability and democratic development of Armenia is extremely important for our country and the whole region," PM Garibashvili stated, highlighting that Georgia has always been a supporter of peaceful cooperation and coexistence in the South Caucasus and this course "will continue in the future."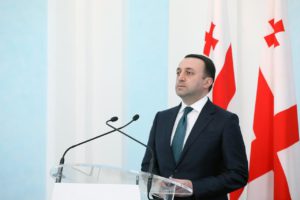 "I am glad to have another visit to the Republic of Armenia. Our countries are connected by centuries-old historical-friendly relations. I am confident that future cooperation will continue in this spirit.
"Georgia and Armenia are distinguished by great history, original culture and interesting traditions. It is on these values ​​that the future of our countries must be built, strengthened by strong state institutions, democracy, open and transparent governance, economic progress and innovation. We agree that all this can be achieved only in conditions of peace and regional stability.
"The Covid-19 pandemic, on the one hand, and the war in Karabakh, on the other, have posed significant difficulties for the entire region. We think that there is no alternative to peace, negotiations, dialogue.
"Georgia has always been a supporter of peaceful cooperation and coexistence in the South Caucasus and this course will continue in the future. We are ready to facilitate regional dialogue on issues such as economy, trade, culture, other humanitarian issues. The Georgian people have chosen the European and Euro-Atlantic path in order to strengthen stability, peace and democratic values," he stated.
By Ana Dumbadze
Photo Source: Government of Georgia