At the International water polo tournament – World League Super Final, which was held in Tbilisi, Georgian and US teams competed against each other in a match that ended in a 13-9 with victory for the US team.
The best players of the match were awarded by the President of Georgia Salome Zurabishvili and the Ambassador of the United States of America to Georgia Kelly Degnan.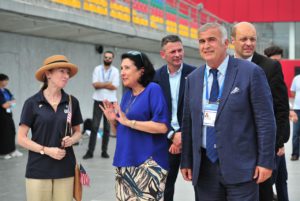 After the match, Soso Giorgadze, Deputy Minister of Culture, Sports and Youth Affairs, and Christopher Anderson, Cultural Attaché of the US Embassy, ​​presented each other with souvenirs.
By Ketevan Skhirtladze