Screenwriting remains a consistent problem for Georgian cinema. There is no institutional screenwriting school dedicated to the craft, and universities don't offer academic pathways for screenwriters, meaning local authors don't have the opportunity to receive the needed education and degree in screenwriting. There are many international platforms where it is possible to get involved in a script development program, however, places on these platforms are always limited, and most Georgian writers don't get a chance to participate, – Ana Chkonia, International Co-ordinator at Terra Incognita Films, tells GEORGIA TODAY.
"That was why we decided to create an annual screenwriting residency program at the House-Museum of the famous Georgian award-winning screenwriter and novelist Zaira Arsenishvili. In spite of the crazy conditions, pandemic, scarce budgets, and low support, we fought to make it happen this year and create a much-needed precedent, as the new educational project aims to develop scripts together with Georgian and foreign experts."
Organized by local production company Terra Incognita Films and supported by the Georgian National Film Center, Goethe Institute and US Embassy, the screenwriting residency program ran on October 10-17. It came as a joint effort of the Georgian National Film Center and Goethe Institute to inspire a new generation of filmmakers and as part of the US Embassy's effort to create well-paying jobs in Georgia, seeking to help the country become an international filmmaking hub through skill building for film production and post-production work.
The first Annual Screenwriting Residency of Georgia featured a week of intensive workshops for young screenwriters at the Zaira Arsenishvili House Museum in Telavi. The opening event was held at Winery Rtoni and was attended by US Ambassador Degnan, who met with the young Georgian screenwriters, international filmmakers, representatives of the Georgian National Film Center, and the family of late screenwriter and novelist Zaira Arsenishvili.
Out of 30 submitted projects, the following 6 projects were selected for this year's Telavi residency: Princess Maya, script by Margo Zubashvili; Tear Gas, script by Uta Beria; Under the Sky, script by Anastasia Chanturaia; Cut Out of Context, script by Gigi Janashia; Chaos of Silence, script by Nino Shaburishvili; and White Shadows, script by Nino Gogua.
Working sessions began on October 11. The sessions were held both physically and online. On the Tuesday, the participants were joined online by renowned American actor, screenwriter and director, Matt Dillon.
The project mentors included the American screenwriter and New York University Professor Kenneth Friedman, Albanian director and producer Blerim Gjoci, the founder of Carte Blanche Pictures Anne Marie Boidock, producer Dominique Welinski from France, who ran the Film Factory, part of the Cannes Film Festival, until 2019, and German producer Titus Kreyenberg, who has been working successfully on both German and international projects for years. He attended the residency physically, and throughout the week worked with each participant. American writer Doug Morris also attended the residency, offering a seminar about the "Art of Writing" and helping the participants individually.
"Selected tutors and experts of the residency will be able to monitor projects in the future and also help turn the script into a film project, give advice on operating in the industry, and make recommendations on various platforms or festivals," Chkonia tells us. "Given the international experience and reputation of our partners, the chosen scripts will continue their journey and will be prepped for scholarships to attend further labs and workshops, such as the Locarno Filmmakers Academy, Torino Film Lab Meeting Event, IFFR Pro's Rotterdam Lab, and many more. In addition, the permanence of the residence and the international status will strengthen and make relevant the screenwriting profession and will fill both the local and regional deficit in this direction."
Professor Kenneth A. Friedman told GEORGIA TODAY that it was a pleasure to work with the group of young Georgian filmmakers and screenwriters.
"As much as they may have learned from me, I learned as much or more about Georgia, it's culture, people and their stories. Ana Chkonia did a great job of preparing me and the students to maximize the experience. And thanks to the American Embassy, State Department, Christopher Anderson and Ryan Sherman for making this possible and so productive!" he said.
"I was disappointed that it was not possible to attend personally and meet everyone in a more social setting. Hopefully, that will be rectified next year, and I would very much like to attend and participate personally," Friedman noted.
"My focus in my classes at Tisch Graduate Film at NYU, and in seminars and events elsewhere, is to encourage writers to explore and expand story telling choices and not arbitrarily eliminate options. At this event, I was able to read the participants' scripts beforehand, so I could offer specific feedback and 'talk story.' We were also able to make time for one-on-one sessions, where the writers could pick my brain about their projects and writing processes.
"As a writer and filmmaker, I've had the pleasure to have my films being made across the US and in many nations in Europe and the Far East," Friedman says. "From what I could see, the Georgian filmmakers and writers have all the tools, creatively and technical potential to have their films distributed throughout the world."
We asked non-fiction and travel writer Douglas E. Morris about the masterclass he presented at the Annual Screenwriting Residency of Georgia.
"I titled my discussion 'The Art of Writing', and talked about the fundamentals of the creative process of putting words on paper, or as is now the case, fingers to keyboard," he tells us. "I chose this theme as I have been a professional writer for almost 25 years, and have had 14 books published, had a column in a magazine for over 10 years, and have had numerous freelance articles and editorials published. I'm not suggesting I know everything there is to know about writing, but based on my track record, I must have figured something out!"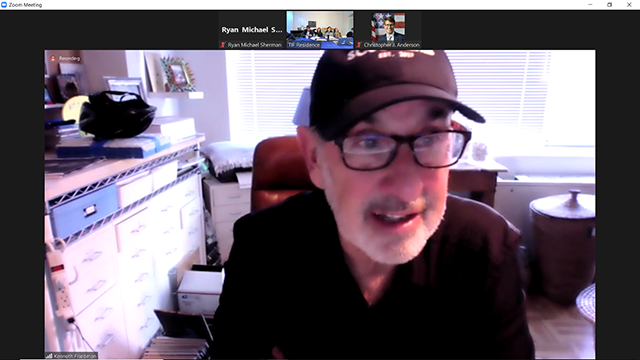 "As I knew two of the other mentors – Matt Dillon and Blerim Gjoci – and had read up on the others, I knew that the participants would be offering in-depth, meaningful, practical information specifically about the filmmaking process as well as screenwriting in particular. I have worked with Blerim Gjoci as a script doctor on a number of short films and a feature length film, and wrote a screen play in collaboration with Matt Dillon," Morris says.
"I decided to start at the beginning, and talk about how to write, how to get your ideas down on paper, how to develop the habit and discipline of writing, and how to excel at 'The Art of Writing.'"
"What I knew about the Georgian film industry came from my good friend Blerim Gjoci, who was chiming into the Residency digitally from LA. He had worked on a few films that had been shot in Georgia, and was effusive in his praise about the atmospheric locations here, and the history of the filmmaking industry harking back into the Soviet era," Morris says.
"But overall, I was not deeply informed about the Georgian filmmaking industry, though I was very impressed with the stories the participants were telling, how completely Georgian they were, but also how they were filled with universal truths. The stories were very compelling, and it is my fervent hope that these stories will be able to come to life on the screen."
We asked him how he felt the Residency had worked out.
"Personally, I felt my talk was well received and I felt that the participants got something out of it. As experienced writers and creatives, they knew some of what I was sharing, but mostly it seemed that there were things that they learned. I was also pleased with how each person shared something that worked for them. From each of them I learned something too. We are all students, and we are all teachers. We all have something to show others, and we all have something to learn from others. The moment we stop learning, the moment we stop being willing to learn, and think we already know everything we need to know, is the moment our creativity dries up and becomes stale. So I advised them all to keep on listening and learning and start to share what they know and teach others as well."
"The Goethe Institute has long-time experience in conducting workshops and seminars for Georgian cinematographs, inviting German experts to Georgia,' the Institute's representative told GEORGIA TODAY. "In this particular case, we supported the first edition of the script development residency held in Telavi in terms of bringing foreign experts to the event. We invited German expert Titus Kreyenberg, who conducted a workshop for the participants. Obviously, the Goethe Institute mainly supports the popularization of German culture, however, at the same time, we believe that the promotion of cultural relations between the two countries and local artists is very important, and we always support this direction between Germany and Georgia. That's why the Goethe Institute was one of the supporters of this cultural event."
"All films are founded on ideas. Ideas are the basis of each film, which need further development. I think scriptwriting is one of the weak points of Georgian cinematography nowadays," Gaga Chkheidze, Director of the National Film Center, tells GEORGIA TODAY. "There are various nuances in scriptwriting which need specific knowledge for writing and creating a good idea for a film, including the ability to write suitable dialogues between characters, etc. Not all directors will be able to know all these independently. To strengthen this important and very complex direction, the Georgian National Film Center supported the first edition of the script development residency held in Telavi. The location and its environment, the Zaira Arsenishvili House-Museum, further impressed the participants and provided creative and fruitful workshops for them. As part of this educational-cultural event, several foreign experts from various countries conducted exciting workshops for them and shared their experience in scriptwriting. We, the National Film Center, are very interested in supporting such events and have a special budget allocated for educational projects. We initially saw the potential in it and accordingly became one of the main supporters along with international and local organizations. We will continue to support such projects in the future for the development of Georgian cinematography."
The event was also supported by Telavi Municipality, Winery Rtoni, Badia, and Hotel Alazani Valley.
***
Non-fiction and travel writer Douglas E. Morris' insights and suggestions on "The Art of Writing":
• Writing is not magic … you cannot just snap your fingers and it happens.
Writing takes time and effort. We have this myth that we must wait for the flash of inspiration to hit us before we start writing. In reality it is the opposite. Start writing and the flash of inspiration will find you.
• Find a place to write without distractions
That modern day stereotype of the hip and cool writer, pounding away at his laptop while surrounded by the hustle and bustle of a café, slurping on his coffee, supposed creative juices flowing … should NOT be your model of success. In the vast majority of cases, this stereotype is not real. It is a myth. A façade.
The best writers hole up someplace isolated, alone, without distractions, without other people around, so that their imagination can burst free from their minds.
You do not need a lot of space. It could just be your room, and on your door handle you put a handmade "Do Not Disturb … Under Penalty of Death" sign (that got a laugh) so your family knows not to barge in on you and derail your train of thought.
In your writing space, at your writing time, you should do NOTHING but write. No surfing the net. No email to friends. No video chats. Just writing or thinking about writing, or just getting rid of all distractions so that the inspiration can find you.
So turn off your phone, better yet, leave it turned off and outside of your writing sanctuary; and only have your writing app open on your computer. Nothing else.
Also, try and get rid of as much distracting noise as possible. Use a fan to create a white noise blocking out sound. Or use one of those white noise machines. Or use ear buds or ear plugs. Or all of the above.
Do not let noise and other distractions stop you from writing.
This is not to say that you should not sit in a café and people watch. By all means, but only do it for research. When you are looking for the size and shape of a particular character, or to see how different couples interact, there is no better place to find that person than sitting on a park bench, or in a café.
• Find time to write everyday … In the same place … At the same time.
Even if you do not feel motivated, still write. Put words down. Create.
Rewrite tomorrow, but today let the words explode onto your keyboard. The next six or seven drafts are going to be work. So why not enjoy the first draft, in the hope that your joy will find others in the world who, reading your story, will catch fire, too?
• If you want to become a writer, you need to write.
I have heard so many people say … I want to be a basketball player, or filmmaker, or artist, or whatever … but then they do not spend the time honing their craft. They say they want something, but they do not put the time into making it happen.
To do that, to succeed at writing, take time out of every single day, in the same place, at the same time and write. Even if you do not feel the creative spark igniting your imagination, just sit there and think. Even if you are not writing a specific story, or screenplay, or project, put in the time each day and write. Be what you say you want to be … a writer.
• Keep a journal
I often get new ideas in conversation, from news stories, from travel, literally from everywhere. Ideas spring forth unbidden at any time. But I never fully understand and own those ideas until I write about them. Writing, at its best, clarifies our thoughts. And it leads to new thoughts. It expands us, when it's done right.
People have long kept diaries and journals, reflecting on their day. But few do so today. The daily journal or diary is a great avenue to enhanced self-knowledge and a great way to improve your writing. So is writing letters to friends and family. That is how I learned to write – I kept a journal for decades and wrote letters galore.
Before the age of the internet, long distance communication was done by writing letters to friends. So you had to learn how to paint pictures with words, to let your friends know what you were doing, what you were seeing, how you were feeling. Social media can be used for this purpose, though it seldom is. Very few people write lengthy, descriptive, letters on social media. It is all single sentences or sentence fragments filled with Emoji or GIFs. More like ancient Egyptian hieroglyphics than modern writing.
• Write quickly
When you are writing, if you cannot think of the exact word to describe something, just leave that space blank and move on. Do not stop the flow of your creativity just for one word. Come back to it later. Get your ideas down before they disappear. In quickness is truth. The faster you write, the more real your writing will be.
• Writing is an adventure … and hard work
To work creatively, an artist in any field must put effort into it, must work at it, while also enjoying it as an adventure, as fun. So learn not to be put off by the effort, because the reward of the creative process itself is worth it.
• Your Subconscious is Your Friend … now THIS is magical
If I am struggling with a particular scene, or a transition from one scene to another, or anything related to my writing, or business, or life, and the solution is simply not coming to me, I just let go … and sleep on it. And then the next morning, or in the middle of the night (so have your phone or a notebook ready by the side of your bed) the solution comes to me.
I have heard from many other creatives in all sorts of industries – from computer programmers, to musicians, to filmmakers – that sleeping on a problem and letting their subconscious mind work for them to find a solution is what they do. And it works.
So, consider putting your subconscious to work. Before you go to bed, tell yourself what it is you are seeking and the next morning you just might wake up with your solution.
By Katie Ruth Davies