Three Business Service Yards to be established in Mtskheta municipality serve as an alternative to illegal logging and offer people easy access to firewood used for heating and other daily needs. Once fully operational, they will supply around 43,000 people with wood biomass and sustainably harvested timber.
With US$920,000 in funding from Japan, the United Nations Development Programme (UNDP) assists the National Forestry Agency (NFA) of Georgia's Ministry of Environmental Protection and Agriculture to build, develop and improve Business Service Yards and ensure that they provide quality services to local communities. 
By the end of 2022, UNDP will help the NFA to build and equip a Business Service Yard in the village Jighaura and equip two more Business Services Yards in the villages Dzegvi and Qvemo Lisi with all-terrain vehicles and firefighting tools. UNDP will also train foresters in sustainable forest management, distribute energy-efficient stoves to the most vulnerable families and organize an information campaign to let people know why forest protection is so important.
The Japan and UNDP support is part of a broader effort to promote Georgia's ongoing forestry reform and help the country achieve its far-reaching climate goals.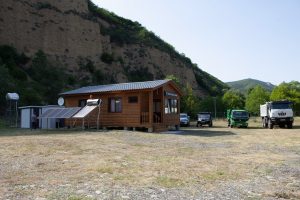 On 15 July, Ambassador of Japan to Georgia Imamura Akira, Deputy Minister of Environmental Protection and Agriculture Kakha Kakabadze, UNDP Deputy Resident Representative in Georgia Anna Chernyshova, Acting Head of the National Forestry Agency Davit Aladashvili and Mtskheta Municipality Mayor Dimitry Zurabishvili visited the newly opened Business Service Yard in the village Bodorna to see how this new model contributes to the progress of forestry reform.
"The Ministry of Environmental Protection and Agriculture already established forty-three Business Service Yards across Georgia.  This initiative is part of the ongoing forestry reform which aims to ensure sustainable development of the forestry sector and replace social logging with environment-friendly practices," Deputy Minister Kakabadze said.
"Georgians and Japanese share a deep cultural connection to forests. Japan made sustainable forest management a national priority and achieved impressive results in sustaining and conserving its woodlands. We are happy to share this experience with Georgia, help safeguard fragile forest ecosystems and assist people to explore green energy solutions for sustainable livelihoods," Ambassador Imamura said.
"75 percent of Georgia's population still rely on firewood for their heating needs. Unsustainable harvesting threatens forests and increases greenhouse gas emissions. UNDP welcomes the adoption of the new Forest Code which provides a clear vision of how to reduce illegal logging and manage forests sustainably. To support this national effort, we provide practical assistance to the National Forestry Agency and local communities and help introduce greener, healthier and more sustainable solutions in everyday life," Chernyshova said. 
Georgia's forests and forestry reform
Georgia's lush forests cover over 43 percent of the country's territory and provide millions of people with a source of livelihood, clean water, fresh air and disaster protection. Forests capture greenhouse gas emissions and counter harmful effects of climate change. Nevertheless, this priceless natural resource is threatened by excessive use, illegal logging and wildfires. Almost three-quarters of Georgia's population, especially people living in rural areas, still rely on firewood for heating and other needs. Unsustainable timber consumption reaches 2.4 million cubic meters a year, which costs Georgia around GEL446 million annually. Wildfires destroy and damage thousands of hectares of forest every year. 
The adoption of Georgia's new Forestry Code in 2020 marked the launch of forestry reform aimed at promoting sustainable forest management and reducing the risk of illegal logging and wildfires. 
In 2021, Georgia adopted the National Climate Change Strategy and updated its Nationally Determined Contributions to the Paris Agreement. According to this ambitious Climate Promise, by 2030, Georgia will unconditionally reduce greenhouse gas emissions to 35 percent below the 1990 baseline level and will increase forest carbon capture capacity by 10 percent from the 2015 levels.
UNDP closely works with the national institutions and international donors (the European Union, Sweden and Switzerland) to help Georgia achieve its climate goals. The new partnership with Japan contributes to this work and supports Georgia's transition to sustainable and climate-friendly forest management.