The state flag was lowered at the Government Administration to mark the falling of Sokhumi 28 years ago, and to honor the memory of those killed in the Abkhaz War. The state flags are lowered on all administrative buildings throughout Georgia.
Politicians and citizens plan to visit the Heroes' Memorial today to honor the memory of those who died for the unity of the country.
28 years have passed since the fall of Sokhumi, the capital city of the currently Russian-occupied region of Abkhazia.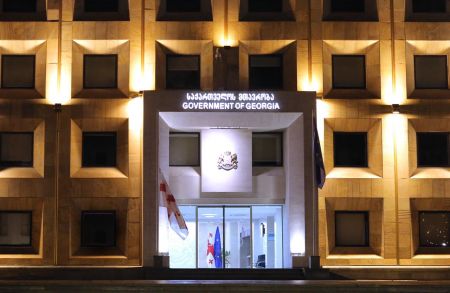 On the 14th of August 1992, a military confrontation started in Abkhazia. In September 1993, the Abkhazian armed group (separatist forces) created by the Head of Abkhazia's High Council Vladislav Ardzinba, violated the ceasefire agreement initiated by the United Nations and guaranteed by the Russian Federation, which barred both sides from carrying out military operations. As part of the ceasefire, Georgian forces had withdrawn their heavy artillery and tanks from Sokhumi.
Abkhaz, Confederation of Mountain Peoples of the Caucasus, Cossack and Russian militants stormed Sokhumi early in the morning. Confronted by large numbers of combatants, the Georgian army units that remained in the city were unable to prevent the separatist advance into the city. By noon, separatist militants and their allies had taken over television buildings and bridges. The Georgian forces retreated to the government building of the Abkhazian Autonomous Republic, where they intended to provide security for members of the Abkhazian Autonomous Republic Government. By late afternoon, the city was overrun by separatists and their allies.
Soon, the forces overran the whole territory of Abkhazia, except a small region of the Kodori Gorge (which remained under the control of the Georgian warlord Emzar Kvitsiani until July 2006 and later the Tbilisi government until August 2008). The total defeat of the Georgian government forces was followed by the ethnic cleansing of the Georgian population. 200,000 – 250,000 refugees (mainly Georgians) were forced out of Abkhazia.
The military confrontation in Abkhazia lasted 13 months and 13 days and ended on September 27, 1993, with the fall of Sokhumi and the defeat of the Georgian Armed Forces.
Throughout the war, Abkhaz forces were supported and represented by Russian air forces and soldiers. After the fall of Sokhumi, thousands of people fled the city by the sea, while the majority fled on foot through the Kodori Gorge in the mountains, where many died of cold and hunger.
The government of the self-proclaimed republic of Abkhazia celebrates the "Day of Victory over Georgia and the Independence of Abkhazia" on September 30 of each year.
By Ana Dumbadze