I don't think US support will be affected, but I would pay very close attention to what European leaders are saying, and I think Georgia needs to really step up its diplomacy with Brussels, Berlin and Paris, – former US Ambassador to Georgia and the OSCE, Ian Kelly, told RFE/RL, commenting on the possible impact of the critical situation in Ukraine on Georgia and its increasingly forlorn-looking Euro-Atlantic aspirations.
Foreign Minister Lavrov says they have no plans to invade Ukraine. Why don't we believe this?
We don't believe it because if they don't have plans to invade Ukraine, why are they setting up exactly the kind of force that they would need to invade Ukraine? What we're seeing now are the enabling assets like medical facilities, logistical units, all the kinds of things that you would need to support a large over-the-border force. If they really aren't going to invade Ukraine, why are they spending so much on resources? And there are still more forces moving in, there's a buildup going on. We can't know what their intentions are, but their statements in the past, to put it mildly, have not been entirely truthful. We have to look at what the capabilities are, and assume what their intentions are.
If not invasion, what?
Well, that's the big question. I think there's a large menu of options that Putin can choose from – this is not just a force at one point of the border: He has forces arrayed from the north east and the south; basically, the kind of force that can easily divide Ukraine in two. And then you have all these voices in Moscow who are hell-bent on regime change in Kyiv.
I hesitate to try and guess what's on Putin's mind, but if you look at everything that he's trying to deny, and the Ukrainian's with their Western orientation, it seems Putin wants to suborn Ukraine to Russia.
I don't think he wants to necessarily annex Ukraine, but he certainly wants to be sure that he has a regime in Kyiv that isn't going to integrate with Western institutions; one that instead, will integrate with Putin's Eurasian institutions, as Belarus and Kazakhstan have, for example. He was happy with the regime that was in Ukraine until 2014, under Yanukovych, so I think that's more the kind of model regime he's looking for.
There was also a bill initiated by the Communist Party in the Duma that Donetsk and Luhanks should be declared independent. How likely is that to happen?
As I say, Putin has a menu of options, and I think that many people are concerned that he has really put himself in a corner now, where, unless he takes some kind of action, he's going to appear weak. President Biden said he expects him to move in, and I agree. I think he'll feel obligated to do something militarily. You know, I'm not a betting man. But I would bet that he does something.
The US President's briefing caused widespread discussion and, initially, confusion. Later, it was clarified by his staff, then by the President himself. The extent of that confusion was big enough to lead us to ask how that press conference actually reflects the US policy and stance.
I think that the President was thinking out loud, which is very dangerous when the cameras are rolling and you're the president. There are allies who are looking for ways not to have the gas shut off, for example. Central Europe, in particular, relies almost completely on Russian gas. So he was simply answering the question in his own head, about the difficulty of having a package of what we call "massive and painful" sanctions if it is just a small incursion. His mistake was thinking out loud what we know. So, I don't think it's really a reflection of the policy, it's a reflection of reality. The definition of a gaffe is a government official speaking the truth. He was speaking the truth about the situation, that what kind of package it could be, the pain it could inflict, could very well depend on the size of the military action by Putin. The reason his comment caused such consternation is because it appeared to, and I don't think this is what he meant, but it appeared to say that if Putin chooses on just a minor incursion, there would not be serious consequences. But I think in the United States, there is bipartisan support for very painful sanctions.
Ukraine seems unhappy with the fact that there might be layers of Western response, if anything happens. So what do we tell President Zelensky?
You know, I think it's not so much what we tell him, it's what we do for him. We have been working with a number of European nations to provide the kind of defensive weaponry that Ukraine would need to repel a Russian invasion. You have the US providing anti-tank systems, anti-aircraft systems, the UK is, the Baltic states are, the Czech Republic too. The thing is deeds, not words, when it comes to Ukraine.
Regarding the West's threat of "unprecedented sanctions" – there are quite persistent voices which claim that Russia has already built itself up against possible sanctions, so it won't deflect Putin to increase them.
That's a very fair point, and it's a concern that all of us have. Putin knows what his sovereign wealth fund and strategic reserves are. That's one of the reasons we have to be concerned that sanctions are not going to deter him. Putin has been able to exploit this idea of the West trying to undermine Russia, that they want to destroy Russia with sanctions, and he's exploited that politically, to rally the nation against aggression from the outside.
I think the message we're sending, or at least I hope we're sending, to Russia, is that this is not 2014. The reason Crimea was such a triumph for Putin in 2014 was because it was bloodless. The Ukrainians did not fight back- there were no Russian casualties in the annexation of Crimea. This is a fundamentally different situation. If he goes in now, obviously, it's all Russian troops, and there will be casualties. So it's not going to be the same kind of triumphal atmosphere, because young Russians are going to die.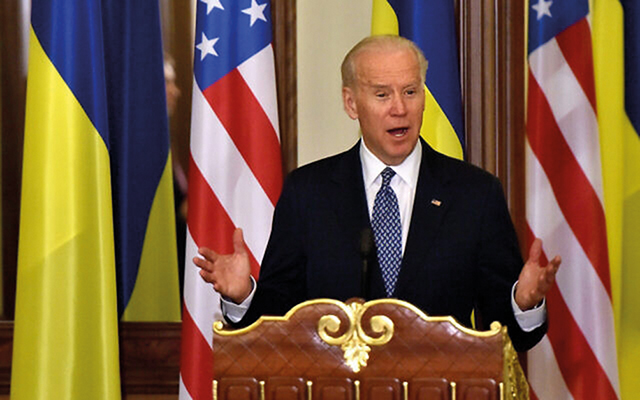 Do you think Putin will shy away from spilling Russian blood to achieve his objectives?
The very short answer is no: I don't think he will. I think it'll be something of a limiting factor on what he does in terms of scale and the length of any military action, but he was certainly willing to spill Russian blood in Georgia in August 2008.
Speaking of Georgia – what impact is all this going to have? Where does it leave Georgia with its aspirations of getting out of the Kremlin's backyard?
They're never going to get out of that backyard, I'm afraid. But what we hope is that they can get away from the hegemonic, imperialistic designs that Russia has on the South Caucasus, not just on Georgia. If you look at some of the recent pronouncements from Washington and Moscow, the good news is that Anthony Blinken, the Secretary of State, whenever he talks about the unacceptability of Russia's demands that post-Soviet states not be allowed to join NATO, he always says, "we will never close the door to Ukraine." And Georgia is always mentioned, and that's good news. The bad news is that Russia also mentioned Georgia when they said it is unacceptable for post-Soviet countries to join NATO. I don't think there's any possibility that the US would reduce its military cooperation with Georgia – Georgia can be confident that the United States will not reduce its presence there.
If there's an invasion of Ukraine, it's going to affect everybody in Europe. And it'll affect Georgia just as it will the international community. And, of course, Georgia, is a heck of a lot closer to Ukraine than the United States is. It's going to really affect a lot of issues related to trade. Depending on the size of any kind of military action, obviously, the Black Sea is going to be affected, trade routes will be affected. But I don't think Putin is interested in a multi-front war, and I don't think Georgians should be concerned about further military actions.
As for Georgia's Euro-Atlantic aspirations, I don't think it would affect it in terms of US support. But I would pay very close attention to what European leaders are saying about it, and I think that Georgia needs to really step up its diplomacy with Brussels, Berlin and Paris.
Is what Georgia is doing today not enough? Is there more room for maneuver?
No, it's not enough. Georgia could be doing a heck of a lot more, and I, frankly, am a bit disappointed that Georgia has not been more active diplomatically. I don't believe the Prime Minister has yet called his counterpart in Kyiv. That's extraordinary. I don't understand why the PM or President haven't reached out to Kyiv and said, "we will stand with you." It's disappointing to any friend of Georgia to see Tbilisi keeping its head down in this way. Why? I mean, it shares a common goal with Kyiv. Why isn't Georgia saying that? Why isn't it asking Zelensky what it can do to help?
I think it's an attempt to not draw attention to itself. That is one approach, but it's not the kind of approach that a country should take when a strategic partner like Ukraine is under threat of military aggression. And I don't agree with that approach. That's a big mistake, staying silent. Keeping your head down actually encourages aggression from the Kremlin. Speaking out, offering help, being very visible in supporting Ukraine's Western orientation, that is a deterrence to aggression. So I would really hope that Georgia at least offers help. It's not hard to do. I just don't understand why they haven't come out and said, "What can we do? You are our partners; you are being threatened by Russian aggression as we are. What can we do to help you?" I haven't seen it, and I don't understand why.
Interview by Vazha Tavberidze