It's taken me a while to figure out why Russia would put so much emphasis on Bakhmut, especially the forces led by Mr. Prigozhin – Retired US Lieutenant General Ben Hodges tells Radio Free Europe's Georgian Service. "And I do think there is a symbolic aspect to this – it's almost like a vanity project for him. He clearly doesn't care how many people are killed. They've been at it now for five months, and they still haven't been able to take Bakhmut. And they just continue pouring untrained, recently mobilized soldiers into the fight. But it's recently come to light also that there are significant salt and gypsum mines in the region. And Mr. Prigozhin even talked about securing the resources there. But I don't know if that will be very comforting to the families of the thousands of people who have been killed there to know that Mr. Prigozhin's real objective was not a strategically important crossroads or intersection, but gypsum mines. I think this whole operation around Bakhmut illustrates the lack of coherence of Russia's operation. I don't think Prigozhin takes orders from Surovikin, and he certainly doesn't take orders from General Gerasimov. So who's in charge? They don't have a coherent plan. They really, fortunately, have still not learned and fixed all the institutional flaws that they showed back in February."
Retired U.S. Lieutenant General Ben Hodges commanded US Army forces in Europe from 2014 and 2017. In his interview with RFE/RL's Georgian Service, following on from the January 10 Economic Policy Research Center's public discussion with him, General Hodges discusses that Russian military lack of coherence and how new fighting vehicles and tanks from abroad could change the course of the war.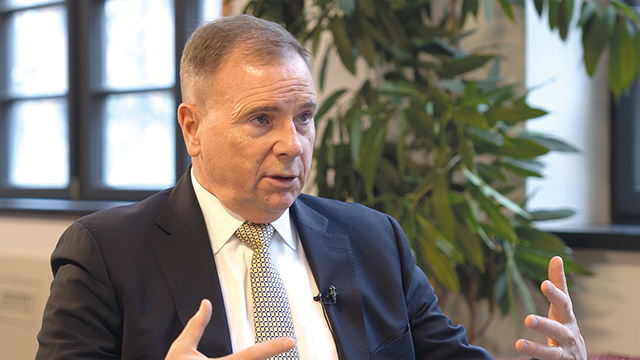 Could it be the Russians are looking for that familiar blueprint: If you throw numbers at things, sooner or later you'll get results?
Russians have always assumed that math will win. That's been their way of war for centuries, that they will eventually just overwhelm the Ukrainian forces. But, obviously, they haven't been able to do that yet because the Ukrainians have been so professional, so skilled. And we see that actually precision can defeat math, if you have enough precision, and if you apply it in the right places. Ukraine has consistently gone after logistics, transportation networks, ammunition storage, through a variety of different means.
There's been a change of pace in weapons delivery from the West to Ukraine- Bradley armored vehicles, Marders from Germany, and AMX-10 RCs from France. How crippling has the absence of these been for Ukraine? And what should we expect now they have them?
I wish the decision to provide Bradley, Marder, AMX-10 RC and other systems had been made sooner. But the good news is it's been made. And now they'll be the foundation for an armor brigade. You've got self-propelled artillery from the Czech Republic, a battalion, AMX-10 RCs from France, which is an excellent wheeled vehicle, a lot of mobility with a big gun on it. And then a battalion of Marders, which is a very good system, and a battalion of Bradley, which is the best infantry fighting vehicle in the world. If you put a Ukrainian Tank Battalion in the middle of it with engineers, you've got a lethal combined arms formation that could be the iron fist that helps penetrate these endless lines of Russian trenches, if they're properly supported.
They've impressed me with how well they've done so far to minimize casualties, and to be thorough and methodical
They'll spend the next couple of months getting the equipment, training on it, practicing, building up the logistics for it. And I think when the Ukrainian General Staff is ready, they will employ this as a force.
Some Western security and military experts are more skeptical, saying Ukraine needs proper tanks like the Abrams. Do you agree?
It would certainly be better if they also had Abrams and Leopards. It feels like those might be coming. But there are other things that Ukrainians are doing to build up capability for the next phase of their counter-offensive, which will be the decisive phase, which I think is the liberation of Crimea.
Poland and Finland seem to be eager to provide those mentioned Leopards. There's also talk in Britain of providing Challenger 2 tanks. Could that change the tide of the war?
It's important in terms of real capability, assuming that they get the maintenance that comes with it, the right ammunition and the opportunity to train. It's even more important in that it signals that Western governments are taking the next step; that they are less and less concerned that Russia might somehow try to escalate, because it's so unlikely. And it's not too late to make a difference. After Ukraine liberates Crimea, they're going to have to protect themselves for a long time to come. So even though this equipment is not there right now, and I wish it was, Ukraine is still going to need it months from now.
Russia is getting drones from Iran, and cold weather gear from North Korea, but some 50 nations are helping Ukraine. Have we done it as fast as they need? No. And have we done enough? No. Is there more to come? I hope so. The Germans are giving Marder, and another Patriot battery. And they're talking about Leopards. I mean, that's got to be discouraging for the Russian side.
You have said Ukraine might liberate Crimea before August, but you also earlier predicted Ukraine might push Russia back to the engagement lines of February 23 by the end of 2022. Why did that not happen?
Obviously, I was overly optimistic about that. I didn't anticipate that we would have failed to provide longer range systems like ATACMS. I thought that was coming. I also didn't anticipate the forces that Russia was willing to sacrifice.
If you put a Ukrainian Tank Battalion in the middle of it, you've got a lethal combined arms formation that could be the iron fist to help penetrate those Russian trenches
What matters is how Ukraine has adapted to what Russia is doing with these mobilized troops, and the West delivering to Ukraine what they need, so they can continue to attack Russian logistics and command and control. This is how I think they will liberate Crimea – there's only two roads that lead to Crimea: The Kerch Bridge and the land bridge, and one's already been severely damaged several times. That's what needs to happen over the next few months. We need to provide Ukraine with the ability to do that, not limit what we give them in terms of range. The GMLRS, the rocket fired by HIMARS, can travel up to 90 kilometers. If we don't do more, then, in effect, we create a sanctuary for Russia, allowing Russia to shoot from Crimea with impunity, or from inside Russia or Belarus. And that leads to the murder of more innocent Ukrainian civilians. So we've got to give them the longer range weapon systems and ATACMS that are able to hit every single thing on the Crimean peninsula.
This is all, of course, contingent on Western support. The big giant fat caveat is that the West has to continue to support Ukraine, at least at the level of everything that we've already said we're going to do.
In the ideal world where that happens, how can we go about liberating Crimea?
They're going to continue to have to block Russian efforts around Bakhmut. They're going to have to keep an eye on Belarus at the border north of Kharkiv. I could be wrong, but it just doesn't seem likely that the Russians could make a significant attack from out there. They may mass some troops there, but they don't have the capability, I don't believe, to launch another serious threat for Kyiv. But the General Staff will have to keep watching that.
In the meanwhile, I think they're going to build up their armored forces, what they're receiving, as well as what they already have trained, so that they have a large armored capability. That could be the decisive element of this liberation of Crimea. But before that, they're going to have to spend a couple of months continuing to go after the Kerch Bridge, continuing to disrupt the transportation network that runs through Mariupol and Melitopol into Crimea.
There's a lot of work to do to set the conditions. It's not going to be a big attack across the Perekop Isthmus; Ukraine is going to have to set the conditions through long range fire, Special Forces, and then, eventually, they will have to put somebody on the ground there. But I think their General Staff is smart enough. They've impressed me with how well they've done everything so far to minimize casualties, and to be thorough and methodical.
Interview by Vazha Tavberidze for Radio Free Europe