To a certain degree, our politicians have tried to find ways to have close relations with others without joining NATO. But on February 24, it was realized very clearly and very abruptly, when President Putin went to war with Ukraine that it isn't sufficient, there is no guarantee in the agreements we have, so we have to do something else, – General Sverker John Olof Göranson, former Supreme Commander of the Swedish Armed Forces, tells RFE.
"The other reason, of course, was Finland: since we have worked so closely with Finland, historically, whatever Finland does, or vice versa, will be very important for the other nation. We haven't seen Article Five being in active use since 9/11. But it is there. And it has been very solid insurance. If you want a guarantee, you need to do this. Non alignment is obsolete today, because nobody can do it on its own."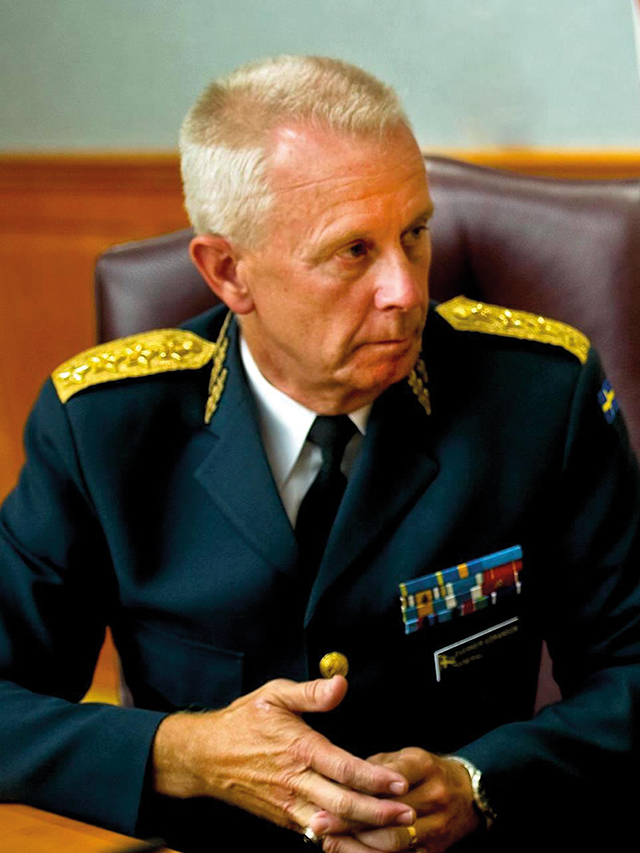 With Putin trying to cram neutral status down Ukraine's throat, and Moldova considered as non-aligned, neutrality has been discussed quite often in Georgia. Can you afford neutrality when you are Russia's neighbor today?
No. There is no nation on this globe with the ability on its own to handle whatever challenge comes up in a crisis or war. Maybe one, just to a certain degree, and that's the United States. But I doubt there is the possibility for anyone near Russian borders to be neutral.
So for Ukraine, Moldova, Georgia, declaring neutrality would be just on paper.
Yes, I would say so. Ukraine is not neutral [yet], because they have chosen a Western, open, democratic society with human rights, and they would love to become members of both the EU and NATO in due time.
In 2012, you said, "In case of military invasion, Sweden can survive for [just] one week". It was a wake-up call for your nation. Which countries in Europe do you think need to ask themselves the same question?
I would say the absolute majority, but I would also argue that what happened in February, for a lot of them, Germany especially, made them turn around the same way as Sweden did when I put the one-week label on the debate. In 2014, NATO decided at the Cardiff Summit to up the military spending in Europe to 2% of GDP. Some of the small nations have done so, the Baltic States especially, but the big ones did not. And especially not Germany – that has been at about 1%, I think. So in that respect, the turnaround in Germany is a paradigm shift for sure, a big one, and for their economy as well. In a few years' time, Europe could be very well prepared to do a lot on its own and not necessarily be as dependent on the US as we are today and historically have been. I'm not saying we can do it on our own, but we will have more resources, and if there is good work within NATO and the EU to burden-share in different capabilities, we might be very well off. We need to be.
If you want the [security] guarantee you need to be part of NATO
Going back to my quote, I realized it was no use trying to explain [to Swedish civilians] how we plan in the armed forces, because nobody understood it, except my own people in the armed forces. It was not enough. So yeah, it was a big turnaround. And it's still talked about. I'm asked if I regret saying it. Absolutely not, quite the opposite.
The overall impression when the two countries announced their intention to join was that it would go swimmingly. But the President of Turkey has blocked it once and claims he has his own demands. Will Sweden fulfill them?
I would say a number of the things put forward by Turkey are not a problem for either Sweden or Finland, because PKK is labeled as a terrorist organization, yet it's also very hard to be sure who belongs to what group. There is a lot in the Turkish argument that is very hard to prove. But in most cases, I'd say it shouldn't be a problem. [Erdogan] wants some 33 people in Sweden released to Turkey, something that I have a very strong feeling will not happen. The arms embargo, that's law in Sweden, how we can export arms to nations that are doing different things. So I don't think that will happen either. But I would say that the demand list on Sweden and Finland is also an indirect dialogue with the US concerning arms and sales and all of that. It goes back to when Turkey wanted to buy American fighter jets and wasn't allowed to. This is the way President Erdogan behaves every time he has the chance. And they always come to some sort of solution. Most of it goes back to talks with United States.
So Sweden won't have to make a choice between hard security and democratic values?
No, I don't see that happening. There'll be pressure on Turkey from other parts of NATO, especially from the big ones. And I do think that the US President will send very clear signals to Turkey as well: Beware, you are milking this cow a little too much. Get back in your box. If Turkey pushes too hard, they will lose business with the US.
Let's go back to Russia. The Kremlin has been timid on the NATO issue, but is also passive aggressively saying there might be some consequences. What consequences might those be?
What we have seen; what they have in their toolbox. It started during my tenure as Chief of Defense between 2009 and 2015. For Russians, masculinity, force, and military power are important things to show that "we are big and we will decide and do what we want to do." We have seen over the years aggressive flying, forceful exercises very close to our borders, in the ocean as well as in the air. I would say those things will continue. As late as last fall, they flew over Gotland at the time the Swedish and Finnish ministers of defense were on the island. They knew very well what they were doing. It was a way of showing power. And it will continue, because that's the only language they know.
I would argue that the threat towards Georgia and Moldova is real
Will they go beyond? I don't think so, because they realize that both Sweden and Finland are on their toes at the moment. And they have publicly been seen talking to the UK, Germany, the US, who have all replied, "we'll be there for you now." They realize we're under the umbrella of NATO as a result of what's going on. So now I don't think they will stretch their boundaries even more.
Putin says he won't object to membership- that it's NATO infrastructure he's worried about. What NATO military infrastructure can we expect to be introduced in Sweden?
Nuclear is out, because the American, French and British ones are already strategically placed. As for bases, the initial discussion in both Finland and Sweden is that we do not want permanent deployments to our nations. I'd hope that Sweden and Finland won't make any statements initially, because this is a dialogue that you can have down the road. It wouldn't surprise me if fairly soon, especially if the environment doesn't change, some sort of combined unit was created in Finland, since they have a very long border with Russia, to have some another nation within Finland [for support]. That could very well be Sweden. The Scandinavian countries could create something similar to that now in the Baltic states and Poland. NATO also needs to look over its command structure, within its territory, because if you look at the map, it's very concentrated in Europe along the eastern border, with very few command posts up north. So it should, in due time, create some sort of command post further north as well. That command post could very well be something that's shared between Sweden, Finland and Norway.
This unity is a good thing, and people in Ukraine and Georgia are very happy for you, but still, what kind of message does it send to Kyiv and Tbilisi, which have been shuffling their feet in front of the NATO "Open Door" for decades now?
The main signal it sends right now is, if you want the security guarantee, you need to be part of NATO, but to become a part of NATO, there are certain demands that you need to fulfill. And everybody looking at us needs to realize that. I would argue that that Sweden and Finland have become completely NATO interoperable- there is nothing within the Swedish Armed Forces that will not work when joining NATO.
The Ukrainian army would be one of the top NATO nations in the world as a net defense and capability provider, and Georgia has been participating in NATO missions for over a decade. Almost every SACEUR says the Georgian military are perfectly ready for NATO. True, we're told we're not ready in democratic values and human rights, etc., but we can point at others, for example, in the Balkans, that weren't ready either. Are we dealing with double standards?
Not necessarily, though it depends how the globe continues to spin, as standards get slightly adjusted. If you go back to when the Eastern Bloc fell apart, we all thought "now the democratic and free world is opening up, help them on the way." The open door then was more open than it is now, and that opening might be smaller for a while, depending how Russia continues to behave, to make sure that we are not moving too fast or too far. No matter when the war ends in Ukraine, we need to rebuild a new security management for Europe, since Putin has destroyed it. And in that respect, we need to restore some sort of diplomatic dialogue with Russia as well. We might dislike him or them, but we need to bring them on the sheet of music. Again, under different circumstances, of course, but still, we will not want to have isolated Russia, so creating a North Korea in Europe. There are certain challenges at the moment but I do honestly think it's not double standards, simply that there will be a reluctance to continue down the path too fast. I think most people in Sweden will be among those arguing that those nations that want to join have to be helped to reach the standards that we want for democracy.
The impetus for Sweden and Finland to apply was the understanding that Russia is more eager to attack non-NATO member countries, right? Where does this leave countries like Georgia and Moldova? How real is the threat for them?
Russia and President Putin cannot be trusted. Many years have been spent trying to have a peaceful relationship. Russia has shown they do not follow international law, the Helsinki Treaty or the Paris Agreement. They prefer to keep Sweden and Finland outside NATO to allow them to act as they wish in relation to us, including military force if so required. The threshold with membership raises that bar dramatically.
We will not want to have isolated Russia, creating a North Korea in Europe
I would argue that the threat towards Georgia and Moldova is real. In the current situation, nothing will happen in the near future. It very much depends on the outcome in Ukraine.
You described President Putin both as unpredictable and unreliable. What gives you any hope that Putin will cooperate in any diplomatic dialogue, that he can be relied on to hold up his end of the bargain?
The bottom line is that you cannot trust him. He will lie as much as needed and also define his reality. Still, we have to try to negotiate and get Russia to work alongside international agreements to prevent Russia becoming a new North Korea. Technically, the first step is to try to get them to stop the aggressive war in order to save civilian lives. If that happens, the next step would be to force them to accept their responsibility, which will be hard. There is a chance that young people in Russia will oppose him in the long-run if this continues, that might be our best chance.
It will come down to the sheer fact that if Russia continues to be isolated, their economy will not be strong enough to survive. If Putin wants his people to continue to listen to him, he needs to have an income, and the main way to do that is to sell oil and gas. In due time, I do think he will realize this and try to remain on the market. That said, I realize that hope is not a course of action.
How do you make sure this war doesn't repeat?
The problem with Putin is that he has defined his own history and future, and it doesn't cooperate with the open democratic society we have in the West. You can most certainly count that he will lower the gas and try to focus on stabilizing eastern and southern Ukraine. And then he will re-group, try to recruit and get power again, and then put his foot on the accelerator again and restart offensive operations.
To conquer all of Ukraine?
Yes. And be more forceful and expand the area he controls, mainly along the Black Sea: Odessa and then Moldova and Transnistria. That would be very bad for Ukraine since they then would be locked out of the Black Sea and all that communication for business.
Why talk to him. Why not wait him out?
Some say, "hit him hard so he once and for all becomes quiet." But if you force him too much, you don't really know what he will do because he has already shown that he is not a military strategy guy – if so, he wouldn't have attacked Ukraine. He'll pay heavily now, and in the long run, for this. I would like to see his calculation – whether what he will achieve is worth this impact on human life, the economy, and the destruction of the label "Russia."
Interview by Vazha Tavberidze