The international organization Freedom House has published a new report entitled 'Freedom in the World 2021,' which reflects the level of political rights and civil liberties in countries around the world.
The report was published on March 3, 2021, and reflects the state of democracy in the world in 2020.
Based on the study, Georgia's rating has deteriorated by one point compared to last year.
Freedom House measures the degree of freedom in countries in three categories: free, partially free, and not free. Georgia is still on the list of partially free countries.
Georgia gained 60 points out of a possible 100, while in the previous report it had 61 points.
Georgia has 23/40 points in terms of political rights, and 37/60 in terms of civil rights.
The country's position in the Freedom House rating has been gradually deteriorating since 2018, when it had 64 points.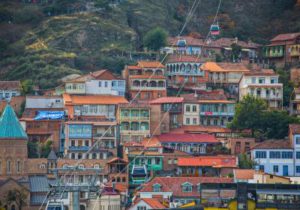 "Georgia holds regular and competitive elections. Its democratic trajectory showed signs of improvement during the period surrounding a change in government in 2012–13, but recent years have featured backsliding. Oligarchic influence affects the country's political affairs, policy decisions, and media environment, and the rule of law is undermined by politicization. Civil liberties are inconsistently protected," reads the document.
Among the major events of 2020, the report includes the parliamentary elections. The ruling party is said to have won a third term in government, but the election environment has been worsened by vote-buying, violence, and blatant errors in the data tables that led the opposition to boycott the election.
"Parliament introduced a new mixed electoral system in June, which was implemented in the elections held that autumn. Under the new system, most seats are filled through proportional representation, and the vote threshold for entering Parliament via proportional representation was lowered from 5% to 1%.
"The ruling Georgian Dream party won a third term in government in the October and November parliamentary elections, though the contest was marred by vote-buying, instances of violence, and apparent tabulation errors that prompted an opposition boycott of the November runoff. Voter turnout in that round stood at 26%, the lowest since independence," reads the report.
"Movement and travel restrictions were in force between March and May as part of the government's response to the COVID-19 pandemic and were reintroduced in November as case counts rose. While the restrictions were largely proportionate to the threat, pro-government businesspeople notably won public-health procurement tenders as the pandemic progressed," Freedom House concluded.
By Ana Dumbadze
See the full report here.