Former Georgian Ambassador to the EU Nata Sabanadze has joined the party 'For Georgia' and become Giorgi Gakharia's foreign policy adviser.
Gakharia made the relevant statement after the meeting with MEP Viola von Cramon, who is currently visiting Georgia following the GD annulment of the April 19th Agreement, which was also attended by the former ambassador of Georgia to the European Union.
"You all know Ms. Nata Sabanadze, and I'm glad that she will join our team," said the former PM. "She will have an official position and will be my international advisor. Everyone knows her reputation both internationally and domestically, and this will be another step forward in strengthening our team."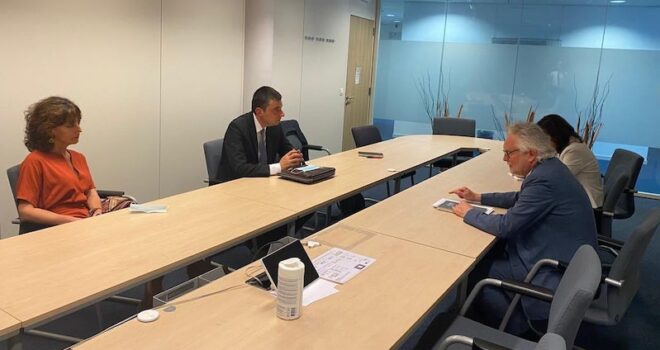 Nata Sabanadze, who served as Georgia's Ambassador Extraordinary and Plenipotentiary to the Kingdom of Belgium and Luxembourg and headed the Georgian Mission to the European Union, resigned shortly after Giorgi Gakharia's resignation due to the differences of opinion regarding the arrest of the opposition UNM Party leader Nika Melia.
Following his resignation, the former PM established a new political force 'For Georgia,' noting that "they're uniting for Georgia, but against no one."
By Ana Dumbadze
Related Story: Georgian Ambassador to EU Resigns