Turkish Foreign Minister Mevlüt Çavuşoğlu said his country supports the deepening of Georgia's relations with Euro-Atlantic structures.
He noted at a joint briefing held after the meeting with his Georgian counterpart Davit Zalkaliani that Turkey determined its firm position about Georgia openly on all international platforms.
"We support Georgia in deepening relations with the Euro-Atlantic structures. We openly reiterate our stance regarding Georgia's integration into NATO," Çavuşoğlu said.
Zalkaliani expressed his gratitude for Turkey's unwavering stance on Georgia's sovereignty and territorial integrity and its strong support for Georgia's integration into the Euro-Atlantic structures.
On March 3, Vice Prime Minister of Georgia, Minister of Foreign Affairs, David Zalkaliani paid an official visit to the Republic of Turkey. As part of the working visit, he met with Turkish officials in Ankara.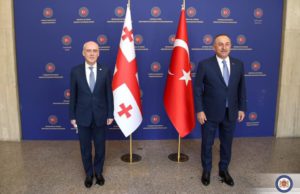 The meeting with Foreign Minister Mevlüt Çavuşoğlu focused on current issues on the bilateral agenda and the challenges, threats and prospects facing the region.
The strategic partnership between the two countries was emphasized, focusing on the existing economic projects, which ensure the sustainable development of the region and make it strategically important.
By Ana Dumbadze