That, as I have discovered in some cursory research, is another modern name for the 8-day Hebrew commemoration of Hannukah. I wanted to brush up a bit because some new friends in Tbilisi had just invited me to their home for one of the evenings of this event, a few days before Christmas, as it falls this year as one of the events the date of which can swing around a bit. Hannukah commemorates occurrences from about the 2nd century BC: The recovery of the city of Jerusalem and the rededication of the 2nd Jewish Temple during the Maccabean Revolt against the occupying Seleucid (Greek) empire of the day.
Abshalom, meaning "father of peace" ("Shalva" to his Georgian friends), Georgian born, and his wife, Israeli born, have lived in Georgia for some years, and used to own and run the vegetarian Hummus Bar Tbilisi. It overlooked the courtyard at 3 Merab Kostava St., between Rustaveli metro station and the former Andropov's Ears.
Covid-19 put an end to such worthwhile endeavors, however, the café closed, and now the couple are hoping to find new staff in order to reopen.
We arrived gradually over an hour or so, friends from the UK, Georgia, Central Asia, Israel and more, about 15 or 20 of us in all. I knew hardly anyone there, so it was a good time to meet new people. My wife was away in Kakheti at the time visiting her widowed mother, who now lives alone, so a follow-up visit to Shalva and his family is required, I am told.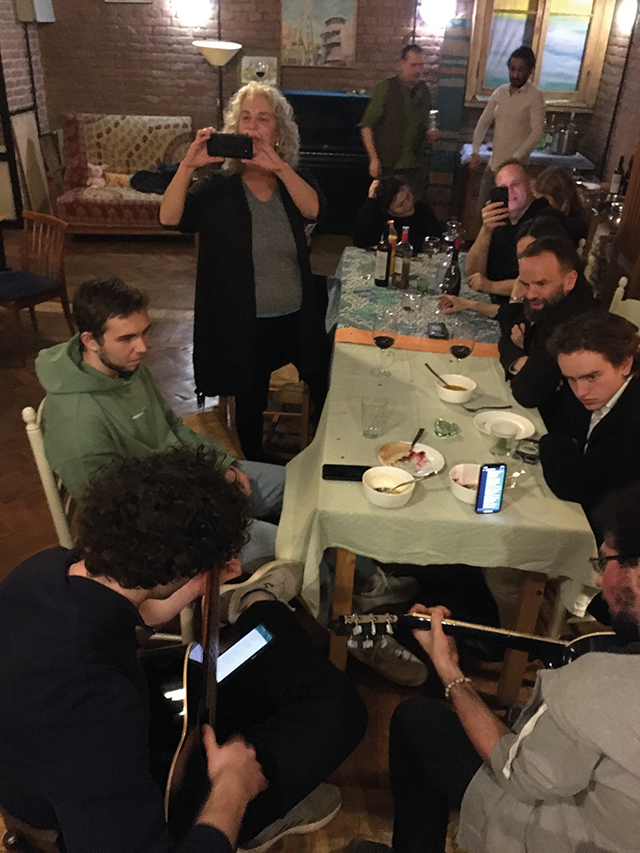 The home cooking which emerged from the well-equipped kitchen is an indication that this establishment should be sorely missed. Hummus on toast; two delicious soups, mulled wine; a beetroot salad; little fried potato and cabbage cakes (oil being an important Hanukah ingredient); muffins with rose-water syrup poured on and a dollop of sweet whipped cream added; wonderful herbal teas and fresh coffee; and a final, multi-layer frozen dessert. All delectable. More, please!
Our hosts have preserved the brick interior walls and wood floors of their home and restaurant to lovely rustic effect, and art and furniture from all over decorates it splendidly and eclectically. They were required, however, to get 100% approval, i.e. from every one of their neighbors in the courtyard buildings, before doing any renovation affecting outside structures. This was definitely not easy to obtain.
The candle for the 5th day of Hanukah was lit (by a Muslim guest, which according to Shalva would have sent God rolling in His grave… if He were dead), and a Hebrew song a cappella. Then two sons pulled out guitars and roused us with some most excellent impromptu singing and strumming in several languages.
We continued to mingle, introduce ourselves, get to know one another, determine which languages people spoke. (No-one was restricted to one tongue, but I think there was also no-one there who spoke all the languages of all present. It was one of those gatherings, never dull).
I came away with a new appreciation of what Hannukah means and how it is celebrated, another moment like Christmas of candles being lit at the darkest time of the year, of friends old and new, and family coming together. Now, as the days get very slowly longer once again, light begins to return, and with it symbolic hope.
Blog by Tony Hanmer
Tony Hanmer has lived in Georgia since 1999, in Svaneti since 2007, and been a weekly writer and photographer for GT since early 2011. He runs the "Svaneti Renaissance" Facebook group, now with nearly 2000 members, at www.facebook.com/groups/SvanetiRenaissance/
He and his wife also run their own guest house in Etseri: www.facebook.com/hanmer.house.svaneti