Family Connections was the theme of a recent photographic competition held by EU Neighbors East and Fotofestival from Poland, hosted by the Tbilisi Photography and Multimedia Museum. It was open to professional photographers from six countries: Armenia, Azerbaijan, Belarus, Georgia, Moldova and Ukraine. From about 400 entries, a shortlist of 18, so three from each country, was chosen by an international jury.
All 18 photographers had their series of photos projected onto large screens at the Museum, hosted by its cofounder, Nestan Nizharadze, for the gala night of the winners' announcements. All work was of a very high standard, some in color, others in black and white. All of the shortlist photographers had been invited as well, and the EU Ambassador to Georgia, his excellency Pawel Herczynski, gave a speech and presented the winners with engraved acrylic trophies, and a €1000 cash prize for each.
During his main interview, the Ambassador said, "We are here to celebrate a very important competition. We will give six awards to photographers from six Eastern Partnership countries for the best pictures focusing on family and family connections. Of course, family is extremely important for our values, for our societies, and I'm very happy that the EU has been part of this great adventure; I'm looking forward to the celebrations."
In his congratulatory speech, he added, "Through this photo contest, we are proud to showcase the EU's commitment to fostering cultural exchange and promoting the power of photography as a tool for reflection and change. The theme of family and family connections highlight the importance of our shared values and the role family plays in shaping our societies. Congratulations to all the photographers for their creative and inspiring interpretations."
The six national winners and their series titles and short descriptions are as follows:
Armenia – Nazik Armenakyan, "My War (Fragmentary Experience)". Above all a mother: the photographer's personal story when her eldest son was mobilized in 2020.
Azerbaijan – Orkhan Azimov, "Remote from Education". A glimpse into the lives and struggles of children in a remote mountain village of Azerbaijan.
Belarus – Pasha Kritchko, "Belarusian Connections". Portraits of family connections among Belarusians driven into exile by the events of 2020.
Georgia – Natela Grigalashvili, "The Final Days of Georgian Nomads". A documentary project exploring the lives of nomad families in mountainous Adjara.
Moldova – Katerina Shosheva, "Sem'ya [Family]". A cross-section of time: inter-generational relationships through the eyes of one family, her own.
Ukraine – Marysia Myanovska, "Oh, Brother, Where Art Thou?". Fragments of lives and memory in the urban ghetto: a project dedicated to her brother.
The jury, whose difficult task it was to choose the shortlist and then the final winners, were:
Lars Boering, director of the European Journalism Center foundation (EJC) and founder of Triggertale.com, a platform for visual communication and storytelling, and Emma Bowkett, Financial Times Weekend Magazine and a curator focused on lens-based arts and contemporary visual culture; Arianna Rinaldo, a freelance professional working with photography at a wide range, the former artistic director of Cortona On The Move, an international photo festival of visual narrative; Karolina Gembar, photographer and researcher, whose work revolves around issues such as home, belonging, migration, changing lands and identities; and Milica Saracevic, press and strategic communication officer at the European Commission.
"I'm very honored and happy to have been part of the jury," Arianna Rinaldo noted. "It was an opportunity to look at a part of the photography world which I don't usually see on a daily basis. Most of us in the photo world are very much focused on western Europe and the western world. So this opportunity was opening a window to a world that we really need to discover more.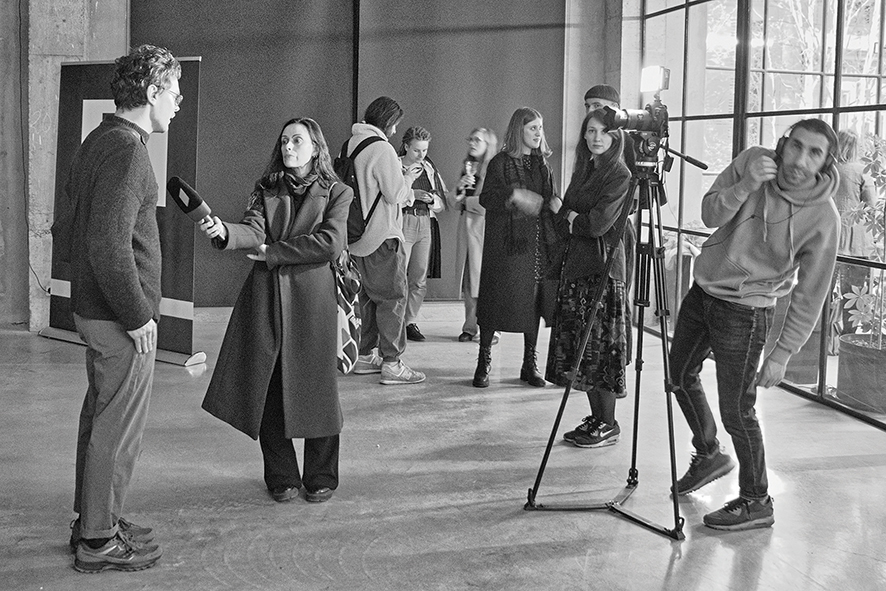 "In the works that we were able to look at, there was a variety of stories and styles. It was really quite eye-opening to be able to see how people from Eastern Europe communicate their sense of the Family and Connections theme, a surprising and refreshing view compared to what we're used to looking at.
"I think the theme is so important, especially at this time in history; we're all coming out of the pandemic, where the idea of connecting with people has changed a lot: we had to stop connecting," she said. "So being able to reinterpret and rethink what that means is really quite a challenge.
"The idea of family, of course, is really quite interesting. Family is a structure that we all think we know; but also, through the works that we received for the contest, we can discover that family is sometimes not what we think it is. It's something that's more open, more versatile, more flexible. I think these years of confinement and crisis in relationships, among people, have really helped to recreate and redefine the idea of family. And photographers, through their personal work, are observing the world, they really help us open our eyes to different situations."
"I have to say, I'm very impressed with the quality of work that was submitted to the contest," Karolina Gembar said. "I've never really had such a great chance to look at the work from this region especially. I saw two trends. One is the political engagement of many photographers, and the fact that they've done their research and they are very conscious socially and politically. The other thing is how devoted they are to portraying their region and working in their locality and community. This is something I feel is very valuable."
All 18 shortlisted photographers are to be applauded for the interpretation and quality of their work, representing the Family Connections theme for their countries and personal lives. Many thanks too, to Kato Otarashvili, Content & Media Relations Expert for the EU's Eastern Partnership, who most helpfully supplied me with much valuable information for this article.
BLOG by Tony Hanmer
Tony Hanmer has lived in Georgia since 1999, in Svaneti since 2007, and been a weekly writer and photographer for GT since early 2011. He runs the "Svaneti Renaissance" Facebook group, now with nearly 2000 members, at www.facebook.com/groups/SvanetiRenaissance/
He and his wife also run their own guest house in Etseri: www.facebook.com/hanmer.house.svaneti