My recent trip driving my wife and myself to Lagodekhi region in Kakheti to see her mother and other relatives and friends turned into more than just a dazed gawk at all the autumn scenery to be had. It also showed me some more of where this area is at economically.
Kakheti at least has this massive advantage over Svaneti, where we lived for more than 12 years until recently: closeness to Tbilisi. In a couple of hours, you're there, instead of a trek which feels like a transatlantic flight in duration. That means that tourists can go there and back in a day easily, or choose to stay and experience much more of what is on offer.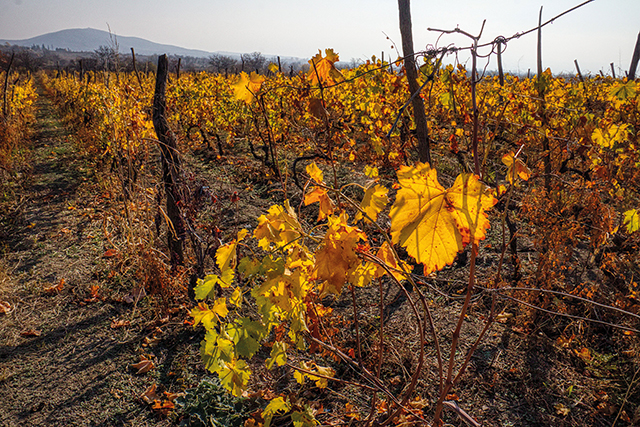 Wine Route signs now show you directions for this popular option, as do signs from many wineries, ancient and modern. Combine these with the local cuisine, whatever's in season, and you really have a grand thing going.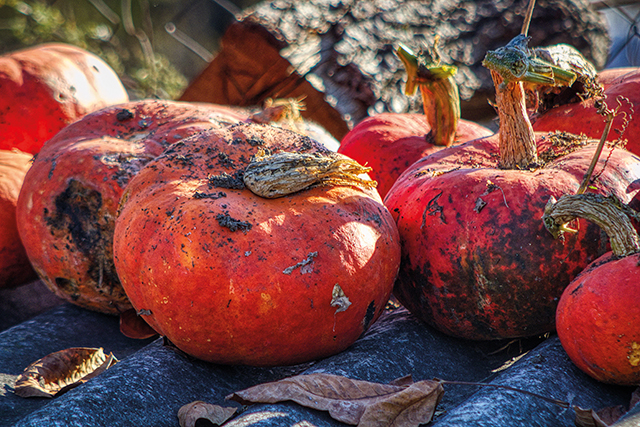 Rtveli, the exciting grape harvest, is now over, so the place has settled back down into its regular routines. But all sorts of fruits and foods still remain, among them persimmons, pecans, churchkhela strings made from nuts and grape juice paste, and much more. And the autumn colors are at their best, summer having been long and winter not yet daring to make its brief appearance.

Most lowland guest houses and hotels here stay open the year round, as the roads to them are not only short but usually totally snow-free. There might not be as much winter tourism as in the other three seasons, but it won't stop altogether. And farming has tasks which must be performed after the harvest too, like retying up the grapevines to their staked string rows and readying them for next spring's new growth. Firewood chopping and splitting, and continuing to take care of the livestock, never stopping. Although winter is short and mild in Kakheti, one must still prepare for it. You must also lay in hay for the cattle, for the times when they can't graze or need supplements to the fresh grass.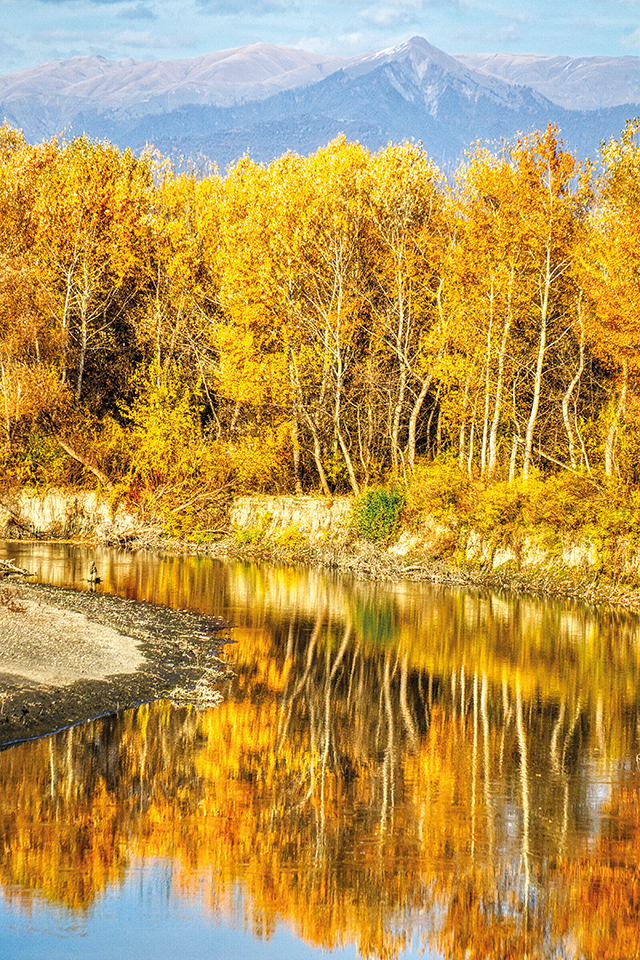 As in all of Georgia, in Kakheti too you are never far from the high mountain landscapes, which lend grandeur and contrast to the plains where most people live. Here, the peaks between us and Daghestan, with its 40 languages, in the Russian North Caucasus, loom. Beauty is everywhere if you keep your eyes open, from the smallest details in someone's orchard to hills hazed with distance. It's not only the largest scales which can delight, if you are prepared to look. The leaves, red and gold coming through the green, dazzle.
I stopped off at Chailuri Fortress on my way back home, less than an hour from Tbilisi now. It dates from some time in the Middle Ages, date unclear and disputed, and was open and empty on its small hill. From there, I could also look down on lines of vineyards below, their yellow leaves practically glowing, though all their bunches of grapes were either cut or drying. Everywhere you go in Georgia: mountains, fortresses, ruins, churches, towers, so much diversity for such a small country that you can spend decades here, as I have so far, and not experience it all. My fondest wish for it is to get back on its feet, economically and in other ways. The tourism possibilities alone should do a lot towards this, if allowed to fairly.
Tony Hanmer has lived in Georgia since 1999, in Svaneti since 2007, and been a weekly writer and photographer for GT since early 2011. He runs the "Svaneti Renaissance" Facebook group, now with nearly 2000 members, at www.facebook.com/groups/SvanetiRenaissance/
He and his wife also run their own guest house in Etseri: www.facebook.com/hanmer.house.svaneti
BLOG by Tony Hanmer