European School was originally created to provide quality education to Georgian students so that they can achieve success both in Georgia and abroad. The need for international education was soon identified in the school. Today, European School is the first international school in Georgia to be accredited by the CIS Council of International Schools. To find out more, GEORGIA TODAY spoke to the Head of International Baccalaureate Programmes, Brice Bomo.
Latest News and Future Plans of European School:
"European School is in the process of continuous development. It is implementing the International Baccalaureate (IB) Career-related Programme (CP) and will be enrolling students in the program from September," he tells us.
To further diversify and enrich students' learning experiences, European School will introduce two new subjects in the IB Diploma Programme (DP) in September: Film and Environmental systems and societies (ESS).
The DP film course aims to develop students as proficient interpreters and makers of film texts. Students will develop evaluative and critical perspectives on their own film work and the work of others. The course will be taught by a professional film director. The professional television studio of European School TV (ESTV) and the partnership between the School and the Tbilisi State University College of Media and Television Arts are parts of the resources that will be available to film students.
ESS is firmly grounded in both a scientific exploration of environmental systems in their structure and function, and in the exploration of cultural, economic, ethical, political and social interactions of societies with the environment. As a result of studying this course, students will become equipped with the ability to recognize and evaluate the impact of our complex system of societies on the natural world. This course can fulfill either the individuals and societies or the sciences requirement for the diploma.
"Further, in order to strengthen our educational institution and to meet the ever-increasing number of students, European School has launched an important infrastructure project. In 2022, a modern building will be built for high school students near the existing campus, which will be a physical expression of the European School priorities."
"The school's Georgian program has long had a grant system for students with honors and distinguished community service. The school has decided to make quality international education accessible to students from other schools with outstanding academic achievement and to offer them 100% funding in the final two years of American High School and Diploma Program (3 scholarships each)," he says.
Tell us about the career-related programme. Who is the cp for? Howdoes it work?
The Career-related Programme (CP), the newest IB program for students aged 16-19, originated from a 2006 project led by the IB in Finland. The project aimed to develop a new program that combined the IB Diploma Programme courses with career-related studies and a special 'Core' to integrate the two parts.
After a six-year pilot involving schools from around the world, the program was made available to schools in 2012. Since January 2016, all schools can apply for authorization to offer the CP.
For CP students, DP courses provide the theoretical underpinning and academic rigor of the program; the career-related study further supports the programme's academic strength and provides practical, real-world approaches to learning; and the CP core helps them to develop skills and competencies required for lifelong learning.
While the list of career related studies (CRS) is expected to grow depending on student interest over the years, the first CRS offered in 2022, in partnership with the UK-based Pearson Education, will include Applied Science and Information Technology. Recently, European School signed a memorandum of understanding with Les Roshes – one of the world's leading hospitality schools, which will be the Hospitality CRS provider for CP students.
The content of the Applied Science course includes principles and applications of Biology, Chemistry and Physics, among other units. It has been designed for learners who wish to pursue a career in science-based industries via higher education, to access graduate entry employment within science. Upon completion of the course, students will be awarded a BTEC International Level 3 Subsidiary Diploma in Applied Science.
The Information Technology course presents learners with a wide range of IT topics which will underpin their progression to a career, either through higher education or directly into employment. The topics studied by students include and are not limited to: Strategy, management and infrastructure of IT systems; website development; as well as cyber security and incident management. Upon completion of the course, students will be awarded a BTEC International Level 3 Subsidiary Diploma in Information Technology.
The hospitality course provides a broad overview of the Hospitality industry, helps students develop a strong hospitality foundation, and prepares them for a successful career in the global hospitality world.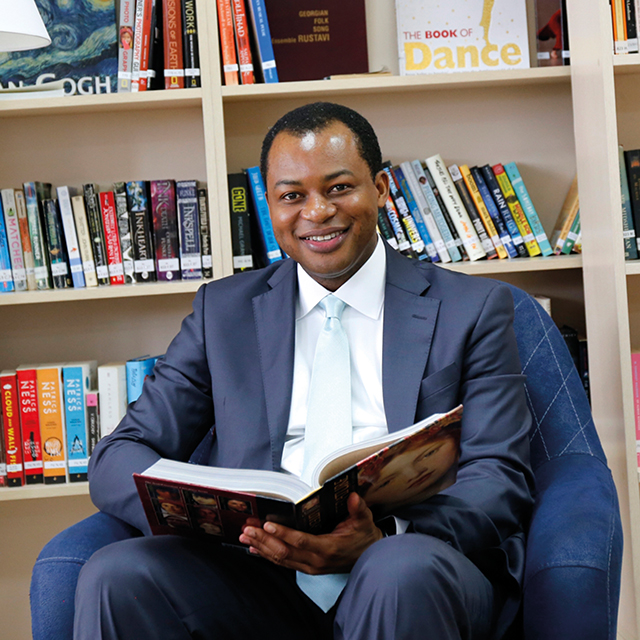 Why did European School decide to launch the CP?
The Career-related Programme was specifically developed for students who wish to engage in career-related learning while gaining transferable and lifelong skills in applied knowledge, critical thinking, communication, and cross-cultural engagement. It provides an alternative option for students for whom the IBDP is not the most suitable pre-university path. Hence European School decided to pursue authorization for the CP to better cater to the needs of its students with their diverse personalities, learning styles, gifts, and interests.
Can you share with us examples of schools offering the CP and its recognition by universities?
Among schools that have been successfully implementing the CP are the likes of the British International School of Houston, International School of Geneva, International School of Brussels, International School of Monaco, and many others.
The list of universities that accept CP graduates has been consistently growing since 2014 and includes institutions based in the United States, United Kingdom, Canada, The Netherlands, Australia, Switzerland, United Arab Emirates, Germany, and France, to list a few. CP students at European School will receive custom-made university counselling to secure admissions into their universities of choice.