European Union ambassadors on Friday adopted a plan to ban Belarus carriers from flying over EU territory or landing in EU airports, three diplomats said, as the country's exiled opposition leader called for more joint Western sanctions, Reuters reports.
The EU decision is part of planned punitive measures against Belarus in response to Minsk's scrambling a warplane to force the landing on May 23 of a Ryanair flight carrying an opposition journalist, who was then arrested. Roman Protasevich, 26, was on a flight from Greece to Lithuania which was rerouted over a supposed bomb threat.
Western countries accused Belarus of hijacking the Ryanair plane.
"Belarus authorities then released a video of Mr. Protasevich after his detention at Minsk airport. In the clip, the journalist said he was in good health and seemingly confessed to crimes he had been charged with by the Belarusian state.
"But activists, including the country's main opposition leader, criticized the video and suggested Mr. Protasevich was under pressure to admit wrongdoing. US President Joe Biden described the actions of the Belarusian authorities as "outrageous," saying they were "shameful assaults on both political dissent and the freedom of the press," reported the BBC.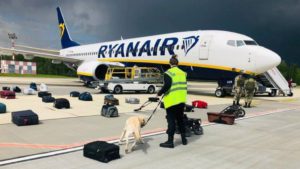 The move is due to take effect at midnight Central European Time, barring any last-minute objections by EU member states before a self-imposed deadline of 1400 CET, which are not expected, the diplomats said.
The EU also strongly recommends that EU airlines avoid flying over Belarus, but that does not amount to a legally binding ban. On Wednesday, the European Union Aviation Safety Agency issued a safety directive saying all EU aircraft should not fly over Belarus air space unless in an emergency.
Image source: Tass