The President of Georgia, Salome Zurabishvili, said in an interview with Interpressnews that Georgia has come a long way to reach where it is today. She added that statements and mistakes of the past year cannot be decisive. "I do not think they will reject us," the President noted.
She emphasized that the commission's first assessment will probably be critical of some aspects such as judicial reform and the failings following the Charles Michel agreement.
"I still hope that the political decision taken by the European Council will rely more on the geopolitical situation and not on our mistakes. The population is entirely oriented towards Europe. We have passed a long path to arrive where we are today. The statements and mistakes of the past year cannot be decisive. I do not think that they will reject us. I have high hopes that despite everything, despite our many verbal mistakes and wrong actions, a decision will be made at a higher level and will be more far-sighted," she stated.
Georgia's Progress towards the EU
The Chair of the Foreign Relations Committee, Nikoloz Samkharadze participated in the GLOBSEC 2022 Forum in Bratislava dedicated to EU enlargement and the Eastern neighborhood.
In his speech, Samkharadze focused on the EU membership application of Georgia, the reforms undertaken in the country on the EU integration path, and the geopolitical reality.
"The current geopolitical reality and challenges require changes and a revision of the European security. Georgia has manifested significant progress during the last decade and, thus, I do hope the EU will make a pragmatic decision on granting EU candidate status to Georgia. It will serve an important message not only for our society, but for Moscow, to remind the Kremlin that it will no longer be able to continue its aggressive and destructive actions against our country," Samkharadze stated.
SupportIng Granting of Candidate Status to Georgia, Ukraine and Moldova
Estonian Ambassador Riina Kaljurand, at a discussion "Foreign and Security Policy," said she didn't want to speculate on the issue of Georgia's EU status, because the European Commission will make a decision in the coming days. However, she noted that Estonia supports the granting of candidate status to all three countries.
Asked whether the Brussels decision might be affected by problems in Georgia's justice system, she noted the arrest of the director general of Mtavari TV, was not politically timely, but that issuing (or not) EU candidate status would not be based on one specific case, but the overall functioning of the justice system, and "Georgia has made good progress in this direction, but there is still a very, very long way to go."
Italian Support for EU Candidate Status
"Georgia has centuries of experience, it is a member of European civilization and thus, it is absolutely logical and understandable that it should become a full member of Europe. Italy supports this aspiration of Georgia," said the President of the Italian Republic, Sergio Mattarella, at a joint briefing between the Presidents of Georgia and Italy.
"Italy emphasizes Georgia's sovereignty and its territorial integrity. Russia's aggression in Ukraine has had a great impact on the region, and this has further accelerated the partnership between Georgia and Europe and the joint efforts to maintain peace in the region. Georgia has centuries of experience, it is a member of European civilization and thus, it is absolutely logical and understandable that it should become a full member of Europe. Italy supports this aspiration of Georgia.
"Black Sea security concerns Georgia first, but it affects us all. This is also a problem of the European Community. Georgia's sovereignty and territorial integrity are one of the biggest problems in the Geneva talks. Italy and Georgia are united by multifaceted relations – economic, and cultural, which will be further deepened. Our cooperation is very important in terms of culture. At the meeting, we stressed the importance of friendship between our countries and the deepening of this relationship in various directions," said the Italian president.
European Parliament Drafts Joint Statement Supporting Ukraine, Moldova and Georgia's Bid to Join EU
The news agency Radio Liberty issued a statement noting leaders of political groups in the European Parliament have drafted a statement in support of Ukraine, Moldova, and Georgia.
As noted in the statement, leaders of the European Parliament political groups call on the European Union to support Ukraine, Moldova, and Georgia in granting EU candidate status.
"On behalf of the Conference of Presidents, the leaders of the political groups of the European Parliament will address the leaders of the member states and governments, who will meet in Brussels in two weeks to decide on the application of Ukraine, Moldova, and Georgia to join the EU. We must show courage, bravery, and vision in the face of a deteriorating international environment. Changes in geopolitical data require action on our part. By doing so, we adhere to our principles and values. Ukrainians whose homeland is under fierce attack – although Moldovans and Georgians, who are moving towards a brighter future – are waiting for the signal that their place is in the European family. Therefore, this Chamber strongly urges you to grant Ukraine, the Republic of Moldova, and Georgia EU candidate status, in accordance with Article 49 of the EU Treaty and [their] achievements," the text reads.
Radio Liberty reports that the text submitted is a draft joint statement and may still be subject to change, although key issues, including the request for candidate status, will remain in the text, however, as Radio Liberty correspondent on EU affairs, key issues, including the requirement for candidate status, will remain in the text. Radio Liberty also notes that the Union of Leaders of Political Groups is not involved in the process of granting candidate status and their support is only a call to the European Commission to take the appropriate decision.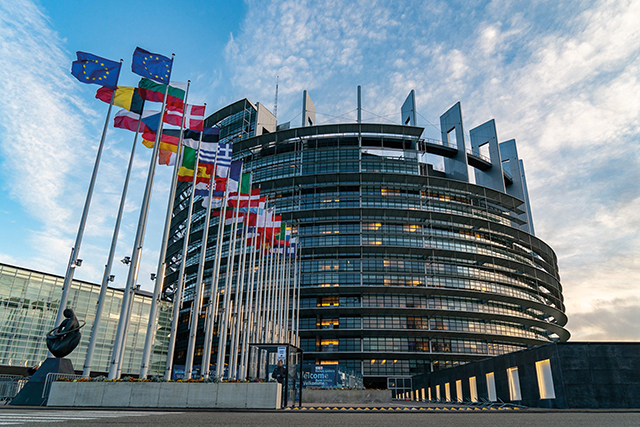 Papuashvili: It is Time for the EU to Make its Bid and Grant Candidate Status without Delay, Given the Current Geopolitical Pressures
The Speaker of the Parliament of Georgia, Shalva Papuashvili, addressed Roberta Metsola in a letter, urging the granting of candidate status for EU membership to Georgia:
"Dear Madam President, Our most recent meeting during my visit to Brussels, and the very good conversation we had, inspired me to share some reflections on Georgia-European Union relations, especially at this historic juncture amidst our region's unfolding geopolitical upheaval. I write you as I learned that there will be an urgent debate on Georgia in the European Parliament this Wednesday," he wrote.
"While a discussion on media freedom and safety of journalists is always important, for the sake of fairness, a wider context of Georgia's application for European Union membership should be more relevant now than any matter related to the present political moment. Yet, while focusing on isolated instances, we should also keep in mind the impressive progress that independent media has achieved in Georgia in the past decade as a result of the country's democratic transformation.
"I, personally; my party Georgian Dream, which governs Georgia now; and every nine out of ten Georgians firmly believe the European Union to be the family and historic destination for our people. We formally applied for EU membership three months ago, and the entire country is gripped in anticipation of the decision of the European Council later this month. Rarely did any other political matter so emotionally tie our nation together before, as our application for the EU membership and the expected response from the EU member states.
"As speaker of the Georgian Parliament, I represent the democratically elected highest political body of our nation and, am confident, I can deliver the unified voice of Georgians on our European destiny to the European Parliament.
"Even before Georgia obtained independence, through the decades-long popular struggle against Communism and Soviet oppression, Europe was the cultural and political symbol and vector that drove what Georgians called our national liberation movement. Even amidst the externally imposed proxy conflicts in the 1990s, calls for European and Euro-Atlantic integration prevailed against any other alternatives in the national discourse.
"The rule of law, democratic institutions, national stability, peaceful foreign and security policy, and economic and social reforms have been driven by the notion of unity with European nations. Every government and opposition party in the past three decades, since independence, while broadly diverging on many domestic issues, have never been divided over Georgia's European and Euro-Atlantic aspirations. This unity gives me the right to reiterate our arguments as to why we suggest and, indeed, claim that we have the right to be a candidate country for European Union membership.
"Most importantly, Georgia's drive towards the EU and its history of democratization have been powerfully interlinked. Georgia started implementing the EU acquis in earnest, after signing the Association Agreement in 2014, and we have done so despite existential threats. Indeed, we have successfully maneuvered through several challenging tasks of pursuing European integration, building democracy at home, and confronting near-permanent Russian aggression at the same time. At each stage, the prospect of joining the EU has only helped and encouraged democratic reforms.
"We built peace and security together with Europe. We showed our dedication in Iraq, Afghanistan, Mali, Central African Republic, Kosovo, and elsewhere, wherever needed and called for by our European partners. In the past decade, Georgia proved itself to be a valued and reliable partner with its responsible foreign and security policy, which helped to maintain stability in the Caucasus and broader region, wherever Georgia's contribution helped to make a difference.
"There is a wide range of large-scale, successful reforms that buttress our relations. Georgia's reforms and achievements in the fight against corruption, improved practice of doing business, fundamentally upgraded customs and public services, etc. have been praised globally, including by the EU and its member states. As a consequence of these efforts, Georgia has been a full-fledged member of European Energy Community since 2017; had visa-free access to the Schengen Area since 2017; signed the Association Agreement, including DCFTA, and has implemented 45 per cent of these agreements ever since. In comparison with the closest aspirant countries for EU membership, Moldova and Ukraine, Georgia is a lead performer in all three components of the Association Agreement – political dialogue, Deep and Comprehensive Free Trade Agreement, and sectoral/economic cooperation.
"These achievements have been made in the context of actual aggressive actions and occupation of Georgia's territories by Russia and permanent threats that have become so obvious to everybody in the context of Russia's unprecedented brutal aggression against Ukraine.
"Georgia's achievements, and more so, prospects of future successes, make Georgia a desired prospective member of the EU in matters of the EU's peace and security policy, energy independence, expansion of free markets, and, last but not least, cultural diversity.
"Challenges remain. But the trajectory of the country clearly indicates a desire for progress, capacity for improvement and, above all, potential for enriching and strengthening the Union.
"Georgia has made its move. It is the time for the EU to make its bid and grant candidate status for EU membership without delay given the current geopolitical pressures. Meanwhile, a steadfast and unequivocal backing from the European Parliament towards Georgia, together with Moldova and Ukraine, and calls for the European leaders to support our countries is vital and we look forward to such support. Sincerely, Shalva Papuashvili."
By Ketevan Skhirtladze