Today, on 9th May the European Union and its member states mark Europe Day,  which celebrates peace and unity in Europe.
To mark THE 2021 Europe Day, EU Ambassador to Georgia Carl Hartzell has issued a statement, pointing out that "EU will remain Georgia's key development partner."
"Today is Europe Day.  Today we celebrate the idea that is the foundation of the European Union – the idea that cooperation can overcome war and conflict and create prosperity on the European continent and beyond. An idea presented exactly 71 years ago.
"Today, we as Europeans know that this has been the right path to follow; that cooperation and partnership is indeed to the benefit of all.
"And we have been extending this philosophy also in our external relations including with a close partner like Georgia.
"We believe that a strong, independent, and prosperous Georgia benefits Georgians, our partnership, the wider region, and ultimately also the EU – as we treasure our friendship, our common values, and our ever growing cooperation in terms of trade, security, culture, tourism, and – especially – between our citizens.
"So let me take this opportunity to thank Georgia and all its citizens for your hospitality and friendship, as we celebrate Europe Day 2021 together," Carl Hartzell stressed.
Irakli Garibashvili, Prime Minister of Georgia, congratulated everyone on Europe Day.
"I congratulate Europe Day to all who cherish European values, who see the future of Georgia in a large family of European nations. Congratulations to our friends – Ambassador Hartzel and the EU Delegation to Georgia.
"Georgians are proud to be among the creators of European culture. Since regaining our independence, we have been striving towards our natural belonging – space in Europe.
"I believe that European unity needs Georgia as much as we need Europe.
"We have taken many steps towards this unity. EU-Georgia Association Agreement (AA) concluded in 2014 became a milestone achievement. Visa-free travel arrangement within Europe has brought us even closer to each other.
"The process of European integration is a unique opportunity for our Abkhazian and Ossetian brothers to enjoy all the benefits that bring them closer to Europe.
"Relations between Georgia and Europe have never been as strong as they are today. I thank our European friends and partners, without whose great support Georgia would not have been able to make such progress.
"In 2024 we will apply for full membership in the European Union. I am thrilled that present generations will be fortunate to make the dream of our ancestors come true.
"Happy Europe Day everyone!," the PM stated.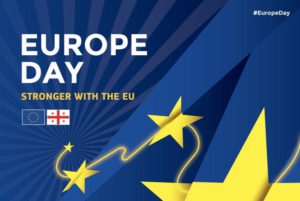 Europe Day commemorates the historic 1950 Schuman Declaration, in which Robert Schuman, the then French foreign minister, set out his idea for a new form of political cooperation in Europe, which would make war between Europe's nations unthinkable.
These ideas paved the way for the creation of European Communities, and eventually the European Union as we know it today, with 27 Member States and almost 450 million people. This year, the EU marks the 71st anniversary of this declaration.
By Ana Dumbadze