On 28 April, CENN, with the support of the European Union, presented the project 'Social Entrepreneurship Ecosystem Development for Green Growth in the Borderline Regions.' Media representatives were invited to Gori, central Georgia, to discover a number of recently funded local green and social business initiatives.
The main goal of the EU-funded project is to create a favorable environment for social entrepreneurship at the borders in Georgia (Gori, Akhmeta, Ninotsminda) and Armenia (Lori, Tavush, Shirak) in order to help develop green innovation in the regions. The project seeks to draw out the entrepreneurial potential in the most vulnerable municipalities and to support the development of youth opportunities in the field of entrepreneurship. It encourages green entrepreneurial ideas and helps to promote their development and support their practical implementation. Further, the project aims to empower vulnerable groups and increase youth employment, while addressing local and global environmental challenges.
To date, 27 enterprises with social and "green" missions have been funded, 13 of which are in Georgia and 14 in Armenia. Funded enterprises from both countries work in such fields as sustainable waste management, ecotourism, agriculture, sustainable production, and healthcare.
"The main priorities of the program are youth employment, developing entrepreneurial skills, and working with vulnerable groups. I can confidently say that the project is being implemented successfully- CENN fully covers these three priorities," Samvelidze said.
"Gori is a vulnerable municipality, especially in terms of education, employment opportunities, and access to finances," says Nana Janashia, CENN Executive Director. "We are proud that, within the framework of this EU-supported project, CENN has been able to economically empower so many young female entrepreneurs to start and expand their enterprises. They, in turn, support vulnerable groups from their community and help them develop their professional skills for employment."
GEORGIA TODAY wanted to hear from some of Georgia's beneficiaries, all of whom are seemingly united in their desire to provide employment to the otherwise vulnerable, while doing something good for the environment around them. First, we spoke to Keti Kvachantiradze of "Bamane," a textile studio located in the village of Karaleti, Gori Municipality.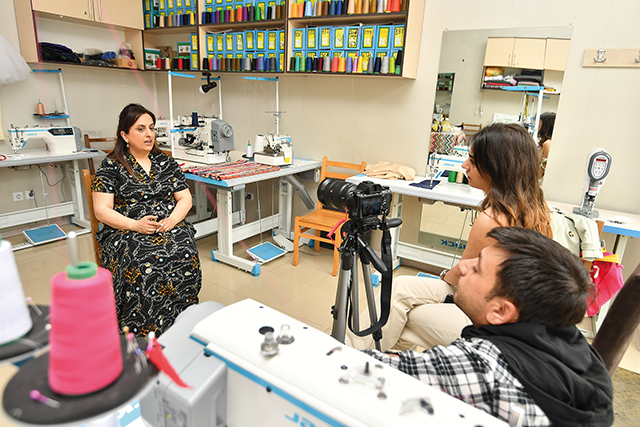 Bamane
At Bamane, they use textile waste to create a variety of products to sell to customers, making it an enterprise that is not only friendly to the environment, but also supportive to its own community, as it has a social mission to employ and re-socialize vulnerable women. Right now, the enterprise has six such employees.
"We now focus on producing sleeping bags and children's soft toys, but I started out sewing general goods," Keti tells us. "In time, I realized I had a lot of left-over fabric, and began using it to make small sewn gifts for friends and clothes for my children. But something inside me always wanted to do more, and when CENN appeared with this project, through which I was able to voice my ideas, I decided, why not? Let's produce sleeping bags and use the remaining textile for toys! Let's minimize fabric waste!
"For years, I worked alone, with no employees to help me. But, with CENN and the EU's help, I also took on a social mission to train girls aged 14-29, free of charge. As a result, our enterprise is now both green and social due to its missions!" she says.
Where do you sell your products?
Our products aren't for sale yet, customers don't know about them, but we've also won a second grant, through which our PR-Marketing direction is being funded. Me and my girls have made advertorial videos about our products, and we're in the process of planning our social media campaigns, deciding which platforms to use, and so on. Such planning takes time, and that's why we haven't reached out to customers yet, but we'll be ready very soon!
Tell us what you have in store for those future customers.
I started sewing three years ago, but since we started our involvement in the CENN project over nine months ago, I've been able to actually implement my idea in physical form. Over the past 5 years, I've sewn more than 500 dresses. Now, we've switched to sleeping bags for kids, but believe me, with no less love and enthusiasm! I'm also a mother and know that there's no relationship with kids without love, and we hope ABA customers will feel that warmth and love through our products.
Tell us about your team.
We have permanent employees and they do their jobs with great love and patience. I'm very thankful to them. At the same time, we have interns, entrants, girls at different levels of working knowledge, some of whom can't work every day due to their studies. But they're involved in all the important activities we do. Most importantly, they're trying to acquire sewing skills, which is not easy and needs time. We help the girls to develop these skills.
How did the name "ABA" come about?
Our enterprise is called Bamane, but we decided to name the production line of children's sleeping bags ABA, the first word my fourth child ever said! We connected the winning of the grant for this project to new life, and the birth of my child coincided with that win. I thought that this first word was symbolic and important, and it's easy to remember. Hopefully, everyone will learn to love and remember ABA.
GEORGIA TODAY also got the chance to meet other budding entrepreneurs in green and social businesses in the Shida Kartli region. Check them out below!
Social Enterprise "Leader"
Leader is one of the first companies in the region to have developed a textile waste recycling strategy. Managed by entrepreneur Nino Giorgadze, in addition to textile waste management, the company, founded in 2016, supports the training and employment of socially vulnerable females, internally displaced persons, persons with disabilities, and victims of violence. Women and girls study the profession of cutting-sewing-clothes making, and prepare themselves for further employment. As of March 2022, the enterprise had (re)trained 24 socially vulnerable young people aged 18-29, and employed 14.
"We take textile waste from 35 enterprises," Nino tells us. "We had an idea to create pet furniture with this material. We also accept sewing waste from the population, and then recycle it. In addition, we send recycled waste to various furniture houses, which is then used to make their products."
In terms of the environmental mission of the enterprise, in the past year alone, Nino has increased the number of companies supplying her with fabric waste so much that they were able to recycle two tons of textile as a secondary raw material. Nino says that by the end of this year, she expects to have processed around 10 tons of textile waste to make the abovementioned products, and to create children's clothes, which are sold domestically, and internationally via the Amazon platform.
Looking ahead, the Leader founder says they plan to go to Italy and France to take part in exhibitions.
Flora Ville
Flora Ville is a 200 square-meter rose and domestic flower greenhouse in the village of Patara Garejvari, Gori Municipality, which is managed by 29-year-old entrepreneur and gardening enthusiast, Natia Iremadze. There, she trains young people in greenhouse management, producing a variety of flowers and plants. Her aim is to empower and employ local women, showing the world that "women can be successful too." Today, Flora Ville employs three young women, and demand for their flowers is growing, with flower lovers now able to buy up to 400 varieties of potted flowers in any season.
Natia successfully turned her passion into a source of income, and, today, many visitors visit her greenhouse. She next has plans to open a store to make the buying process more comfortable for their customers. "At the moment, we use courier services, and sometimes I'm a courier myself," Natia tells us with a smile. "I've been interested in flowers since I was a child. Before I set up this greenhouse, I grew a lot of flowers at home. Now, I spend almost all day working with plants. Interacting with them is an antidepressant for me."
Champy
Champy, founded by three students, is located in the village of Ditsi, Gori Municipality, near the ABL with Tskhinvali. In an effort to promote healthy eating, and to make good use of the leftovers from the vast apple crop the region is known for, the Champy team use the drying method to produce apple chips. Co-founder Tamar Sheitnishvili says Champy's mission is to promote economic empowerment of the border region and the development of waste-free production in Georgia.
***
Why textile recycling is important!
In this consumerist world, where clothes are cheap and easy to buy, around 100 billion garments are produced annually. Globally, we consume 62 million tons of textile per year. By 2030, this is expected to reach 102 million tons. The fashion industry, which is worth $1.5 trillion and employs more than 300 million people along the value chain, is a significant contributor to textile waste and carbon emissions, and is responsible for as much as 10% of all global pollution, making it the second most polluting industry after aviation, "Woollygreen" reports.
As such, the importance of recycling textiles is increasingly being recognized. Once in landfills, natural fibers can take from a few weeks to a few years to decompose. In doing so, they may release methane and Co2 gas into the atmosphere. Further, synthetic textiles are designed not to decompose, and once in the landfill, they may release toxic substances into groundwater and surrounding soil.
Some studies estimate textile waste during manufacturing can be as high as 25%. Other studies estimate 15% of materials end up on the cutting room floor.
To combat these trends, eco-conscious consumers are increasingly buying from sustainable fashion brands or buying used clothing instead of new. But in Georgia, the choices in this regard are still limited.
Textile recycling is a significant challenge to be addressed as we strive to move closer to a zero landfill society, and a few, small, often female-led companies in Georgia are doing their bit not only to reduce textile waste, but to train, employ and support the socially vulnerable in their communities. Let's support them, and Georgia, to go green!
Find out more here.
By Katie Ruth Davies