Young and educated youth from vulnerable communities are the critical driver to accelerate the green and digital transition of societies. Their education, training, and career development shape a future where innovation brings economics and the environment closer together.
The European Union's economic prosperity and well-being is tied to the natural environment, and demand for 'green' solutions to societal challenges is both a source of jobs and an economic opportunity. This is why Europe's Green Deal calls for a "modern, resource-efficient and competitive economy" underpinned by the so-called twin 'digital and green' transition.
In practice, that means decoupling economic growth from resource use and eliminating greenhouse gases by 2050. How can Europe achieve such big ambitions?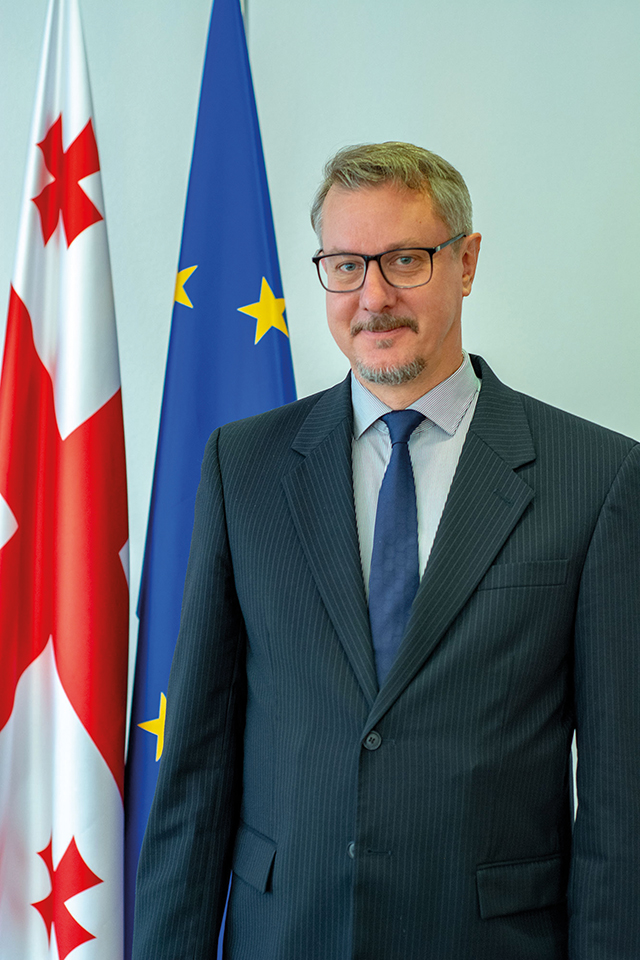 Well-matched education and training is needed so current and future generations of entrepreneurs not only identify eco-innovation opportunities, greener ways of working, living and moving around, but also possess the skills to make them happen.
To work towards this transition, in the last two years, CENN, within the EU-supported project "EU4Youth: Social Entrepreneurship Ecosystem Development (SEED) for Green Growth" has introduced diverse formal and non-formal green entrepreneurship education opportunities, covering university curricula as well as educational courses. Within the project, two university curricula were prepared and implemented in Georgia and Armenia. Both courses covered more than 10 different subject areas, among them circular economy, waste management, climate change, renewable energy, and sustainable development. In terms of non-formal education, six Rural Innovation Knowledge Hubs were established in Georgia and Armenia, in regions that are located close to the borders, playing a key role in developing and delivering green and social entrepreneurship education as well as practical skills.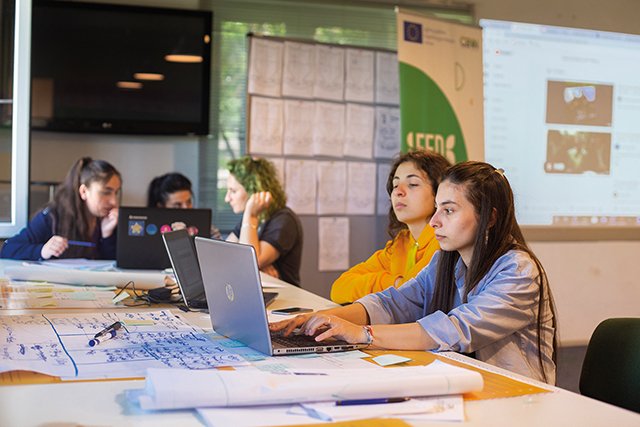 The Rural Innovation Knowledge Hubs aim to empower rural youth, encouraging them to become active citizens and agents of positive change for their communities by providing them with an inclusive and safe working and educational space, and ensuring their access to the internet and technologies. The hubs offer various opportunities for skills development, employment, youth work, social and environmental activism, education, and so on. Active hub members are able to participate in different educational courses such as social entrepreneurship, circular economy, sustainable development, climate change, etc.
The EU has developed an EU Youth Strategy and wants young people to engage and become active citizens involved in democracy and society. EU youth cooperation will make the most of the youth policy's potential, fostering youth participation in democratic life and supporting social and civic engagement with the aim of ensuring that all young people have the necessary resources to take part in society.
"Every young person deserves the chance to fulfil their potential and be part of a modern, interconnected society," says Carl Hartzell, Ambassador of the European Union to Georgia.
"The EU supports young people to become active citizens, to drive positive change in their communities and to act as agents of solidarity. This cannot be done without equipping youth with the necessary skills and knowledge to get connected with companies, communities, and other sectors beyond borders. Digital literacy and critical thinking are key components in this respect.
"Another key priority for the European Union is to act in respect of the environment and assist in finding paths to sustainable development," Hartzell notes. "The EU Green Deal is a testament to this, further stepping up our actions to combat the threat of climate change, and reaffirming our commitment to assist in a green recovery from the Covid-19 pandemic. The younger generation are key actors in promoting and bringing about the required change in mind-set and political priorities.
"Against this background, I am very pleased that our actions in Georgia reflect the EU Youth Strategy to connect, engage and empower youth through a digital and green transition," he says.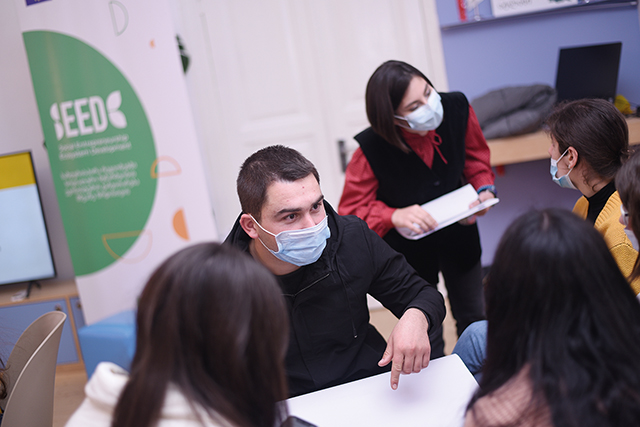 About the project
EU-supported regional project "EU4Youth: Social Entrepreneurship Ecosystem Development (SEED) for Green Growth" has been implemented by CENN in partnership with KRDF and Green Lane (Armenia) since November 2019. The aim of the project is to discover the entrepreneurial potential in the most vulnerable municipalities and to promote entrepreneurship opportunities among rural youth.
The following important education initiatives have been implemented within the project:
A Green Entrepreneurship BA Course at Ilia State University
A Green Entrepreneurship course was added to the Bachelor program of the Business and Technology faculty of Ilia State University (Iliauni), a leading educational institution in Georgia. It was an important step towards creating an educational and academic basis for green social entrepreneurship, which acts as a major contribution to establishing and defining this sector.
Educational Camps
The project saw three streams of education camps for Gori, Akhmeta and Ninotsminda youth. The GREENovators Youth Camps were focused on the introduction of entrepreneurial skills to participants with no prior experience in the field of entrepreneurship or environmental protection. The participants also met famous entrepreneurs and other important representatives from the sector.
Certificate Course
Between February 1-25, 2022, CENN implemented the Green and Social Entrepreneurship Certificate Course. 116 young people completed the course and acquired a certificate.
The students were able to learn more about entrepreneurship, social and green entrepreneurship, the circular economy, climate change, and sustainable management of forest resources, and were also able to master basic project management principles and get acquainted with international best practices.
"Investing in human capital and, in particular, in youth, is one of the main objectives of CENN to foster a just, inclusive and green transition towards a net-zero future in the region," says Nana Janashia, CENN executive director. "We believe that educated youth can be a great catalyst for positive change and a voice for our environment. To work towards this transition, we invest a great deal in educating young people and making them part of the modern global society. Access to information and technologies, digital skills, and green and democratic values are now an integral part of our education initiatives."
Sustainable development is a fundamental basis for present and future generations, which implies a rigorous transition to a green economy and renewable energy. We now see more than ever the importance of sustainable energy and efficiency and digital technologies that promote interconnectedness and solidarity.
Investing in Georgia's digital transition is key to stimulating jobs and growth and bringing about prosperity. This flagship project will reduce digital inequalities and will contribute to the country's economic development and recovery while promoting digital inclusion in line with its national broadband strategy.
Education and awareness-raising are fundamental to achieving sustainable development by future generations, who, through the right combination of skills, business, career and leadership-training, will be in a strong position to make eco-innovation the standard in an enlightened economy.