President of Turkey, Recep Tayyip Erdoğan is planning to visit Georgia in the new future, Turkish Ambassador to Georgia, Fatma Ceren Yazgan, told the Georgian First Channel. 
She added that the date is yet unknown and the details need to be negotiated with the Georgian government.
"When the former Prime Minister of Georgia Gakharia arrived in Turkey in 2019, it was agreed during the talks that a high-level strategic council meeting should be held in Turkey, which would be attended by members of the Turkish and Georgian cabinets. After that, President Erdogan was supposed to pay a visit to Georgia in the spring, but a pandemic started and everything was closed.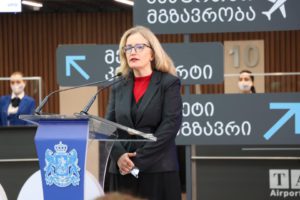 "Now, we are trying to agree on a date and we are waiting for the Georgian government and their schedule. I do not know yet when this meeting will take place, but it will be a great honor for me if the President of my country arrives in Georgia as soon as possible, because the strategic partnership between our countries continues. Erdogan will visit Georgia, he said at a meeting with the media, but the date must be agreed first. I hope it will be possible soon," the Ambassador said.
By Ana Giorgadze