A new educational game – Electionville – was presented by the Europe-Georgia Institute. The game, originally developed by the Swedish Institute and localized by the EGI, is a combination of innovative methods of non-formal education to raise civic awareness and participation among school students.
Electionville is an educational game allowing participants to play roles of council members and get involved in a simulated decision-making process regarding the development and well-being of their town. With support from the Swedish and the US Embassies in Georgia, the game was presented to 9 schools in Tbilisi, Guria and Shida Kartli.
The game urges students to think about important issues for their community, support their views with arguments, build consensus and find compromises. Students learn how to create political alliances and seek consensus to find solutions for the benefit of their own community.
Electionville allows school students an opportunity to easily understand how politics and self-government work, and gain an in-depth understanding of the ongoing processes in their communities.
To learn more about Electionville, GEORGIA TODAY sat down with Shalva Chkheidze, the Executive Director of the Europe-Georgia Institute.
Why did you get interested in the game Electionville?
The idea to localize Electionville was born in 2021, when our Swedish friends and colleagues, Lena Andersson and Tom Nilsson, told us about the game and suggested that introducing it to Georgian public might have been a good idea. We have already been implementing the Public Sector Innovation Programme, a joint project by the Swedish Institute and Malmo University, and Electionville is an unexpected, but very welcome result of this project. The EGI also enjoys very close ties with Sweden, and our President, George Melashvili, was even selected by the Swedish Institute one of 10 SI Changemakers among more than 15 000 Swedish Institute alumni. As soon as we learnt about the game, we got in touch with the Swedish Institute and the Embassy of Sweden in Georgia, and the work to translate and localize "Archevneti" – that's how we call the game in Georgian – began.
What does Electionville involve?
"Electionville implies simulating the activities of the city council," he says. "While playing the game, students are split in fractions in simulated city council. During the game they make decisions on issues crucial for the city and also manage the city budget. The most important part of the game is that students spend about two hours learning and understanding self-government and local budgeting, learn how to compromise with each other and how to seek consensus for the benefit of their community. At the end of the game students have a much deeper understanding of the processes behind the city than they would have through traditional lessons, and tend to like the game much more than traditional study process."
Electionville is a Swedish board and floor game created by the Swedish Institute (SI) to make civic education focusing on local government issues learning process more fun for students.
"The process of working on adapting and translating the game was very interesting and time-consuming. In addition to the translation, it was necessary to adjust the scenarios and vocabulary of the game to Georgian reality," Chkheidze notes. "Another issue was how to pilot a game in a way that would be successful in school environment and our willingness to turn the game into a good resource for teachers in the future. I think that was achieved quite well because after playing with all the pilot schools once, the game received great approval from both students and teachers."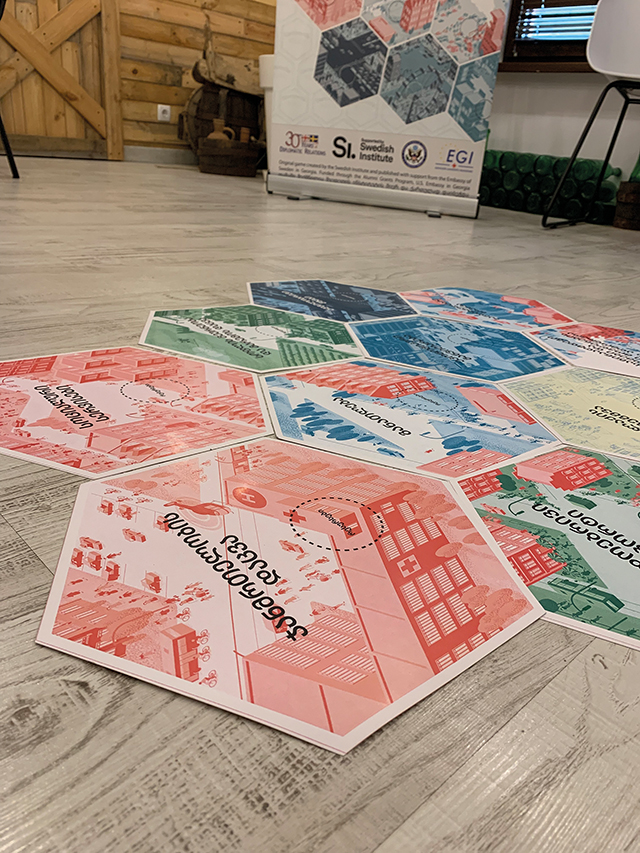 How do you think Electionville will benefit schools and students?
"Modern education must respond to the relevant issues and skills of the era," he says. "Electionville as an educational activity responding to challenges of education in modern Georgia. First of all, it teaches students in a simple way how the local council works and how the municipal budget is planned. Students understand the essence of the necessary and important issues for the city during the game and it also helps to develop critical thinking, debate, and speaking skills."
Chkheidze believes that the most important outcome of the game is that students are left with the feeling that their place of municipality belongs to them and they should be involved in its self-government.
"I believe that with such educational resources, it is possible to create a modern educational system – which simultaneously promotes important solutions and skills and at the same time is fun for students," noted Chkheidze.
The game pilot has been tested in nine schools so far, including schools in two regions.
Chibata Public School was the first to try it out. As Chkheidze emphasized, Lado Abkhazava (winner of the Global Teacher Prize) contributed a lot the first pilot game. Students from four schools in Tbilisi and two schools in Kaspi Municipality also tested the game.
"We are grateful to everybody who supported the Electionville project. First of all, the Swedish Institute and the Swedish Embassy, and Swedish Ambassador Ulrik Tideström together with Tamar Datuashvili were personally and deeply involved in the project. Their contribution was immensely in the translation and adaptation of the game. The US Embassy Alumni Grants program gave us an opportunity to acquaint more schools with the game, and I would like to mention the Civic Education Teachers Forum. The Forum actively helped us in communicating with the pilot schools.
"In the future, we definitely plan to pilot the game with even more schools and provide schools with their own copies. At this stage, by the end of the summer, the game will be available to more than 15 schools and educational institutions, which in turn will help to spread the word," said Chkheidze.
Tell us about the event that will be held in Bakuriani.
Within the framework of Electionville, we have organized a small competition, and we are going to take the winners of the competition, about 30 students, to an EGI-organized summer camp in early July where students will learn many exciting things about engaging in civic life through a program we have created, including about 19th-century civil activists. Throughout the camp, students will also participate in many cognitive and entertaining activities. Teachers of civic education in selected schools will also be able to come to Bakuriani. EGI education specialists will show and teach them many modern methods and activities required in the classroom.
What are your future plans? How do you see the development of Electionville?
The EGI is involved in many different projects, but education is one of our main priorities. I am sure that Electionville will become an important and interesting educational resource to teach civic education in schools. In addition to Electionville, EGI also conducted a Social Audit pilot program at 2 schools in Tbilisi, where high-school students researched and audited municipal programs and projects. Both Social Audit and Electionville are activities focused on civic engagement and democratic skills development among students, and we will continue to work in this direction in the future.
As the President of EGI, George Melashvili, noted "Electionville teaches students to build consensus and find compromises, and these skills are crucial for Georgia's European future. The first point of the European Commission's Memo is that Georgia should address the issue of political polarisation, through ensuring cooperation across political parties; and when we talk about political polarization and ways how to ensure cooperation across political spectrum, games like Electionville are good not only for students, but for Georgia's political elites as well. We consider this game as our contribution to this process, and a way to demonstrate how institutions and politicians should and can behave".