Before the war, there was this wishful thinking that one day democratic changes would come to Russia and the Russians will understand the benefits of basic freedoms such as free election or free media, or free, non-corrupt business-making…Before the war, we were always reminding Russia that there was an alternative path to take. Now, with Russia having crossed so many red lines, it is very difficult to imagine the West dealing with this government again in a "business as usual" mode, – Lithuanian Ambassador to Russia Eitvydas Bajarunas said in an interview with Radio Free Europe's Georgian Service. He remained in Moscow until April and left Russia after the events now known as the "Bucha Massacre". Vazha Tavberidze reached out to Ambassador Bajarunas from Prague to discuss the war in Ukraine and what the overarching western policy should be for Putin to taste defeat.
How have the last three months been for you?
Being Lithuanian Ambassador to Russia is always challenging. When, at the end of 2019, I was proposed to continue my duties there, I accepted without any strong sympathy. Even before the war, this would be a challenging task for any diplomat, but for a Lithuanian diplomat it is probably the toughest assignment you can get. When I assumed my duties back in 2020, I never thought I would see Russia waging an open war against Ukraine. Sure, President Putin had already started his long journey leading to the war with constitutional changes, and curtailing whatever freedoms remained there in Russia, and it didn't promise any kind of brighter future for Russia. But back then, it was still hard to imagine that instead of their usual tactics of hybrid warfare, which Russia was and is very capable of and which was working so effectively on some of our Western friends (who were saying, that yes, it's not good, but we still need to engage Russia, talk to them and work towards a policy of appeasement), Russia would opt for an outright war. But then, two months prior to February 24, Russia started dishing out threats and ultimatums, and then the night of the 24th it crossed all lines – and it dramatically changed what it meant to be a Western ambassador and a diplomat based in Russia. To wake up in a country that is waging war against its neighbor, that's a challenge not only on professional level, but for the life, security and well-being of you and your personnel. Of course, as a diplomat, you should never view anything as "mission impossible", but we soon realized that there was very little, if any, room left for diplomatic maneuvers.
Of course, some Western leaders are still calling and talking with Putin, and there is still some very limited political engagement, but it has become clear that it's a situation which will be decided on the battlefield, as hard as this might be to acknowledge as a diplomat. Russia put Lithuania on the list of the "unfriendly countries". And then, at the beginning of April, after the discovery of the "Bucha Massacre", Lithuania decided that the appropriate reaction to this, on a diplomatic level, would be to lower the Russian diplomatic representation in Vilnius to a below ambassadorial level, to a Charge d'Affaires level, and close Russia's Consulate General in Klaipeda. I was recalled to Vilnius and am currently awaiting our government's decision regarding my future.
I want to ask about the eve of the May 9 parade when the Russian Ambassador in Poland was doused in red paint. Is that a cause for concern for you that Russians might retaliate in kind against you / your colleagues who are still in Russia?
I will have to be a little restrictive in my response to this, I'm afraid, because while I am personally now safely in Vilnius, there are still my fellow diplomats, both Lithuanian and from other EU and NATO countries, in Moscow doing an important job. Diplomats, in any country, have immunity, which stems from the Vienna Diplomatic Convention. On May 8th, a day before this military parade in Moscow, there were demonstrations in the front of the various NATO and EU [countries'] embassies in Moscow, including in Lithuania, and of course, I imagine the feelings of Lithuanian diplomats staying in Moscow, considering they are in a country that is "in the mood for war". There were constant threats issued by email and phone.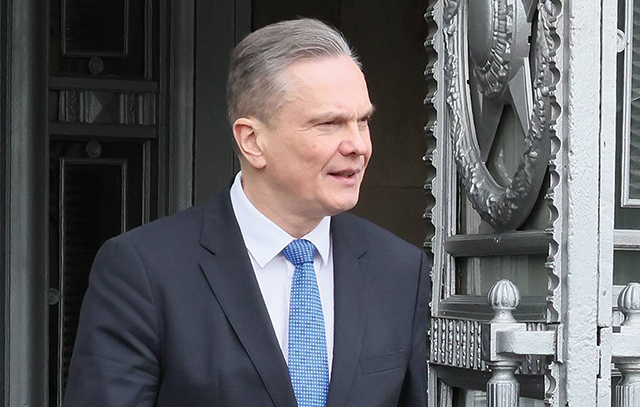 You might want to remain diplomatic, but your country certainly isn't, because they recently became the first parliament to designate Russia a terrorist country and its actions in Ukraine as genocide. What's your perspective on that?
Let us start with the matter of genocide. It's a decision of the parliament. As a political entity, representing the people of Lithuania, it is free to express whatever it thinks. I definitely support the argumentation of this resolution. Every day, new evidence emerges of Russian war crimes and we should look to the future, the future when Ukraine will win and when we, the international community, will have to assess and deliver judgment on crimes committed by Russian forces during this war. It is also a signal to Russia that in the era of information, while you may misuse information against us in the West, information is also there to be used against you. Every single crime committed by Russia will be recorded; it won't disappear, it will be investigated.
That future you mentioned, where is Russia's place in it?
It's a difficult issue to contemplate on at this point, because, before the war, there was this wishful thinking that one day democratic changes would come to Russia and the Russians will understand the benefits of basic freedoms such as free election or free media, or free, non-corruption-based business-making; that they will understand that all this is much more preferable to living under a totalitarian regime. Before the war, there was this kind of optimistic thinking and I think we never fully abandoned it, we were always reminding Russia that there was an alternative path to take compared to what they'd chosen. Nevertheless, after the war, with Russia having crossed so many red lines, it's very difficult to imagine the West dealing with this government again in a "business as usual" mode.
As for Russian society, especially the part that strongly supports President Putin and his government – after years of masterful brainwashing by their leaders and state television channels, they now view themselves as goodies and all the rest as baddies: Ukraine is fascist, the EU / NATO are decaying and enemies of Russia. It's them versus us for them; the world split into two, with no in-between. This is further reinforced by the narrative of WWII victory introduced as solely an achievement of Russia, disregarding other actors completely. In Russia, May 9 is not about remembering the countless dead that perished during the war, but more dedicated to the glory of the Russian military mind and military prowess. But in a way it is also natural when you remember that President Putin came to power with the Second Chechen War and continues this streak of military invasions to this day, be it in Georgia, Crimea or Syria. His philosophy is based very much on this macho image of a president in charge of a militarized country.
What is the end goal of Putin's ongoing military efforts in Ukraine?
On the morning of February 24, Putin was clear with his goals: Denazification, demilitarization, and so on. Now, after two months of fighting, these goals have disappeared. He used his speech on May 9 more to find excuses why the goals hadn't been achieved. But it is clear that Russia will still continue waging war, and there is no signal that Russia is willing to deviate from that path. This is the sad conclusion from the May 9 speech, which also means that the West should continue supporting Ukraine to the very end.
On the Western support – how unwavering do you think it will be over a longer period?
As I mentioned, as sad as it is, it is inevitable that the end of this war will be decided on the battlefield in Ukraine, not by diplomatic efforts. That is why continuous military support from the West is tremendously important. And it's good that, one by one, countries are coming up with solid military shipments to Ukraine, which, by Lithuanian appetite, is a bit late, but better late than never.
Western cohesion and commitment will play a decisive role in the outcome of this war. So far, we are positive that the continuous sanctions policy is on, there are now discussions (and some disagreements) on the sixth package, but in the end, we will come to a good solution on this.
When it comes to Russian energy, for Lithuania it is easy, because we have an alternative gas and oil supply and we can easily switch to it. For some other countries, this will take much longer. But what is important is that while some countries have the technical reasoning to try and postpone, or re-schedule, agreeing to this, no country is against it politically. This is what Putin has achieved, even on the energy issue: the countries may say "Yes, after one month, after one year," but they are refusing Russian energy and it is a strong signal to Putin, and I am sure he is listening, that even his closest friends in NATO and EU have agreed that this is a decision they need to take.
And then there is [the need to] cripple public support for Putin in Russia. It hasn't happened yet, but with the sanctions, with the economy struggling, with more information coming out of Russia's military failures in Ukraine, with more body bags arriving in Russia, it will start to change. Not immediately, but it will, and this is why we in the West need to exercise strategic patience.
Interview by Vazha Tavberidze