Today, we are all winners. These young people came up with many interesting ideas, proving themselves consistent professionals. – Zaal Kheladze
In order to achieve sustainable human development and solve the energy and environmental issues of common concern in the world, green building has become a necessary form of future building development. Nowadays, countries worldwide strive to widely introduce the elements of green architecture in their economies, and Georgia is also a part of this global trend. Considering that this field is relatively new to the country, the role and activities of organizations that serve this goal becomes especially important.
One of the pioneers and initiators in the field locally, the Bazaleti Green Engineering Center, which has long been actively sharing its knowledge and experience through various campaigns to raise awareness about sustainable architecture and building a circular economy, organized yet another important educational event on June 4-5, on the occasion of World Environment Day, in collaboration with the Caucasus School of Technology Architecture Program.
The two-day event, aimed at raising awareness and deepening knowledge about the combination of 'green' skills and modern technologies, brought together students of the Faculty of Architecture of Caucasus University, International Black Sea University, University of Georgia, and Ilia State University. Informing the young generation about nature-based solutions, perspectives of their use in Georgia, and the integration of sustainable development principles for creating successful business models was the main goal of the event.

The participants and supporters of the event included CENN, 'New Technologies Center,' the Green Building Council Georgia (GBC), Association Forest Products, project studios DMARK, Escoes, and Meti Development.
As part of the educational event, participants had an opportunity to attend special seminars and workshops conducted by highly experienced mentors, attend public lectures, and take part in various environmental activities.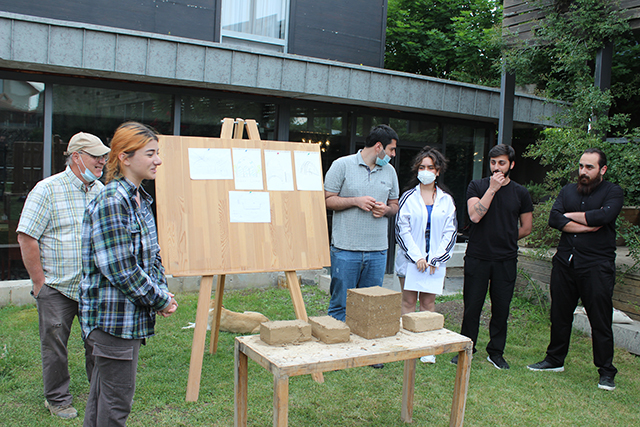 The first day of the event held at Caucasus University saw welcoming speeches by management and professors of the Faculty of Architecture of the University, introducing the activities of the Caucasus Environmental NGO (CENN), the role of the Forest Products Association in sustainable development, the principles of multi-apartment residential building planning considering sustainable initiatives, creating a bird-friendly urban environment, certification of green buildings, examples of green projects implemented in Georgia, such as 'Business House' – LEED certification, land architecture, philosophy of sustainable design, NBS -Nature Based Solutions and prospects of their use in Georgia, and more. Most importantly, students of the faculty had an opportunity to deliver speeches themselves and introduce their views and initiatives for achieving sustainable development.
At the end of the event, working groups of students were created, who headed to Bazaleti Green Engineering Center the next day to carry out practical works and perform various special tasks given by their mentors.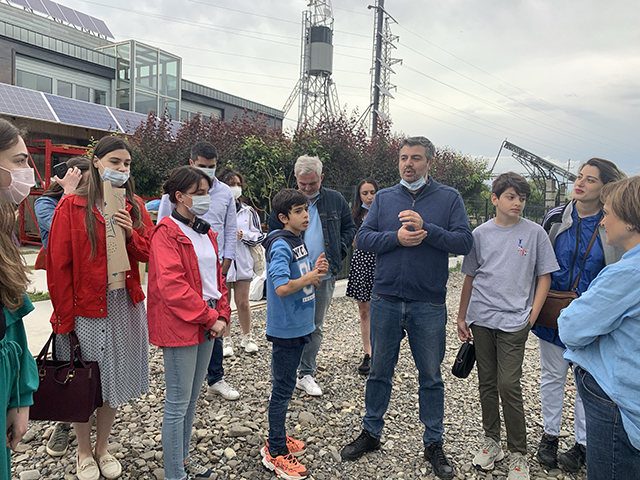 After discovering the Bazaleti Green Engineering Center and its eco-friendly solutions, the students started performing group work together with their mentors in parallel with free environmental activities on the shores of beautiful Bazaleti Lake. The students enjoyed planted trees, and, together with Architecture Doctor Gvantsa Kheladze, planted several seedlings of rare trees in the yard of the Center to express their love of nature and to celebrate the World Environment Day.
The culmination of the event saw presentations given of the students' eco-friendly and creative works based on the tasks received by mentors, including: "birds' dining house" arranged on a tree; compressed soil earth bricks; an energy efficient university campus project; a house project using energy efficient solutions; and a trombe wall for generating and maintaining heat in the building. The latter merited special approval from the evaluators and the representatives of the Bazaleti Green Engineering Center, however, as Center Founder Zaal Kheladze said at the end of the event, on this day, all the participant students were winners and victorious due to their creativity and environment-friendly ideas. He wished them success and expressed readiness for collaboration with the young generations interested in the sustainable development of the country.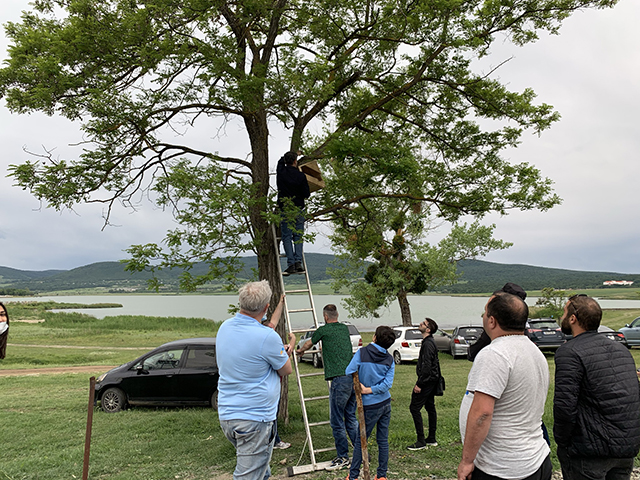 "Our center and I personally are always ready to consult, advice and share our knowledge with all interested members of society, especially the youth. They can visit our center, ask for advice in their future projects and activities, contact us via our hotline, and collaborate with us, so that together we can build a greener and healthier economy for our country," Kheladze concluded.
He told GEORGIA TODAY that such informational meetings and events are important for finding and connecting with future professionals in the field.
"In our work, the decision-makers are architects and engineers. The challenge we see today is a lack of academic, highly experienced professionals. This also applies to other fields, so now we need professionals and academic staff, especially when we have an ambition to develop green technologies in the country. We want to find professionals for collaboration on the local level, that's why active information campaigns are being organized with young people from various fields.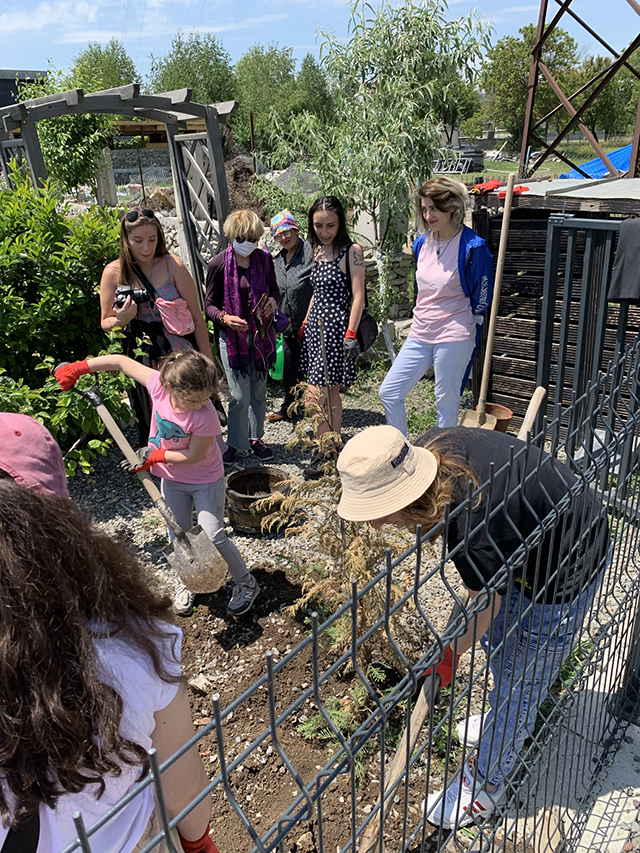 "About 15 years ago, our center was the first organization to launch seminars in green journalism and to organize a competition. We've had active collaboration with architects and engineers, organizing conferences and seminars for them. Such events significantly contributed to increasing their sense of responsibility in terms of environmental protection. It will continue so in the future, as the green lifestyle is for everyone, and one of the main goals of our center is to develop that sense of responsibility and care for natural resources within society.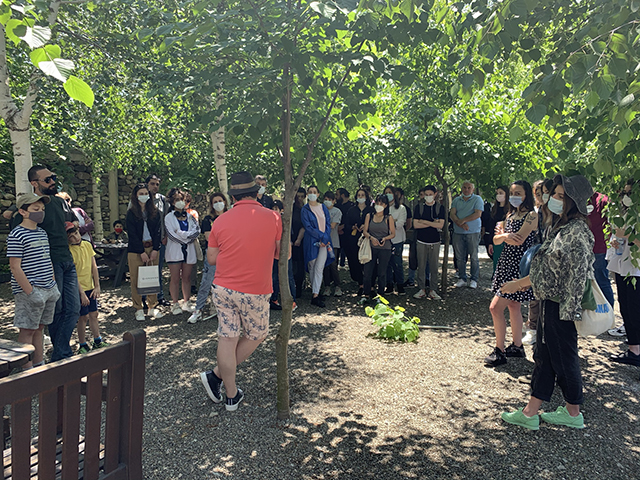 "We started collaboration with universities quite a long time ago. In 2008, together with Technical University, the 'Laboratory of Green Engineering' was founded. An active relationship with young generations is always important, as they are our potential colleagues and partners. In the future, to increase awareness, we're planning on creating a special platform, where syllabuses with relevant information will be published, to help interested professors and students in their studies. We have such platform, but for school teachers. Now we're going to move on to the next level. This is our future goal," he told us.
The Green Engineering Center has other exciting future plans, including holding a contest entitled 'Green Wine Enterprise 2021,' aimed at developing "green" production of wine, with a gradual expansion of the contest to cover more and more areas, and building an energy efficient heaters and heating systems factory near the Bazaleti Center, in the mountains, as such products are especially necessary for the population living there. They are eager to set up a vocational education institution on the basis of the enterprise, which will contribute to educating young professionals in specific areas, such as welding, electrics, etc.
The doors of the center are open for all environment protection enthusiasts. Further, the space can be hired for conferences or meetings, allowing businesspersons to share the practical experience of the center in terms of sustainable architecture and environmental protection.
By Ana Dumbadze