At this moment, so much is still in flux in the business environment, in the whole world, as well as in Georgia in particular. My wife and I run the main village shop in Etseri, Upper Svaneti, as well as hosting people with a range of budgets in our large guest house. The following consists of an imaginary interview of both of us, by me, regarding how our businesses are at the moment. My wife is really the practical one, the doer and businessperson in this marriage, while I am the creative one, the dreamer. We have found a way to work together…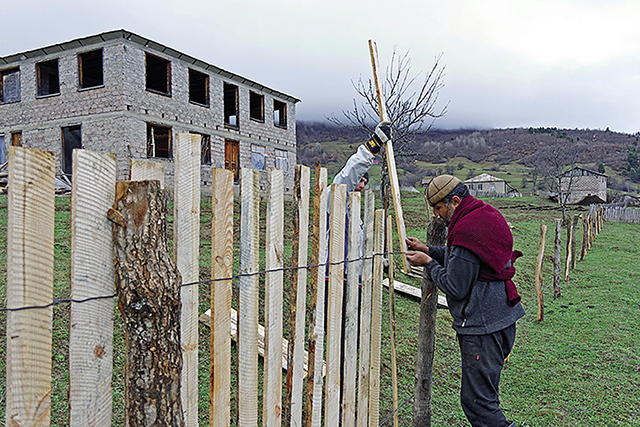 How are your two businesses coping with the current status of COVID-19?
The shop is flourishing, but the guest house is floundering. Fortunately, we're not in a position of any debt, and we both have other sources of income (English teaching, journalism) to fall back on. So we are most thankfully not under nearly the amount of financial stress that some people are, with their main income reduced to zero and heavy, interest-accumulating debt to banks as well!
We've kept the shop running right through the pandemic, following distancing and masking rules as required. Even when Tony had the Virus and was self-isolating upstairs, in December 2020, we were allowed to have the shop open, though with a doorway barrier preventing people from entering. There are various attitudes in the village towards mask-wearing; we keep ourselves masked, and try to enforce masking for our clients, with varying success. We do offer masks for sale in the shop, and hand sanitizer to use.
The guest house had not a single visitor from mid-March 2020 through early June 2021, a record which was recently broken when five cyclists from Ukraine arranged to spend the night. They had all had virus tests. Officials came to the house last year to go through the situational health and sanitation regulations for guest houses with us and make sure that we understood them. We haven't been in a hurry to get more guests coming, but are ready when they do. We have the required "thermometer gun" and disinfecting mat, as well as following the other regulations in Viral times. We will insist on either proof of complete vaccination or a negative PCR test for anyone wanting to enter and stay the night. If they are set up and content to camp and cook outside, as some people are, we can be less strict. This is one of the possibilities for staying with us, for the budget-constrained, self-contained traveler, who can also buy whatever they need to cook or eat right from the shop.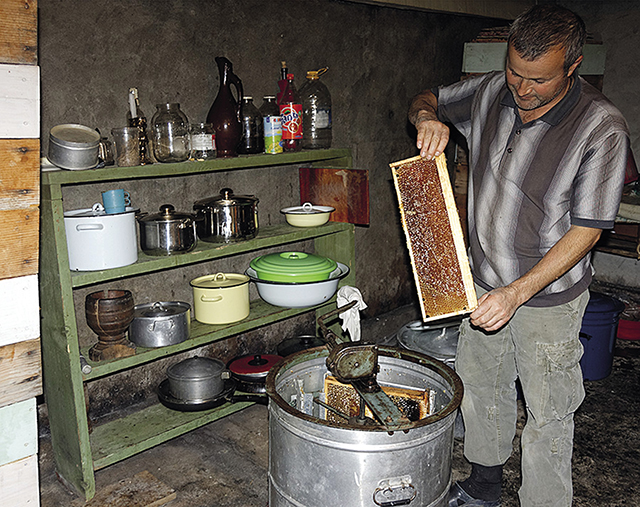 It seems much more prudent to assume the worst, protect ourselves and our clients as much as possible, and be over-protective than the opposite, which might increase infection risk. Our guests might have come to us by bike or on foot; but we don't know how they entered Georgia, or whom they had contact with in the country, which is still listed by the CDC as high-risk as I write this.
The regular flow of trekkers on the popular route up through Etseri to Mazeri, with a possible shopping, meal or overnight stop at our place, has so far had not a single person this year, when this season is usually typically wide open. True, it's still a bit colder than usual for mid-June (down to 4 or 5 degrees C at night at our location; even a bit colder than that at altitudes higher than us, light snow up there still possible!). Some rain is still in the daily forecasts, whereas July and August are typically quite a bit warmer than this and almost rain-free. So the summer foot tourism season is late, and may kick in much better next month with the expected better weather. But this too is not guaranteed, so we will just have to be ready, and wait and see.
How do your businesses comply with or contribute to the current un sustainable development goals?
We try to use local businesses whenever possible, to keep money in the community. These businesses have included to date wood furniture making; the service of a plumber, electrician, builder, garden helper or someone to scythe our land; purchasing honey, meat, vegetable, fruit and milk products locally; hiring a guest house or shop helper; and more.
We also have a stake in local education, both during and after school years. My wife and I partnered in English teaching (with other teachers as well) in Mestia, Becho and Etseri; I was doing this alone in Ushguli before 'Teach and Learn with Georgia,' ex-President Saakashvili's grand English teaching program, began, in 2007-9. We try to encourage pupils to see how far English can take them, from their own community (e.g. as a guide) to the ends of the earth (as anything they can dream of).
We are connected with a few sources of humanitarian aid to Svaneti, including clothing and some occasional medical help.
We try our best to educate our community members about garbage disposal; at least now there are proper dumpsters in the community being emptied by proper trucks. But old habits of throwing your sweet or cigarette wrapper anywhere do indeed die hard…
Our house's black and grey water empty into a custom-built underground drainage pit, thank you very much, not into the trout-filled river!
We try to build for the future, when the current free electricity with which Upper Svaneti is blessed will be metered and not free. Using insulation in new building or renovation, for example.
There is more we can do, but we are trying to be conscious and conscientious in our community. So many people think that one person's littering, or bought vote, or whatever, can make no difference; we try to demonstrate otherwise.
Other advice for business owners in Georgia?
Mainly to keep vigilant sanitation- and protection-wise, and learn and follow the laws even if you disagree with them! We feel strongly that this is the better side on which to be wrong, rather than being over-lax, seeing everything as a conspiracy, not checking rumors, and increasing risk thus. The virus won't be over till it's over; it's still mutating and spreading; we are all sick (if of nothing else) of having it dominate the news and media and our very lives. But here we are, this is our whole world at the moment. If we let it drag us down into despair, we have lost.
Also, there is the financial temptation to cut corners wherever one can, especially when the pressure is high and the bills are mounting up. But there is an opposing, possibly counter-intuitive principle one can choose to follow of being generous, and without seeking positive bounce-back from this, seeing it happen anyway. If nothing else, one is increasing the amount of goodwill in this way. I am a bit of a stickler for following the national and local laws as much as possible, I must say, and am also aware that if I break them seriously enough, the nightmare of deportation as a foreigner from this country I have adopted for 21 years faces me…
We are making sure that all the ways we have of advertising the guest house are up to date with current prices and policies. These include travel books (admittedly already printed and thus the most liable to get out of date); Facebook; my byline in Georgia Today; airbnb.com; booking.com; maps.ge and Google Maps; our physical signage and business cards; and with other tourism companies and partner guest houses in our village or elsewhere which have our details, and with whom we can share clients. We have taken advantage of every possible way to cheaply or even free-of-charge put ourselves on the map for tourism in our area. And we try to cooperate instead of competing with other similar local and regional establishments. In all these many ways, most of them easy and free, we can say that we are open for business (with caveats).
By Tony Hanmer
Tony Hanmer has lived in Georgia since 1999, in Svaneti since 2007, and been a weekly writer and photographer for GT since early 2011. He runs the "Svaneti Renaissance" Facebook group, now with nearly 2000 members, at www.facebook.com/groups/SvanetiRenaissance/
He and his wife also run their own guest house in Etseri: www.facebook.com/hanmer.house.svaneti