Founded by Mariam Golashvili, Meishu is a Georgian brand that started operating during Covid-19, spreading high-quality, colorful, and aesthetic face masks everywhere. After two adventurous years, and an increased variety of goods, the brand will now export its products to the UK – bringing individuality and spreading positive emotions.
Mariam talked to me about her business, success, and future goals.
How would you describe your business in a nutshell?
The idea for the brand "Meishu" first came to me exactly 2 years ago – in April 2020. Since then, the company has grown, and to the demand of the loyal consumers, we have expanded our list of products (mostly face masks) by adding Scrunchies, Tote Bags, T-shirts, Hoodies, and different kinds of accessories and jewelry. There are other products in the work as well, but our main features stay the same for all the products – aesthetic style, good quality, and loads of color choices.
The name 'Meishu' is symbolic as well – it's a Chinese word meaning 'Art'. I think this is a good depiction of the artful soul of our brand as we try to add more life, color, and vibrance to everyday moments – whether it's making it more exciting to put on a mask, adding more brightness to rainy days by wearing colorful, cozy hoodies or complementing our ordinary outfits with cheerful accessories.
Tell us what was the main reason for starting this business?
The stress and tension caused by Covid-19 were at their highest at the time when Meishu was launched since it was a completely new phenomenon for everyone. It was stressful enough that all of us were forced to get used to things that we were never bothered by before, moreover, we had to make it our everyday routine, a part of our lives. One of those things was Face Masks. Aside from being uncomfortable, face masks had this oppressive and negative connotation of being associated with the virus that hampered our lives out of nowhere. Personally, I hated wearing those masks as much as everybody around me. We couldn't see each other's faces, expressions, emotions, suddenly, all of it seemed so dull and lifeless. This needed to be seen from a different perspective – we needed the change.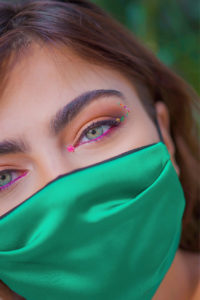 What was the solution you came up with?
That's when it came to me that with the right packaging it wouldn't seem so bad anymore. Perhaps if we turned these 'horrible' face-coverings into something more cheerful, colorful, and stylish, allowing us to express ourselves, they would become less unbearable to use. I had just finished my bachelor's degree at the time and my job went completely online, so having more time on my hands, it seemed like the perfect time to execute all these ideas and turn them into reality.
The most challenging part was probably creating the right, aesthetic design for the mask while meeting all the health and safety requirements and maintaining its convenience. After a lot of work, experiments, and adaptations we created the final product – a good quality reusable face mask that was comfortable, fashionable, and most importantly colorful – we made sure our color palette would allow each individual to find something that could express their character or even just an emotion and mood of the day.
For the face masks, we use two types of materials – silk and cotton, both of which are very breathable and of high quality. It is also very important for us to have as soft ear loops as possible, as a lot of people were forced to wear a mask all day for work or other reasons.
Who is your target audience when you speak of people?
The response rate was super high from the day brand got launched, and it was increasing daily. Apart from individuals, a lot of large companies like "Lutecia", "Borjomi", "Evolution Gaming" and many educational and media institutions became our clients and partners. Now it seems like something very usual, as a lot of other companies, were founded who are making similar kinds of masks around the world but at the time we were the first ones on the Georgian market, and I am very proud of that. I remember I would get so overwhelmed (and I still do) every time someone wrote to us about how thankful they were that they had finally been looking forward to wearing masks rather than despising them and that they could stay fashionable while being safe. That was the goal, and I was on cloud nine while seeing it coming into reality.
What motivates you to carry on doing this business?
I'd say the positive feedback from customers. I never expected so many encouraging messages and heart-warming comments from people around the country. Being a young woman who suddenly got into business with no large prior experience, that was extremely important for me. Whenever I would get too tired or discouraged, seeing people wearing Meishu masks and getting back to us kept me motivated. I am exceptionally grateful for the support Meishu has received from the beginning and the people who believed in the vision of the brand.
Can you tell me about your decision to export to the UK?
As I have mentioned, since 2020 our brand has been born, grown, and developed in the Georgian market taking all the wonderful bits and experiences and leading to its current state.
As 2 years have passed, we have come to a point where we think the brand is ready to expand to a new market with fresh experiences and opportunities accompanied by its challenges. I think this is the best logical step for strengthening our brand and helping grow the business. Moreover, by exporting our products to the UK we want to play our little role in raising awareness about our small but vibrant country – Georgia.
How will Meishu bring value to the UK market?
This business has allowed me to encourage mask-wearing in my community to people my age and others who are incorporating it into their daily fashion. I feel hopeful to do the same here, in the UK, and more than that. Considering all our products are handmade and sustainable, we want our brand to inspire everyone that it's possible to be green and keep things energizing, empowering, and playful at the same time.
Aside from masks, our exported products will also include scrunchies and tote bags, and with demand, we are looking forward to bringing more. Our brand open heartedly welcomes everyone who loves diversity and individual style. This is one of the reasons why we do our best to keep our prices low and make them affordable for the younger generation who are often looking out for something that's bold and bright and who are frequent shoppers of our products.
People will be able to place orders for our products on our website: www.meishu.uk and can follow us to see more content and news on our Instagram: @meishu.ge.
Author: Ana Bibileishvili  https://www.bibilea.com/