After declaring independence from the USSR, finding ways back to Europe has become an aspiration of Georgian society, but the influence of the Soviet era hasn't disappeared in its entirety: Even after 30 years, our governments struggle to deal with the hindering factors it created, one of them a lack of community engagement. Many citizens are told that participating in elections is the only thing they need to worry about, and the rest is up to the elected candidates to take care of. There is no doubt that voting is a crucial instrument for people in democratic countries, but their engagement in the decision-making process is also vital. That's what the West is all about, and if Georgians see their future in Western alliances, they need to work on this factor. Thankfully, they are not alone – UNDP Georgia and the Embassy of Denmark in Georgia have become involved in a project specifically designed to enhance local development and citizen engagement.
On July 17, H.E. Anne Toft Sorensen, Ambassador of Denmark to Georgia and Armenia, Nick Beresford, UNDP Resident Representative in Georgia, and Mzia Giorgobiani, Deputy Minister of Regional Development and Infrastructure, visited the Mtskheta and Dusheti municipalities to assess the progress of local development projects supported by Denmark and UNDP. The visit aimed to strengthen local development initiatives and promote citizen engagement in decision-making processes.
Ambassador Sorensen told GEORGIA TODAY that public participation in decision-making processes is vitally important, which is one reason why Denmark has supported decentralization in Georgia for almost eight years. "When the public participates in decision-making processes, you move the local agency, the decision-making process closer to local communities that can be more flexible because they understand the challenges and know how to solve them. It also gives transparency and accountability to the electorate because they are much closer to those implementing the policies for the community," the Danish ambassador said.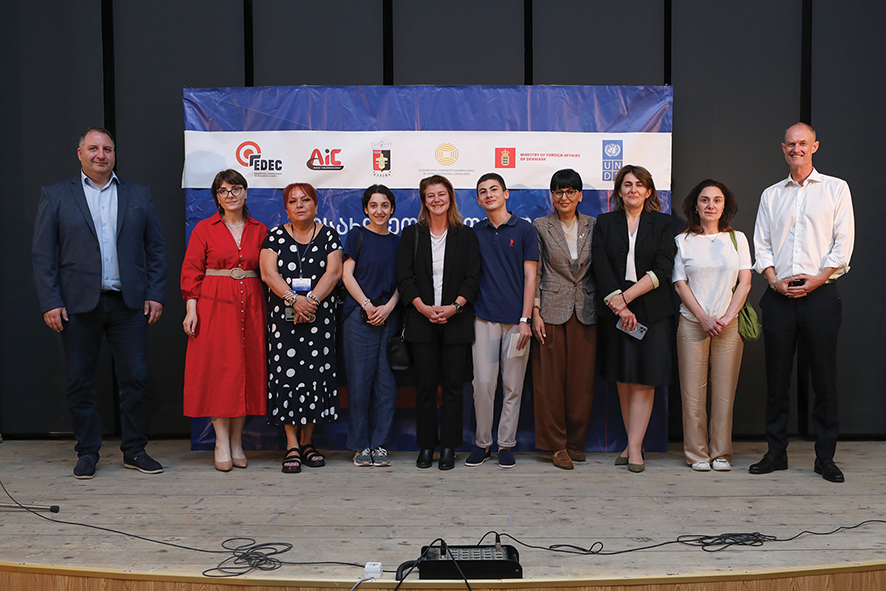 Mtskheta and its newly established tourist information center was the first location they visited. At the center, they met Mayor Dimitri Zurabishvili, and with him, they engaged in a discussion to uncover untapped potential and evaluate the impact of tourism development on the social and economic well-being of local communities. During their visit, the guests had the opportunity to experience innovative audio guides, a user-friendly tool developed with the support of Denmark and UNDP. It offers visitors an immersive exploration of Mtskheta's rich history spanning three millennia. Then the delegation explored the renowned Svetitskhoveli Cathedral, a significant historical and cultural monument in Georgia.
Meanwhile, Dusheti Municipality hosted its first-ever community forum, organized by local civil society organizations, with delegation members in attendance. The forum provided a platform for dialogue between Mayor Manana Narimanidze and local residents, enabling a comprehensive assessment of the economic, social, and infrastructural challenges faced by the people of Dusheti. Collaborating with local authorities, the participants sought to identify effective municipal solutions and foster inclusive decision-making processes.
"This event in the town hall, with the population council, helps the mayor to reach out directly to the local community, to civil society. It creates a space for people to present their ideas about what they think the investment should be at a local level," Nick Beresford, UNDP Resident Representative tells us. "This is democracy in action, this is human rights at the local level, but it also presents great opportunities to make smart investments that serve local needs and speak to the local context."
During her speech, Mayor Narimanidze competently addressed each topic the groups presented, and announced that the local government will start working with group members to deal with the issues Dusheti citizens face.
"Today, we hosted a truly successful forum. Members of all nine target groups perfectly set out the problems we face and the priorities our municipality should have," the Mayor said, speaking to GEORGIA TODAY. "When we receive their feedback, it is our duty to get back to them as soon as we start working on next year's budget."
She also thanked each and every person involved in the process and underlined the role of citizen engagement in hosting the forum. "I'd like to express my gratitude to our citizens, who understand what local self-governance is all about and how important their engagement is in making it work," the Mayor added.
The visit of the Danish Ambassador and the UNDP Resident Representative to Mtskheta and Dusheti municipalities highlighted the successful cooperation between Denmark, UNDP, and the Georgian Government in advancing local development and citizen engagement and fostering sustainable growth and inclusive societies. Denmark and UNDP are supporting a range of similar initiatives in 23 municipalities across Georgia, drawing on the resources of a $4 million Danish-funded project for Decentralization and Good Governance.
By Erekle Poladishvili