It was my great privilege recently to attend and photograph for GT the first 2023 showing of Zakaria Paliashvili's second opera, Daisi (Twilight), at the Tbilisi Opera House. The opera premiered in late 1923, so this is its centenary year, with a planned run of eight evenings in total, all sold out.
Some context: in 1923, V.I. Lenin was in his last year of life, with Stalin waiting in the wings to unleash his Reign of Terror/Modernization of the Union/Insert Your Version Here. The newly formed Soviet Union was still in chaos. Georgia was dragged into this too: it had declared independence in 1918 after more than a century as a Russian province, been invaded by the Red Army in 1921, and forcibly made a Union Republic in 1922.
Daisi deals, essentially, with a love triangle and impending war. I recognized upon hearing it the source of the music for Georgia's current national anthem: straight from here.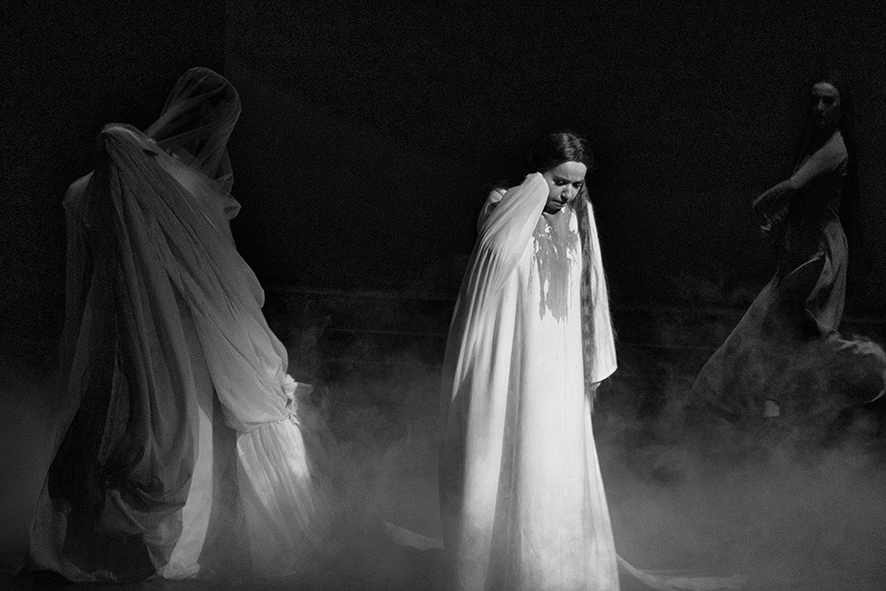 The stage, choreography (several traditional dances by the Sukhishvili National Georgian Ballet), solo and choir singing are all magnificent. Death appears as a woman veiled in translucent white, foreshadowing the doom of several characters while rose petals fall; I could not stop photographing her. Once war is declared as imminent, the main backdrop changes from a circle with trees winding through it to a massive spearhead pointing down.
It had been quite a few years since I photographed Georgian dance, and I generally went with a slow shutter speed to show the blur of the dancers in motion, choosing full color. But I switched to black and white for the rest of the performance, which, with its stark backdrops and spotlit characters, is highly dramatic. 480 shots later, I found myself with several days' worth of editing. A friend, David Stembridge, was my backup photographer.
I was thrilled by the action and pathos of the whole performance, and could only imagine how the full house of mostly Georgians must be feeling all this in their bones. For us foreigners, subtitles in English were helpfully provided above the stage, really letting us participate in understanding what was going on. I would have been lost without them, as sung Georgian is harder to parse than spoken, just like any other language.
An evening of Daisi is worth a shelf of books on Georgian history. Here it comes fully and gloriously alive, and one cannot help but be moved by it. Those readers who have been lucky enough to get a ticket should count themselves fortunate indeed. You will not be disappointed.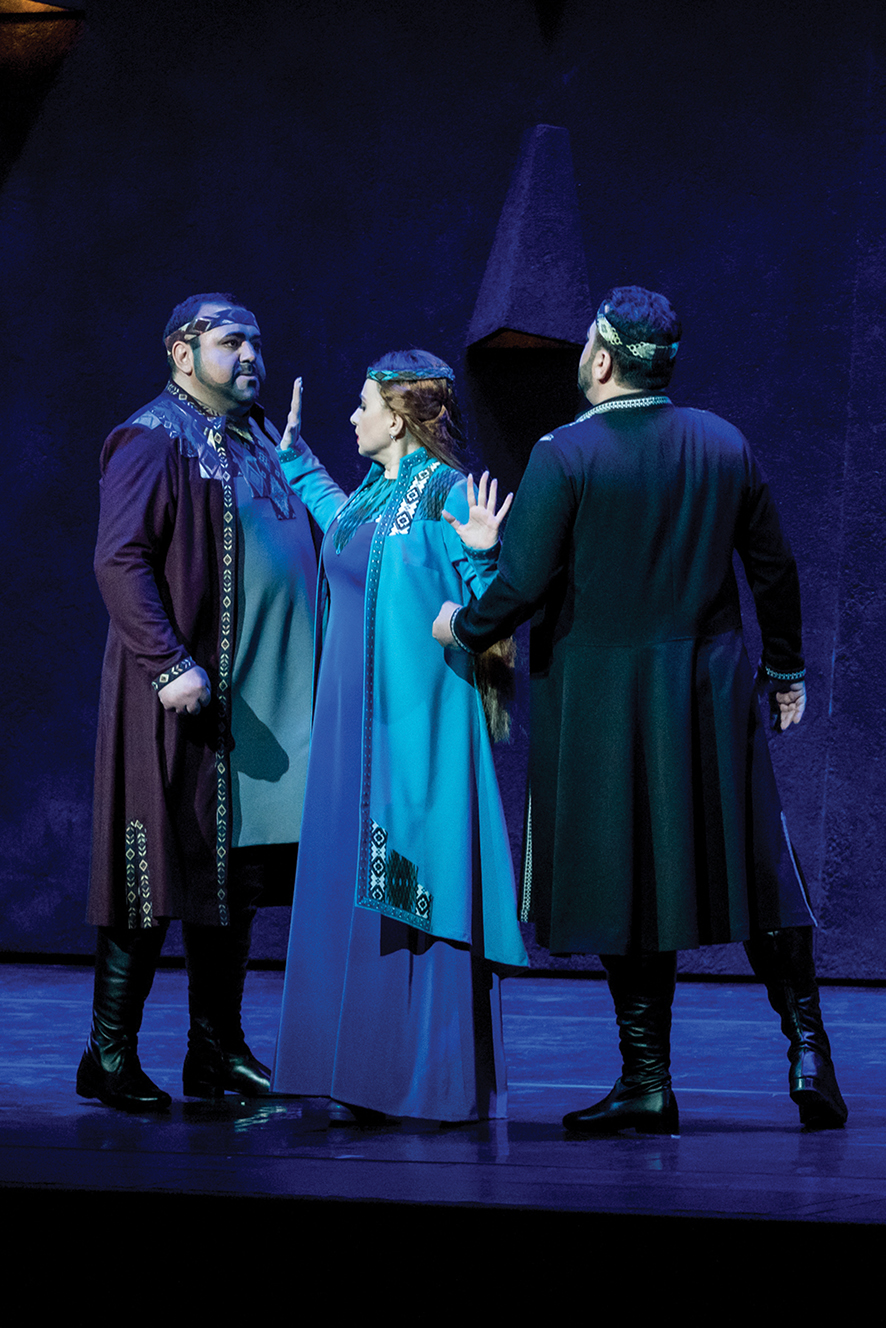 DAISI by Zakaria Paliashvili, 1923
Tbilisi's Z. Paliashvili Opera and Ballet State Theatre, April-May 2023, 19:00
Libretto by Valerian Genia
Soloists: Armaz Darashvili (Malkhaz); Vakhtang Jashiashvili (Kiazo); Marika Machitidze (Maro); Irina Aleksidze (Nano); Tamaz Saginadze (Tito); Gocha Datusani (Tsangala)
Chorus and Orchestra of Z. Paliashvili Opera and Ballet State Theatre
Georgian National Ballet Sukhishvili
Conductor/Music Director: Revaz Takidze
Director: Gocha Kapanadze
Choreographer: Iliko Sukhishvili Jr.
Artistic Director: Badri Maisuradze
BLOG by Tony Hanmer
Color photos by David Stembridge, black and white by Tony Hanmer
Tony Hanmer has lived in Georgia since 1999, in Svaneti since 2007, and been a weekly writer and photographer for GT since early 2011. He runs the "Svaneti Renaissance" Facebook group, now with nearly 2000 members, at www.facebook.com/groups/SvanetiRenaissance/
He and his wife also run their own guest house in Etseri: www.facebook.com/hanmer.house.svaneti