"I think the education system needs to be reviewed from beginning to end." – Daiauri Margaret
Daiauri Margaret is a 24-year-old designer who currently teaches art at that Shatili Public Boarding School. "I decided to teach in the mountains years ago, because I had this great nostalgia and love for my own region, Khevsureti, which has been my biggest source of inspiration since childhood. I spent every holiday in the mountains," she tells GEORGIA TODAY.
Basing herself in Shatili was no easy decision, as there are only two schools in Khevsureti, both on difficult terrain, with the access road closed for 7 months of the year, cutting the region off from the outside world. There is nothing there for daily needs, no shops or pharmacies, and perhaps because of this, Daiauri decided to dedicate herself to the youth of the local community.
WHAT WAS YOUR INSPIRATION TO WORK IN THE MOUNTAINS?
My grandparents gave me an amazing example of life in the mountains, because for the last half-century, their family was the only one who lived in the completely deserted village of Kartsaulta in Khevsureti. There was no electricity, no TV, no internet, no mobile connection: they were absolutely in every sense disconnected from the outside world, but incredibly fond of their own village and unable to imagine themselves anywhere else. It was during the holidays there that I fell in love with Khevsureti, the Khevsuretian people, their hospitality, customs, history, character and divine nature. The stories told in the light of the lamp and the fabulous days there gave me a beautiful childhood, and I wished I had the same life as my grandparents had, because there is no other such real, sincere and unforgettable place in the world as my village.
WHAT CHALLENGES IS THE EDUCATION SYSTEM IN THE MOUNTAINS FACING TODAY? IF YOU HAD THE POWER AND RESOURCES, WHAT WOULD YOU GIVE CHILDREN IN SHATILI TO IMPROVE THEIR EDUCATION?
The situation is very difficult in terms of education in Shatili. There are only four teachers here, and the remaining subjects are taught online. No matter how good these teachers are, it is only theoretical knowledge, but children should get to see at least half of the material they read about; go to museums, galleries; visit the house-museums of writers and poets, otherwise they won't be able to fully comprehend what teachers are so diligently explaining. Take chemistry or biology: if children don't conduct experiments, they can't visually perceive anatomy; they can't understand fully, and their knowledge will be partial.
If I had the resources and opportunity, I would invite people educated in different professions, even ask the Ministry of Education to fund it, and in each profession, I would give basic knowledge to children; helping them to better understand what field they want to work in.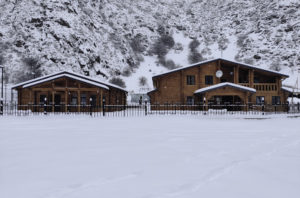 HOW DO YOU STAND OUT FROM OTHER TEACHERS?
Since I went to a village where I and the children are cut off from the outside world for 7 months of the year, I always try, in addition to my curriculum, to tell my students more about the world, and the life they
might get in future, in their professional and everyday lives. I try my best to raise their eyebrows and tell them that sooner or later they will have to step out of their comfort zone, and that this is where success and independence begin.
HOW DO YOU ASSESS THE EDUCATION SYSTEM OF GEORGIA IN GENERAL?
I think the education system needs to be reviewed from beginning to end. For the most part, children in schools receive completely useless information, not applicable to life; however, for some reason, it is expected that a student should excel in all subjects, otherwise they are considered untalented or weak. As a result, high scores have become excessively important, making students so "privileged", that not only children but also parents are score-oriented rather than knowledge-oriented.
If someone has a mathematical talent and wants to get the maximum knowledge in this regard, I don't understand why they should spend time trying to get higher grades in subjects of no interest to them.
HOW ARE THE STATE OR PRIVATE EDUCATIONAL STRUCTURES INVOLVED IN THE DEVELOPMENT OF SHATILI? WHAT HAS BEEN DONE FOR THE REGION, AND WHAT STILL NEEDS TO BE DONE?
For the development of Shatili, from what I have personally seen, nothing has been done in terms of education; however, finance-wise, a lot of things have been done, and children are supported, so that parents no longer have to buy anything for them.
In terms of education, conditions in the village should be such that a teacher wants to come and work here, not teach online from Tbilisi. There should be a lot of projects, entertainment and sporting events, as well as educational activities. You have to take the children to cultural places to broaden their minds and experience. Exchange programs between schools would also be very good in terms of their integration and even development in terms of communication.
HOW DO YOU ASSESS THE SHATILI REGION BUSINESSWISE? WHAT POTENTIAL DOES IT HAVE?
Shatili is quite a good touristic area, due to its historical-cultural significance. It also has beautiful nature that changes according to the season. The villagers live the full year on the budget accumulated during the tourist season, because there is no other work in Shatili.
Every house here, with rare exception, is also a family hotel. There is little other business potential in Shatili due to its terrain, but this year, it will open a café for vacationers in the historic towers of Shatili. It will be a very interesting and completely different space.
A lack of tourists is never felt in Shatili. Last year, even during the pandemic, a lot of travelers came up, and I don't think this flow will ever stop, because it's such an interesting village: once you visit it, you want to go back a second time and re-feel the emotion that vacationing in Shatili means.
YOU'RE A DESIGNER BY PROFESSION. WHAT ARE YOU DOING IN THIS DIRECTION IN SHATILI, AND WHAT ARE YOUR PLANS?
I'm going to open a workshop this year because I was able to create my own jewelry brand and launch it on the market. Since my jewelry designs have been consistently popular for quite a while already, I'm feeling positive I can make a success of it. I'd very much like to have a studio where I can create interesting and memorable accessories and jewelry. It will be good for the popularization of my country and of course my region in the first place, which is my highest priority.
INTERVIEW BY SOPHIA BOCHOIDZE