For most of history, anonymous was a woman, – this is a thought-provoking statement, a Virginia Woolf quote, and the writing on my favorite button pin. I like to pin it on the coat I have on and pay something of a tribute to the women whose names were swallowed by patriarchal history. In March, with it being Women's History Month, I think of these 'nameless' women, as I learn the names that are writing history now. In this piece below, we bring to our readers a woman who shall not be anonymous – Mako Abashidze, the Founder of the British-Georgian Chamber of Commerce, and most recently, the Head of Creative Women Georgia.
The Creative Women platform was established in 2016 as a one-year conference, but has since expanded into a global organization, with members from over 40 countries. In this interview with GEORGIA TODAY Mako Abashidze discusses why Georgia was one of the first countries to join the platform, what is it being creative, what should be done to empower women in Georgia, the country's feminist past, its Creative Women future, and more.
"In general, Creative Women prioritizes talent, creativity in business and personal affairs and feels that the ethos of CW is well suited to the country," Abashidze tells us. Appointing her as Georgia's Ambassador of Creative Women only seems logical – Mako, who is a British citizen and has lived there for 27 years now, has been putting all her work and business ideas into strengthening ties between Georgia and the UK by first creating the BGCC, and then supporting the foundation of The UK-Georgia Trade Hub, all the while promoting the country's image in the West.
"In Britain, I proudly say that Georgia has always been a feminist country – we had women as Kings during the early Renaissance, and were among the first to grant women the right to vote, long before the UK did. This background doesn't just fade; it gives Georgian women a different kind of strength, flexibility, creativity…" she says.
"I am honored and excited to have been nominated as the Head of CW Georgia, and the fact that my country has all the ingredients to satisfy the environment for Creative Women."
The organization itself is a large international platform that brings together leading female figures from various fields. Networking is one of its main priorities.
"It is not a typical feminist organization; it is not a typical business women's organization. All these organizations are of course very important, but they all have a specific framework within which they need to operate," she says. "Creative Women brings together women of diverse professions, and connects them to each other. The main message we receive in every meeting, in every get-together is not to hesitate to reach out and ask for help when necessary. In today's world of networking and communication, this kind of high-profile, diverse and international networking that Creative Women offers, makes the organization stand out. Women are naturally built to be multifunctional, and as they meet more open-minded individuals, their creativity grows further.
"The creative women of the organization are not limited to being creative in artistic expression. What COVID-19 has shown us quite vividly is that we need a more creative approach to living – a creative approach to issues, life, problems, raising a child, starting a business. That means being a very flexible person, adapted to the situation, making the best of it. When life gives them lemons, creative women make lemonade."
For Mako, a creative woman and an empowered (or empowering) woman are the same. A creative woman, for Mako,, has everything balanced.
She does not believe in a black-and-white approach. A human is only happy when all her areas of purpose are filled and there is a way to, through balance, have it all – have a job, and have a family, spend enough time with the kids. Creativity is the key to success in becoming a strong woman, both at work and in the family," she says.
"Practically everything has changed in the last year. During this period, COVID brought the base that developed our multifunctionality and helped us to use time more efficiently by making, what can be made, remote. Now is our time to balance it all better!"
Only a creative mind can perceive the COVID situation this way. Born into an artistic family of a pianist mother and ballet dancer/choreographer father, Mako gets it naturally. Having travelled the world with her family, Ms Abashidze, BA, MPhil, Psychology, settled in London in the early '90s. Since then she has changed jobs, and fields, but what remains is her focus on Georgia, and her balance – intact.
"I know from personal experience that we can balance the time we spend with our children and the time we spend at work," states Mako, a mother of three, a grandmother of two, the head of several companies, and a sits on charitable boards.
Throughout the interview, I see her switch from household tasks to business calls with ease. I see how she turns life's lemons into lemonade, and then proceeds to share it with those around her.
She tells me how her academic background in psychology has helped her find the best business decisions. "Especially in the Soviet Union, we were raised with the idea that we have to remain loyal to our goals, be hard-headed pushers and not give up until we accomplish our goal. That's often not true – flexibility and creativity minimize our issues and offer a shortcut to our success. I personally have experienced this way of life because I have changed environment, place of residence, job, field, and so on many times, and this has led me to believe that every stage, step, change enriches, changes and prepares me for something else," Abashidze tells me.
Seeking to draw parallels, like a true creative mind, Mako generalizes it to the theory of evolution.
"If we look at this on a larger scale, it is also the basis of evolution. Evolution took place and it was precisely those creatures that survived, humans and countries, that had the ability to be flexible and adaptable."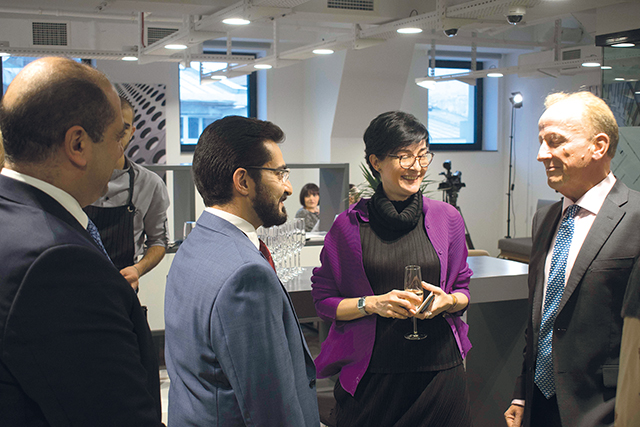 Georgia did once have a female ruler – King Tamar, who succeeded her father. Tamar was her own royal, and her spouse, who was forced upon her, was the furthest a man can be from your usual Prince Charming archetype. While we discuss how eight centuries later many girls in Georgia willingly wait around for Prince Charmings to come and rescue them from handling their own lives, just as I condemn unrealistic expectations bestowed on us through the world of popular culture, Mako names what should be Georgia's way out of toxic gender roles.
"Education. Educating the young minds is the key to an empowering future. There will be no need of Prince Charmings to save the day when we teach girls how it feels to save it themselves. Despite Georgia's feminist past, we face problems today, and the biggest reason for this is inadequate education, and formulated misconceptions about gender that claim a woman cannot be a mother and successful in her career. I believe that with organizations like Creative Women, and the new 'awakened' generation, changes will be made. Georgia is going through all the patterns that other of the countries of the world have seen, time just goes a little slower here," Mako says with a smile. "These stereotypes will change soon. When you have a good education base, you are formed into free individuals, and other challenges and plans emerge. I think that is why education is so important. "
Mako's future plans as the head of Creative Women Georgia are related to further networking.
"My great wish and plan is to establish relations and partnership agreements with all associations, organizations, clubs related to women in Georgia, unequivocally and indefinitely, and to jointly present them on this creative platform. I am planning an event in Georgia, as soon as the pandemic situation allows, and I would like to invite all the organizations who concern themselves with women's well-being in the country.
The development of trade is also relevant – upon arrival in Georgia, we would find out who would be interested in bringing us to Georgia, and this platform is headed by strong women. There will be no age limit or gender at this meeting, and it will be possible for those who want to properly redistribute gender at work and so on to attend."
The Creative Women Conference connects entrepreneurial women from around the world, helping them develop their own creativity. To date at the Conference a large number of hands-on workshops, inspirational speeches and panel discussions have been provided by women leaders, female business owners and entrepreneurs from most European countries, Russia, China, USA, Central and Latin America, Africa and the Middle East.
"For most of history, anonymous was a woman," but with organizations like Creative Women, no woman will have to be nameless again.
Interview by Nini Dakhundaridze