A top official from the World Health Organization, Dr. Hans Kluge, mid-April announced that Europe had surpassed 1 million deaths from COVID-19. He noted the situation remains "serious," with about 1.6 million new cases being reported each week in the 53 countries that make up its European region.
Kluge pointed to "early signs that transmission may be slowing across several countries," and cited a "declining incidence" among the oldest people. He says the proportion of COVID19 deaths among people over 80, who have been prioritized for vaccines, had dropped to nearly 30%.
"There are early signs that transmission may be slowing across several countries," he said. "Let me be clear, early signs of decline are not equal to low rates of transmission. Transmission must be driven down to low rates and kept low, by harnessing our energy and resilience to beat the virus. "The availability of all public health and social measures is critical, including the rollout of vaccines. Adjusting social measures must be done, not based on vaccination targets, but on the basis of epidemiology and the ability of our health services and workforce to cope with COVID-19 and to maintain basic public health services.
"Globally, there has been a very small number of cases of rare blood clotting disorders among the 200 million people that have received the AstraZeneca vaccine," Kluge noted. "WHO takes safety events extremely seriously and our Global Advisory Committee on Vaccine Safety and the Strategic Advisory Group of Experts on immunization continue reviewing the evidence. WHO will provide guidance to Member States shortly. We urge Member States to report any adverse events that may occur following vaccination, as early as possible.
"For now, the risk of suffering blood clots is much higher for someone with COVID-19 than for someone who has taken the AstraZeneca vaccine. Let there be no doubt about it, the AstraZeneca vaccine is effective in reducing COVID-19 hospitalization and preventing deaths. WHO recommends it to all eligible adults to gain protection from the SARS-CoV-2 virus, as quickly as possible.
"We are also aware of reports of thromboembolic events with low platelets following vaccination with the Johnson & Johnson COVID-19 vaccine. WHO is monitoring these reports closely and will communicate its findings in due course," Kluge noted.
More than 966 million doses have been administered across 172 countries, according to data collected by Bloomberg. The latest rate was roughly 16.3 million doses a day. Enough doses have now been administered to fully vaccinate about 6.3% of the global population, but the distribution has been uneven, Bloomberg notes: Countries with the highest incomes are getting vaccinated 25 times faster than those with the lowest.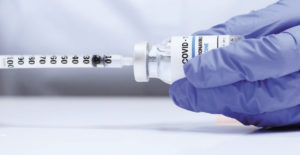 ISSUES WITH THE VACCINES
AstraZeneca
A review by the Medicines and Healthcare products Regulatory Agency (MHRA) found that by 31 March, 20.2 million doses of the AstraZeneca vaccine had been given just in the UK, with the overall risk of blood clots approximately four in one million.
Prof Marie Scully, who first identified a relevant diagnostic test for blood clots post-AstraZeneca at University College London hospital, said it did appear to be more common in the younger age group. With countries suspending use of AstraZeneca for the under-60s, researchers are looking at a median age of mid-40. "That is young, but it could change as we get more and more cases identified," Scully said.
Pfizer
An Israeli study in April found that the South African variant of COVID-19 may be able to evade some of the protection provided by the Pfizer vaccine, a potentially worrying development considering that shot was almost exclusively used throughout Israel.
Johnson & Johnson
The single shot vaccine made by Johnson & Johnson is similar to that of AstraZeneca, both of which use a harmless cold virus to deliver the vaccine. But this month, the US recommended a pause in the rollout of the J&J vaccine because similar clotting conditions have been reported. The US Centers for Disease Control and Prevention and the Food and Drug Administration said they were investigating cases in six women. This was followed by a contamination case which shut down production during the investigation. More than 6.8 million doses have been given in the US, and the company had promised to deliver nearly
100 million doses of vaccine to the US government by the end of May.
The Chinese vaccines
China has developed four different vaccines approved for public use, two of which are used internationally: Sinovac and Sinopharm, though some trials abroad have suggested efficacy as low as 50%. Sinovac's main advantage is that it can be stored in a standard refrigerator at 2-8 degrees Celsius, like the AstraZeneca vaccine, which is made from a genetically engineered virus that causes the common cold in chimpanzees. In comparison, Moderna's vaccine needs to be stored at -20C and Pfizer's vaccine at -70C. It means that both Sinovac and the Oxford-AstraZeneca vaccine are a lot more useful to developing countries which might not be able to store large amounts of vaccine at such low temperatures. The Chinese government is providing the Sinovac vaccine to Georgia free of charge, which is widely used
in neighboring countries, such as Turkey, where over 15 million doses have already been given, and Azerbaijan, where over half a million doses have been used. Georgia received 100,000 doses of the Chinese-made Sinopharm vaccine, bought 100,000 doses more, and had 100,000 doses of Chinese-made Sinovac vaccine donated to the country from China.
CASE STUDIES
Georgia
Vaccines being used: AstraZeneca, Pfizer and Sinopharm
Vaccination started: March 15, 2021. Tamar Giorgadze, 73, an NCDC worker, was the first to be vaccinated.
How many vaccinated so far: As of May 6, 51,600 Georgians had been vaccinated.
Daily vaccination rate: 3651 persons. Research suggests there was low uptake in vaccinations, due to a lack of trust in or information about the vaccines, and fears surrounding the potential risks. But registration numbers have been picking up.
Domestic restrictions: Most measures the Government of Georgia imposed in November 2020 in an effort to curtail the COVID-19 pandemic have ended. However, the 9pm to 5am curfew remains in place, restaurants cannot serve customers on the premises on weekends (delivery/take-out only), and face masks must be worn, even in the open air.
Travel restrictions: Citizens of all countries traveling by air from any country may enter Georgia if they present a document confirming the full course (two doses) of any COVID-19 vaccination at the border. All passengers traveling from India, regardless of citizenship and full course of vaccination, must also present a negative PCR test conducted in the last 72 hours prior to their visit to Georgia, and undergo mandatory 14-day quarantine at their own expense. All individuals who have travelled to the United Kingdom of Great Britain and Northern Ireland within the last 14 days will be placed in mandatory quarantine for 12 days.
Cases up or down? In Georgia, new coronavirus cases stand at 1500 – 2100 per day, up from less than 300 in March, largely due to the lifting of restrictions on movement and the fact that mask-wearing at one point dropped to around 40%.
Support for businesses: In 2020, Georgia allocated 3.5 billion GEL ($1.1 bln) to fight the effects of the pandemic, distributed as follows: Social support for Georgian citizens – 1.035 billion GEL ($325 mln); Support for the economy and business owners – 2.11 billion GEL ($662 mln); Support for the health sector – 350 million GEL ($110 mln). This came through the automatic VAT-return mechanism, seeing an additional 600 million GEL returned to businesses in 2020, co-financing loans and leasing, offering farmers looking to start small businesses grants up to 30,000 GEL, financing interest rates for agro-credits to benefit 5000 farmers, exempting farmers from paying irrigation tax in 2020 and from paying the accumulated tax of past years. 350,000 citizens of Georgia who lost their jobs because of the coronavirus crisis or who were on unpaid leave received 1,200 GEL over the course of six months. For the first six months of the crisis, salaries up to 750 GEL were fully exempt from income tax, while those employed in the informal sector or who were self-employed received a one-time assistance of 300 GEL.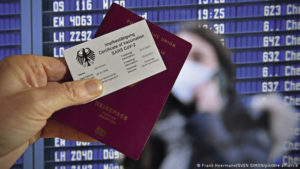 CASE STUDIES: ABROAD
The UK
Vaccines being used: Moderna, AstraZeneca and Pfizer
Vaccination started: December 8, 2020. The first patient was a 99-year-old grandmother.
How many vaccinated so far: More than 15 million people in the UK have now received both doses of the COVID-19 vaccine after the speed of the rollout of the second dose quickened, which means almost one in five adults in the UK have received both vaccines.
Full vaccination plan: The UK government has said all adults aged 16 or over will have had their first dose by the end of July.
Vaccine problems: Seven people died from unusual blood clots after getting the Oxford-AstraZeneca vaccine in the UK. In total, 30 people out of 18 million vaccinated by 24 March had these clots. The Medicines and Healthcare Products Regulatory Agency says the benefits continue to outweigh any risk.
Vaccine promotion: In December, Britain launched a mass education campaign, appealing both to the population's altruism and self-interest. "Influencers," namely celebrities, tweeted with photos of themselves getting the jab, Sir Elton John made a video supporting vaccination, and ethnic minority actors recorded pro-vaccine messages for the more vulnerable and less vaccine-active ethnic minority communities.
Travel restrictions: The fully vaccinated are able to travel more freely. British people, on leaving the UK, must provide a document or so-called 'COVID passport' to prove their vaccination. Those who have not had both vaccines must quarantine upon arrival in most countries. If you're traveling to England, you must either quarantine in the place you're staying or in a managed quarantine hotel for 10 days. What you need to do depends on where you travel in the 10 days before you arrive. You must also get two coronavirus tests after arrival, and these need to be booked before you travel. You cannot currently enter the UK if you've been in or through a country on the banned travel list in the last 10 days, unless you're British, Irish, or you have the right to live in the UK.
Domestic restrictions: There is some talk that bars/restaurants/indoor activities will require proof of vaccination for customers to go inside, but at this stage, this is only talk.
Cases up or down? The post-New Year lockdown resulted in a massive decrease in cases, with some UK hospitals reporting 0 admissions for the first time in a year. However, these are the first weeks since coming out of lockdown on April 12, and large crowds of shoppers have been reported packing the highstreets. The daily new case rate stands at around 2140.
Support for businesses: The UK government continues to offer a rebate to small and medium-size enterprises (those with fewer than 250 employees) for up to 14 days of Covid-related sick pay per employee from the first day of absence. This includes periods when an employee is off work because they are self-isolating, even if they are not sick themselves. This is worth up to £188.50 per affected employee for qualifying employers. The government offers cash grants to businesses affected by restrictions. In England, businesses forced to close can claim grants of up to £3,000 per month; businesses still open but affected by restrictions can claim up to £2,100. Since the announcement of the lockdown this January, businesses in England forced to close were able to claim a one-off grant of up to £9,000. Several low-interest loan schemes introduced during the first lockdown in March 2020 continue to be available to businesses. Between March and June 2020, the government allowed businesses to defer VAT payments. Businesses may either pay this amount in full by March 2021 or opt into the new VAT payment scheme. Under this new scheme, rather than paying the full amount, businesses can make up to 11 smaller monthly installments, interest free, up to the end of March 2022.
The USA
Vaccines being used: Moderna, Johnson&Johnson and Pfizer-BioNtech
Vaccination started: December 14, 2020. New York nurse Sandra Lindsay was among the first health workers given the jab.
How many vaccinated so far: As of May 5, 148.6 million Americans, or 44.7% of the total population, had received at least one dose of a COVID vaccine, up from 142.7 million a week ago, according to data from the Centers for Disease Control and Prevention. That relatively small change is dwarfed by the increase in the number of fully vaccinated individuals in the past week: 107.3 million Americans, which includes 70.1% of seniors, 41.3% of adults, and 32.3% of the total population have been fully vaccinated, up from 98 million last week.
Full vaccination plan: Drugmakers have promised to deliver enough shots to fully vaccinate more than 300 million people by the end of June. The U.S. government announced it supports the lifting of patent protections on COVID vaccines to increase supply and access around the world.
Vaccine problems: There have been six cases of blood clotting detected in more than 6.8 million doses of the Johnson & Johnson vaccine.
Vaccine promotion: The medical community is strongly supportive of mass efforts to educate and ultimately vaccinate, as are businesses, some of which have been promoting customers getting a jab by offering incentives, such as free food or drink, or by handing out gift cards if they can prove they've been vaccinated.
Travel restrictions: Though some states continue to enforce travel restrictions and quarantines, in general more states have been moving toward looser restrictions or none at all in recent weeks. Internationally, all air passengers entering the United States (including US citizens and Legal Permanent Residents) must present a negative COVID-19 test, taken within three calendar days of departure, or proof of recovery from the virus within the last 90 days. Airlines must confirm a negative test result or proof of recovery for all passengers two years of age and over prior to boarding. Airlines must deny boarding of passengers who do not provide documentation of a negative test or recovery.
Domestic restrictions: Restrictions vary state-by-state, with many starting to loosen the rules. See here for more details.
Cases up or down? At least 790 new coronavirus deaths and 45,000 new cases were reported in the United States on May 5. Early April, there was an average of 67,000 cases per day, an increase of 4% from the average in March.
Support for businesses: The Paycheck Protection Program (PPP) was enacted by the Coronavirus Aid, Relief, and Economic Security (CARES) Act in March 2020 and was extended in March 2021. It provides federally backed loans to incentivize small businesses to maintain their payroll during the crisis; those loans being forgiven if used for certain expenses and if employment and compensation levels are  maintained. It applies to non-profits, self-employed individuals, independent contractors, and small businesses that were impacted by the pandemic. The Economic Injury Disaster Loans (EIDL) are small, lower interest loans with options for principal and interest deferment. Small businesses that apply for such loans are also eligible for Emergency Economic Injury Advance Grants, advances of up to $10,000 that do not need to be repaid. They can be used for operating expenses such as payroll costs, pay for sick leave, and debt-service costs. Restaurants and other qualifying food businesses that own or operate 20 or fewer establishments may be eligible for a grant for up to $10 million in pandemic-related revenue losses. Businesses such as live venue operators and theatrical producers may qualify for grants of up to 45% of their gross earned revenue, with a maximum grant amount of $10 million. The CARES Act included temporary provisions to boost cash flow for certain business through the tax code. In addition to measures enacted by the federal government, many state and local governments have authorized or are considering measures to protect small businesses. Such measures include cash infusions through loans, grants, and economic development funds, as well as cost deferrals on taxes, rent, and utilities.
Germany
Vaccines being used: Pfizer, Moderna, AstraZeneca
Vaccination started: December 26, 2020: 101-year-old Edith Kwoizalla was the first resident of a center for senior citizens to receive the jab.
How many vaccinated so far: 31.5 million, with just over a fifth of Germany's 83 million inhabitants fully vaccinated since Germany started its vaccination program.
Full vaccination plan: According to assumptions by the ministries, everyone in Germany will be eligible to get vaccinated in summer 2021.
Vaccine problems: Germany in March suspended routine use of the Oxford-AstraZeneca Covid-19 vaccine for people aged below 60 because of a risk of rare blood clots. The German medicines regulator found 31 cases of a type of rare blood clot among the nearly 2.7 million people who had received the vaccine in Germany.
Vaccine promotion: Following the US' lead, and facing a lot of anti-vaccers, German companies are now offering cash bonuses to employees who get vaccinated. Company doctors are pushing for government permission to get involved in the vaccination program, with over 10,000 company doctors potentially able to vaccinate 5 million employees a month.
Travel restrictions: From 30 March 2021, all persons travelling to Germany by air must present a negative COVID 19 test result before embarking on their journey. This applies regardless of the country from where the individual has travelled and also to passengers only traversing Germany (i.e. for international transit). Persons under six years of age and aircraft crews are exempt. The negative test result must be presented to the airline before departure. The tests must be done at the relevant test centers abroad no more than 48 hours before entering Germany (time of the swab). In countries where such a test is not possible, airlines may carry out the tests or charge a third party with carrying them out.
Domestic restrictions: As the coronavirus emergency in Germany worsens, the government is set to seize power from states to implement measures, but regions are already getting tougher with extra Covid rules, with curfews; limited gathering numbers; schools, daycare centers, museums, libraries and most shops closing; and hairdressers only accepting clients with a negative rapid test in some states.
Cases up or down? The number of coronavirus cases in Germany passed the 3-million mark mid-April, as the country's third wave shows few signs of easing. At the end of April, the Robert Koch Institute (RKI) said the total number of infections stood at 3.17 million, with over 80,000 deaths since January 2020. With hospitals close to being overwhelmed, the chances of Germany reopening any time soon remain slim.
Support for businesses: Following the approval of several German State aid schemes to support companies facing economic difficulties due to the coronavirus outbreak, Germany created an "umbrella" scheme to further support companies under the Temporary Framework, with an estimated budget of €30 billion. It will allow the German federal and regional authorities to set up schemes to support companies that suffered from a turnover decline between March 2020 and June 2021 of at least 30% compared to the same period of 2019. The aid will help them pay 70% (90% in case of micro and small companies) of their fixed costs that are not covered by revenues, up to a maximum of €3 million per undertaking. Support can take the form of i) direct grants; ii) state guarantees for loans (granted through credit institutions and other financial institutions as financial intermediaries); or iii) subsidized public loans.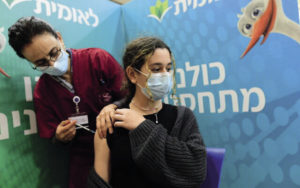 Israel
Vaccines being used: Pfizer & Moderna
Vaccination started: December 19, 2020, with Prime Minister Benjamin Netanyahu being the first person in the country to receive the vaccine, getting injected on live TV to encourage other Israelis.
How many vaccinated so far: Over 5 million Israelis are fully vaccinated (59% percent of the population) and nearly the same amount have received the first dose.
Full vaccination plan: Israel is getting ready to start vaccinating 12-16 years old. It is expected that by the summer, 75-80% of the population will be vaccinated, enough to achieve 'herd immunity'.
Vaccine problems: So far, less than 700 Israelis have reported side-effects, the vast majority of them very slight (e.g. headaches).
Vaccination promotion: There was an intense media campaign conducted by the government and by Public Healthcare Cooperative organizations.
Travel restrictions: All passengers arriving in Israel must present a negative COVID-19 PCR test result to airline staff. The test must be taken within 72 hours prior to the scheduled departure to Israel. This requirement applies to people with a vaccination certificate or a certificate of recovery. Entry to Israel depends on complying with this requirement. Passengers who fly to Israel and passengers who are required to go into isolation must submit an inbound passenger statement. In the statement form, passengers are required to fill out their personal information, the address of the accommodation where they will isolate, and a health declaration.
Domestic restrictions: Vaccinated citizens can take 'green passports' that allow smooth entry into public places, cultural performances, gyms and swimming pools and all public and private venues that require it. So far, there are no sanctions against unvaccinated persons.
Cases up or down? From a daily peak of around 9,000-10,000 new cases in January, Israel has gone down to a daily average of 63. Consequently, most restrictions have been lifted and the country has gone more-or-less back to normal.
Support for businesses: Israel announced a raft of measures across all areas, including extending tax deadlines, freezing enforcement actions, creating a special loan facility for SMEs and increasing flexibility in the employment market, amongst other measures. The Israeli government on 27 March 2020 published Temporary Regulations #8432 to provide tax-relief measures related to the pandemic, while the Economic Assistance Program includes 4 strata: Immediate Response for the Health and Civil Sectors NIS 11 billion over $3 billion), expanding the Social Security Network NIS 24 billion (over $7 billion), and Business Continuity Assistance and Acceleration.