Georgia reported 461 coronavirus cases, 163 recoveries, and 12 deaths on Tuesday, the official figures show.
22,900 tests were performed in 24 hours, including 16,895 antigen tests and 6,005 PCRs.
Testing revealed that Georgian capital Tbilisi recorded the highest number of 250 Covid-19 cases, followed by the Imereti region with 57 cases and the Shida Kartli region with 35 cases.
The daily test-positivity rate stands at 2.01 %, while it was 1.4% in the past 7 days.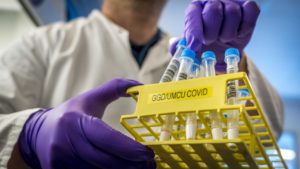 The total number of confirmed cases since the outbreak of the COVID-19 pandemic in the country has reached  271,379, of which 265,686 people recovered and 3 532 have died.
Currently, there are 2161 active cases of infection in the country.
By Ana Dumbadze