Registration for the second dose of the Pfizer vaccine opened this week, with vaccines to be offered from August 15. This, alongside Sinovac, Sinopharm and AstraZeneca.
First Deputy Minister of Health Tamar Gabunia says the number of medical teams will be increased across the country, as will the number of spaces where registered persons can get vaccinated.
Minister of Health Ekaterine Tikaradze stated at a briefing that, at this stage, they are not considering enforcing vaccination.
"At this stage, we are not discussing mandatory vaccination, but there may come a time when vaccination for certain segments, as in other countries, might become part of the general practice. But I am convinced that we can avoid such demands towards our citizens," Tikaradze said, noting that they are largely dependent on the responsibility of the citizens and their willingness to follow the recommendations.
The number of people fully vaccinated against COVID-19 in Georgia is now over 204,000, the National Center for Disease Control and Public Health (NCDC) reported this week.
Around 716,000 vaccinations have been given, with a daily vaccination rate of approximately 26,000.
An NDI Poll released Thursday reported that a majority of citizens (42%) believe that the worst of the Covid-19 pandemic is yet to come. Almost half of Georgians (45%) said that the vaccination process is going badly, while 42% of citizens feel that they do not have enough information about the vaccination process and the lack of information is especially high in rural settlements (47%).
More than half of the population says they don't know how to register on the Georgian government's online vaccination platform, with 71% of rural residents reporting that they are unaware of how to register," reads the report.
Based on the survey, hesitancy towards the coronavirus vaccine is still high. Only 35% would choose to receive a vaccine; 47% said they would not. Vaccine hesitancy is most prevalent among younger demographics, people living outside Tbilisi, and opposition party supporters. Among those who are hesitant, the main reasons are concerns about the quality of the vaccine (47%) and how those with existing health issues would be affected by the vaccine (20%).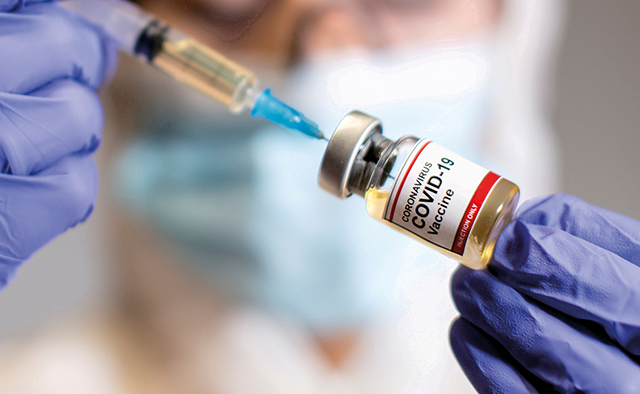 New Cases
Georgia reported 2236 coronavirus cases, 3146 recoveries, and 44 deaths on Monday, the official figures showed.
23,439 tests were conducted that day, and highlighted that Georgian capital Tbilisi recorded the highest number of 946 Covid-19 cases within 24 hours, followed by the Adjara region with 499 cases, and the Imereti region with 177 cases.
On Wednesday, 5697 new cases of coronavirus were confirmed in Georgia. The virus that day killed 54.
Georgia reported 5128 coronavirus cases, 3310 recoveries and 49 deaths on Thursday. 49,189 tests were conducted, and the test positivity rate stood at 10.43%.
The President Withdraws, Advises Citizens to Get Vaccinated
The Presidential Administration published a statement mid-week noting that due to the deteriorating epidemiological situation, the President of Georgia Salome Zurabishvili will not be participating in large-scale events.
"Due to the deteriorating epidemiological situation, the President of Georgia will not participate in large-scale events and will cancel all large-scale meetings planned in her Administration, including the planned meeting with Georgian Olympians.
"The President is urging everyone to take care of each other, to follow Covid regulations, the recommendations of epidemiologists, and to get vaccinated!" the statement read.
New Regulations
Due to the deteriorating epidemiological situation, the Interagency Coordination Council this week decided that new regulations would enter into force countrywide from August 10.
In open spaces where more than 5 people are gathered, wearing a face mask is mandatory. Violations will incur a fine of 20 GEL.
It is mandatory to wear a face mask indoors, on public transport, and in crowded gathering places, at bus stops, and in markets.
Nightclubs, both open and closed, are prohibited, and restaurants cannot work in the period from 23:00-05:00.
Holding weddings, funerals and similar events is forbidden. Facilities will be fined for the first time to the amount of 10,000 GEL, and in case of repeated violation, will be shut down.
Amiran Gamkrelidze, head of the NCDC, has recommended keeping the number of people participating in festivals to a minimum. In particular, a maximum of 100 people, who should keep a two-meter distance.
Gamkrelidze noted that it is necessary to use a face mask at such events, and all who attend should have been vaccinated twice, and have had a PCR test done in the prior 72 hours, or a rapid antigen test in the last 24 hours.
"Prior to gatherings, people who have not been infected or vaccinated are being tested. We are gradually adopting this culture, and it will be necessary to maintain this behavior during this pandemic, in all crowded spaces, or in places where a group of people gather: seminars, workshops, conferences, and so on," he stated.
The obligation to wear a face mask in the open was lifted on June 22, while wearing face masks indoors stayed in force.
On August 12, the government decided to ban municipal (but not intercity) transport from August 14 to September 4. Special transport will be allocated to get people to vaccination centers.
The government also calls on the public and private sector to switch employees to remote work.
The Prime Minister of Georgia, Irakli Garibashvili, again called on citizens to get vaccinated at the government session.
"I would like to once again ask our citizens to all understand well, to show high civic responsibility and self-awareness for our country. As I said yesterday, and I want to repeat, one of the main arguments, the opposite of which simply does not exist, is the following: vaccination protects people from death. A vaccinated person may get infected, but their death is completely ruled out, aside from a few examples in the world, if they have been fully vaccinated," Garibashvili said.
By Team GT