The epidemiological situation in Georgia has significantly deteriorated in recent days. The country is recording 1500-2100 new coronavirus cases daily on average, with a minimum 10 and maximum 24 fatalities reported on a daily basis. The capital Tbilisi remains a hotspot in terms of infection spread.
The coronavirus data for this week has been relatively alarming, showing notable increase: Georgia reported 2171 coronavirus cases, 1074 recoveries, and 24 deaths on Wednesday, with 27,648 tests conducted in the 24 hours prior. This was a shocking jump up from the 788 new cases and 20 deaths reported on Tuesday. Thursday morning presented reports of 1806 new coronavirus cases, 1144 recoveries, and 20 deaths, with 28,180 tests conducted throughout the country.
Tbilisi recorded the highest number of 1089 cases that day, followed by the Adjara region with 167 cases, and the Samegrelo-Zemo Svaneti region with 121 cases.
Georgia's total case tally reached 317,719 on Thursday, among them, 297,676 recoveries and 4227 fatalities.
The daily test-positivity rate at time of print stands at 6.41%.
Presently, there are 15,816 active cases of infection in the country.
In connection with the pandemic, May 4-11 was declared a holiday in Georgia, aiming to reduce public mobility. Municipal transport was stopped in cities, but intercity transport and taxis are still running.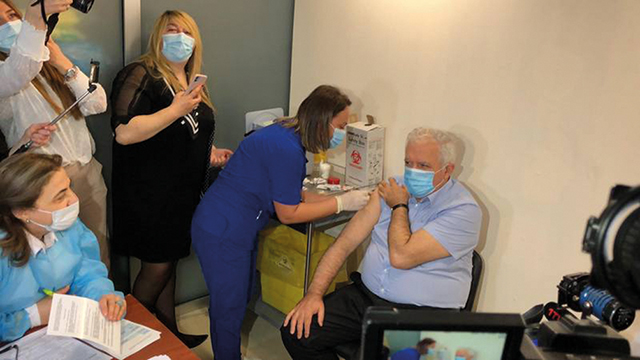 The Vaccines
Against the background of the alarming epidemiological situation, the vaccination process is being actively carried out, and as of Thursday, 51,600 people had received the coronavirus vaccine in Georgia.
On May 6, Georgia received 43,000 more doses of the AstraZeneca vaccine from the COVAX platform, intended for those who have already received the first dose of the AstraZeneca vaccine.
The registration of citizens for the second dose of AstraZeneca started on May 5, while vaccination will be available from May 10.
Vaccination with the Chinese vaccine Sinopharm started in Georgia on May 4, with demand from citizens proving high. To encourage citizens to follow their example, government and health officials have this week been getting vaccine jabs publicly. On 4 May, Amiran Gamkrelidze, Director of the National Center for Disease Control and Public Health, was vaccinated with Sinopharm in front of media representatives.
"It is symbolic that today, for the first time, I get vaccinated with a new vaccine. It is the third vaccine to be introduced in the country. The vaccination process started in the country on March 15, with AstraZeneca, then we began with Pfizer. The Chinese-made vaccine Sinopharm is a well-tested vaccine. Vaccination with this vaccine is underway in 45 countries. It is made using 'traditional' technology, to which you are all accustomed. Many of you have been vaccinated with this technology during your childhood. It is a vaccine based on the inactivated virus, of which 200 million doses have already been administered in China and around the world. We received 100,000 doses of Sinopharm in April."
On 5 May, Vakhtang Gomelauri, Minister of Internal Affairs, was also publicly vaccinated with Sinopharm. Employees of the ministry will also receive the vaccine.
It was announced this week that those employed in the tourism and hospitality sector, and public transport drivers and controllers, will be involved in the vaccination process.
"Based on the decision of the Interagency Coordination Council, in the process of vaccination, persons employed in the tourism and hospitality sector, along with drivers and controllers of public transport, will be added to the existing priority groups," said Giorgi Gibradze, Council Chief of Operations.
To register for a vaccination, go to: https://booking.moh.gov.ge/
The COVID-19 Vaccination Information Hotline "1522" is open weekends, from 09:00 to 23:00.
By Ana Dumbadze