Dr. Hanna Shelest is the Security Studies Program Director at the Foreign Policy Council "Ukrainian Prism" and Head of the Board of the NGO "Promotion of Intercultural Cooperation". Prior to this, she served for more than 10 years as a Senior Researcher at the National Institute for Strategic Studies under the President of Ukraine, Odessa Branch. The RFE/ RL Georgian Service kicked off our interview with her with the hard winter Ukraine is now facing.
"A little bit of good news in this is that the road will be frozen so there is less mud," she tells us. "Now we have rain and fog that complicates the movements of the forces. Both Ukrainians and Russians are experienced with such winters, but the Ukrainian armed forces are much better prepared than the Russian in terms of uniforms, because we started to produce and request winter uniforms back in summer. Canada alone delivered 100,000 quality winter uniforms. At the same time, the international media reports how the Russian troops are physically freezing because they don't have any such supplies. There are rumors Chinese supplies are coming in, but time really matters."
There are also rumors Ukraine could be supplied with the Patriot defense system. How much of a game-changer would that be?
Seeing what the Russians are doing now, the most important thing is to boost our air defense. Where HIMARS were needed to target Russian ammunition depots, now Patriot can help us in the same way as IRIS helped, as did other types of equipment that we received from our partners. And that means the Russian attacks will be less successful.
There is certain ammunition that has become historically symbolic. Like HIMARS, like Javelins before. Along with HIMARS, we've also received British, Turkish and French systems, with almost the exact same characteristics, but everybody talks about HIMARs because they're symbolic. Patriot is also a symbolic weapon that everybody has heard about, that is something big and to be afraid of. That's why it is so frequently mentioned in Russian propaganda these days.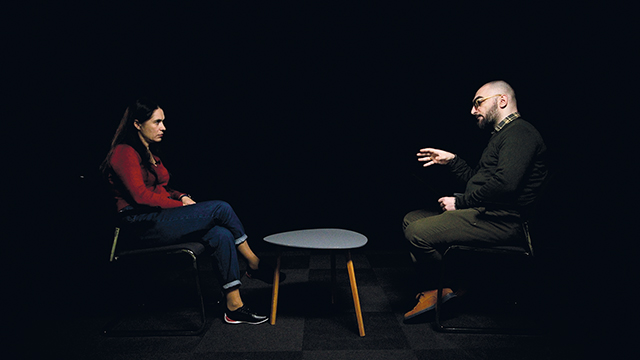 Our interview is taking place in Tbilisi- "city of peace," according to the freshly minted slogan for the capital over New Year. It was perceived it as a thinly veiled dig at Ukraine. Do you share that sentiment?
You know, I see it as black humor, and not even for Ukraine, but for Georgia itself. Because the city of peace can be Geneva or Vienna, where we signed most of the documents, but for a country that is still at war to this day, as Georgia is, it sounds a little bit odd, I think. And if the locals agree with it, fine, but we know how the Georgian population feels, and, in this way, we totally share their position.
Let's talk about Georgia's role in this war. And let's differentiate between the government and the Georgian people, including the Georgian fighters there.
You know, Ukrainians clearly differentiate between these groups. Ukrainians highly appreciated all those demonstrations that happened in Tbilisi; they were praised, there was gratitude, that was tremendous. It was discussed everywhere.
The Georgian Legion in Ukraine- the Georgian fighters are highly praised as well. They're well respected, they are not newcomers. There was a generation who came in the 1990s. But like in Odessa, we've had Georgians since the 19th century, many famous names who influenced the capital, making these Georgians part of our nation as well.
But when you speak about the Georgian government, it still raises a lot of brows. There is a clear absence of understanding or acceptance of the behavior of the Georgian government. We see there are different positions, even within the ruling party, and we understand that there are debates. The Ukrainians could more or less accept the issue about the sanctions, even that the Georgian government was extremely bad at communicating on the issue. We know that Georgia joined the European sanctions, so it is not violating these sanctions; it just didn't apply some national ones. Moldova did the same, but we don't ask Moldova "why?" as they had good communication on the issue. The issue of what is happening now, with the acceptance of so many Russians into Georgia, that is something that really brought total misunderstanding.
What did you expect the Georgian government to do? Turn them back?
What really shocked us in the beginning, when monitoring Russian social networks and online media, was when we noticed how many Russians were just standing at the border with Georgia and discussing whether they should take the Z symbol off their cars. These people were running to Georgia not because they were against the war, but because the war is nice on TV but they didn't want to be in the armed forces fighting in it. So it means that these people are bringing to Georgia all these pro-war sentiments. Some are bringing pro-Putin sentiments as well, and many of them, as soon as they were not allowed to cross with this Z symbol, started not just to complain about Georgians, but became openly fascist in their statements. And then Georgia generously opened its doors.
For me, it's not about Ukraine, it's about the risks this brings to Georgia. First of all, why was a 100,000-strong population of dubious positions allowed in, especially when you also have a huge amount of Ukrainian refugees. That means you will have conflicts between these two groups. What will you do? You are a small country, you will not be able to accommodate such an amount of people. They will have an influence and who knows how many Russian agents are among them? It's like a ticking bomb, and the question is when it will be triggered, not whether it will explode.
Tbilisi has accused Kyiv of trying to drag it into an open confrontation with Russia. And objectively speaking, there have been questionable statements from some Ukrainian politicians. Everybody can understand Georgia is in no position to get involved in any way, shape or form. So why try to poke it with a stick?
First, Georgia is in this war already, because what is happening now is a continuation of 2008. In the big picture, it's not at peace with the Russian Federation, the negotiations are not over, Abkhazia and South Ossetia are still under occupation, it has creeping borderization. You cannot say you are safe and at peace. So to say that we are trying to drag you in sounds a little bit strange, because just a few years ago, Georgia's diplomats in the international arena were always speaking about uniting our cases, asking why we were not speaking with a single voice.
It seems to me this current accusation is open manipulation from the Georgian side, because we are not dragging anyone: You were there first.
Yes, there were several statements from Ukrainian politicians, but not influential politicians in terms of forming the foreign and security policy. And not officials, just politicians who said that Georgia needs to use this moment and open a second front. This was highly criticized inside Ukraine, by the expert community, by the diplomats. Ukraine is not the aggressor nation, we didn't start this war, we are not going to take Russian territory, we are not calling anybody to military action. That was definitely irresponsible from those who stated it, but you always have somebody saying stupid things, because they're not aware of the real situation, or want some hype.
Going back to those Georgians in Odessa who shaped the city's history and destiny, the most recent one would be Georgia's 3rd president, Misha Saakashvili. What is his legacy in Ukraine?
It's a very contradictory area, because there was a lot of PR around his moves. A lot of people in Ukraine hoped that we would get the Misha of 2005, the Batumi-maker and the reformer, but Ukraine received the Misha of a later time, when PR and publicity were more important than reforms. And also, while in Georgia he was the president, in Ukraine, he was just another politician. But he inspired a lot of people. He does it well, let's be honest. Some of these people are now in politics and doing very well, the younger generation who believed in themselves, really good Members of Parliament, coming from those who came with him. He brought a lot of good Georgians to Ukraine, who are still helping the Ukrainian state in many spheres.
It's not black or white, for sure. What happened later, we understand that he couldn't find his exact place, and he was very divided between Georgia and Ukraine. I mean, that's natural. That's understandable. But he was caught in the trap of this division between two countries.
He freely admits that he doesn't see a future for himself in Georgia. Does he have one in Ukraine?
I am afraid he doesn't. He wanted to be a leader, not just a member of the parliament, and so he created his own political party, but they didn't get a lot of votes. He is still a man of one personality, and Ukraine is now trying to have more parties where you have several leaders, not just a single person.
That said, he can definitely have certain opinion-making influence in the country. I am not sure that would count as political influence. I don't see him in a top-level position in Ukraine, but I can see him in charge of some big reconstruction fund, something that can have impact, influence, maybe something needing innovation, but at the same time, something that would free him from bureaucracy, because he's quite bad with the frames that come with it.
INTERVIEW BY VAZHA TAVBERIDZE FOR RFE/RL
See the Georgian version here.