Our two Swiss café building workers have been joined now by a young American friend and his bride of a year (for whom I performed the wedding ceremony) to do more in that building. Work continues apace!
The stairs, wide, solid and plane-smooth, will be covered by a peaked roof, on which the Swiss are now at work. They know that winters here offer a lot of both snow and wind, and are building accordingly. Josh, meanwhile, is using his height to finish the wood-slat ceiling, standing on a high platform especially built for this. I am cutting and taking him all the pieces he needs, a few at a time. He, like the others, brought all his own tools, all battery-powered. While this is a very convenient system, we are noticing that here batteries which should take two hours to recharge take about four, and feel free to blame this on the rampant bitcoin mining still happening around us.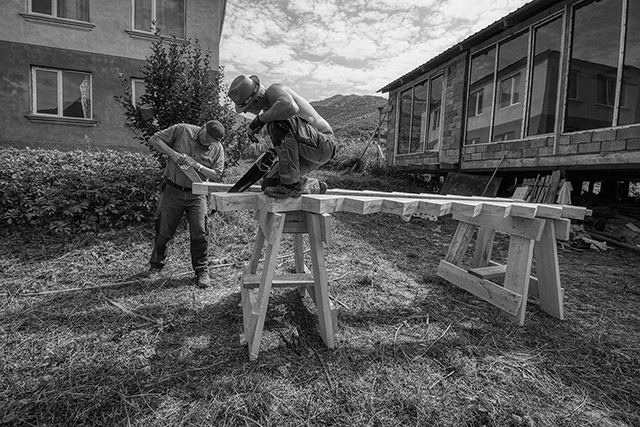 I try not to get dazzled by the veils of clouds swirling and spiraling across the Mountain Wall which is our café's main view, but satisfy myself with a few photos when not busy. I never tire of this sight, in any season or weather.
Guests come and go, rarely for more than our standard package of supper, a night, breakfast and pack lunch as they trek through Svaneti on guided tours. Once we have to ask the Swiss pair to give up their two rooms and overnight in the café, being completely full.
We will need to both insect-spray and then varnish the ceiling, first covering the now finished laminate floor with plastic first. The Swiss completed what earlier workers had to leave on a tight schedule, working indoors on the floor when the outside sun got too hot for them. It's now been a couple of cooler, wet or foggy days, much more pleasant to toil outside in.
They asked me to buy some walnut oil with which to finish the wood of the staircase, as I had some business in Batumi overnight. This was the closest place I might find it, and indeed a Goodwill supermarket sold me all it had: 5 bottles of 1/3L at over 20 GEL each, virgin pressed! The stuff's not cheap, and it's half of what I will need, but it's a start. Just slather it on (catching all precious runoff) and rub it in with a rag. Nothing else is needed, they say, and should know, having come from a similar climate to our own. I wish I could get a cheaper locally made version, given all the walnuts Svaneti and Georgia in general grow, but this I have not found. Zugdidi does not yet, to my knowledge, have a large enough supermarket to offer such exotica.
Six sets of triangular beams have now been bolted and screwed together at a suitable pitch to let snow run off them. Welded support structures are also in place to hold up the roof, cemented deep into the ground. The only thing we lack to finish the thing is its shallow A-shaped center parts, covering the two sides of the roof along its top edge; but these are available from as close as Mestia, some 30 km away. The men all brought circular saws, but these have blades too small for some of the thicknesses of wood required; initially they cut through with a handsaw, then we give them our new, as-yet unassembled chainsaw to speed this up where prettiness of cut is not critical. They must still wait a couple of hours for some petrol and machine oil to arrive from Mestia, but busy themselves otherwise in the meantime.

I collect every scrap of off-cut wood, of any suitable size down to the smallest, and put them in empty woven plastic 50-kg flour bags: our future supply of firewood for the big Svan stove, to supplement what the electric heaters produce. All renovation work here produces such useful waste, as experience has shown, and 60 bags full of such scraps is a few months of daily heat! It's all either dry or able to dry out over months in such air-permeable bags. All off-cuts which are too long or thick for the stove, I can of course always shorten or split.
At least now we have something to show, after a week's measuring and cutting and assembling. Another three days and our current workers must return home; but they have worked hard and well, and we are so grateful. Swiss-made, American-made, and so on, bit by bit, the café is taking shape.
Blog by Tony Hanmer
Tony Hanmer has lived in Georgia since 1999, in Svaneti since 2007, and been a weekly writer and photographer for GT since early 2011. He runs the "Svaneti Renaissance" Facebook group, now with nearly 2000 members, at www.facebook.com/groups/SvanetiRenaissance/
He and his wife also run their own guest house in Etseri: www.facebook.com/hanmer.house.svaneti