Carrefour, owned and operated by Majid Al Futtaim in Georgia, continues its active expansion countrywide, this time by opening a new hypermarket in Rustavi.
The new store opened its doors to customers on December 2 at Rustavi Mall, next to the Shartava-Lomauri crossing, and now serves customers daily from 9:30 AM to 10:00 PM. Carrefour offers access to a wide variety of high-quality food products and household goods, including fresh fruit and vegetables, Bio products, baby care, home appliances, household equipment, beauty items, Carrefour private label products, and personal care items.
This is the 57th store to open in the country, and reinforces Carrefour's position as a trusted partner of communities throughout Georgia. This is easily reflected in Carrefour's continuous contribution towards the development and prosperity of the Georgian economy as it invests in creating more employment opportunities for locals. The rise in partnerships with Georgian suppliers, farmers and producers not only helps local businesses grow but also introduces an unrivalled shopping experience to residents of different regions of the country, allowing them to enjoy easy access to the highest quality products at affordable prices.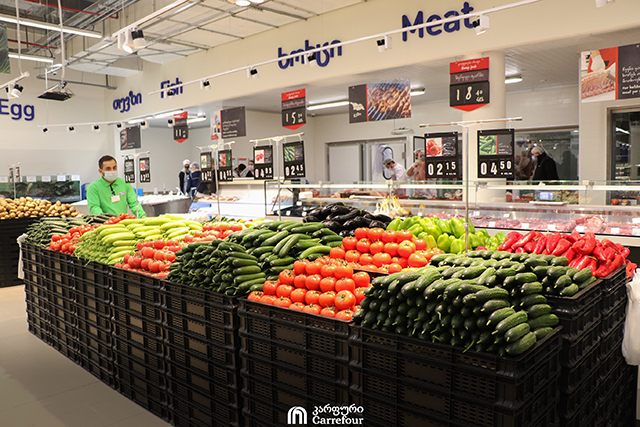 Moreover, the new store provides customers with diverse and advanced services, allowing them to purchase all the necessary items for their homes in one space for maximum comfort. This includes the opportunity to purchase fresh, healthy, and local products daily which are directly sourced from local farms.
Carrefour works to support Georgian farmers and help them promote their products. A recent example of this is the organized "Potato Festival" which took place at three different Carrefour stores, where 12 varieties of Georgian potatoes were available in a traditional setup and included the most affordable prices. It was yet another chance for Georgian farmers to showcase their products through Carrefour stores.
Supporting local agriculture and economy remains at the forefront of the brand's activities. Carrefour currently employs more than 2,500 colleagues in Georgia and plans to welcome another 1,200 additional teammates over the next two to three years. This will not only help increase capacity but also help strengthen ties with suppliers and farmers, which will consequently strengthen Georgia's agricultural sector.
The first Carrefour hypermarket opened in Tbilisi Mall in 2012 and, since then, its growth has reached very impressive numbers – it now counts 57 stores countrywide. In 2021 alone there have been numerous new store openings countrywide. Despite the pandemic and the challenging time for businesses, the brand did not pause the support it provides the communities it serves.
By Ana Dumbadze