The leading retailer is celebrating the occasion with its "10 Years, 10 Days, 10 Brands" campaign which is rewarding loyal customers with special prizes Carrefour — owned and operated by Majid Al Futtiam in Georgia — is celebrating this year its 10th anniversary of serving Georgian communities!
The first Carrefour hypermarket was opened in Tbilisi Mall in 2012 and since then, the brand has provided its customers with daily unrivalled international shopping experiences, accessible prices, and the highest quality of fresh products. Carrefour provides locals with access to more than 40,000 food and non-food products, which reflects its continuous effort to provide customers with multiple options to choose from.
It has become a tradition in Georgia to celebrate Carrefour's anniversary by treating customers with special surprises to express gratitude for their trust and loyalty. This year is no different, as customers will be welcomed at every Carrefour Hypermarket and supermarket across the country to celebrate.
This time, the French brand offers loyal customers a 10-day raffle and an opportunity to win numerous prizes from 10 international brands. These 10 brands are: Fujifilm, Ilitek, Tolsen, L'oreal, Eveline, Henkel, Red Bull, Weinsteiner, Unilever, and Mondelez. Loyal customers of Carrefour now have an opportunity to own those wonderful prizes from the leading brands!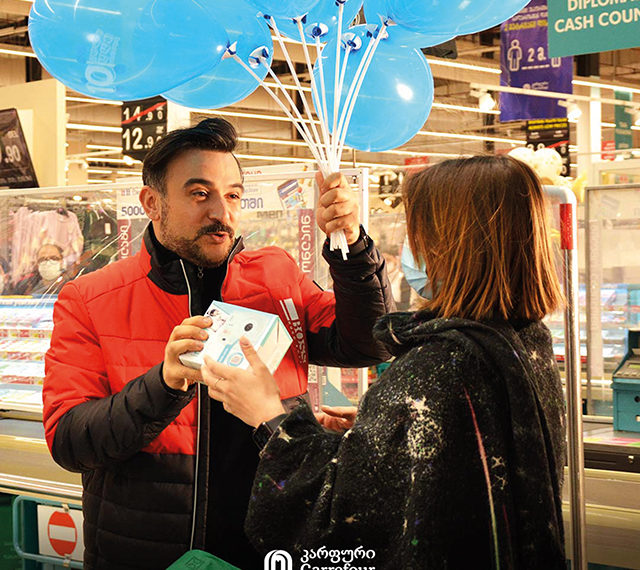 The grand raffle at Carrefour supermarkets and hypermarkets will start on January 20 and last until January 30.
The raffle will be held through Wheels of Fortune that will be arranged in all supermarkets and hypermarkets of Carrefour. The Wheels of Fortune will be spun daily, several times a day, to reveal the lucky winners, who will get prizes at cash counters.
Participation in the raffle is very simple and easy: all customers have to do is to shop at Carrefour branches! Don't miss this opportunity – visit your neighborhood Carrefour supermarket or hypermarket and be rewarded with products of distinguished international brands!