Carrefour, owned and operated by Majid Al Futtaim in Georgia, well-known for its continuous support of local farmers and suppliers, is again set to offer another exciting promotion. This time giving them the chance to present their products as part of the "Potato Festival."
The festival will kick off at three different Carrefour stores from 26 to 28 November where 12 varieties of Georgian potatoes will be available in a traditional setup with the most affordable prices. All 12 farmers attending the event will be sharing their journey live, as well as through special decorative and informative cardboard cut-outs which outline their unique background story.
The potato is the fourth crop by acreage in Georgia as it spanned over 16.4 thousand hectares in 2019. It is mainly cultivated by family holdings, reaching 98.4 per cent of output in 2019 in Samstkhe-Javakheti (59% of output in 2019) and Kvemo Kartli (20%). Georgia has excellent conditions to produce both early maturing varieties on warm plains, and late maturing varieties in colder areas. Seeing that potatoes are mass produced and are a core food staple in Georgian cuisine, customers will be delighted to know that they can purchase 12 different types that are all uniquely used in 12 different traditional dishes.
The Potato Festival is being held through the FinExCoop project, a four-year project financed by the EU under the National Investment Fund (NIF) program and managed by French Development Agency (AFD), The project is implemented by the consortium, which is led by the Frankfurt School of Finance and Management, in partnership with Mercy Corps, Rural Development for Future Georgia (RDFG) and the French Chambre d'Agriculture du Loiret.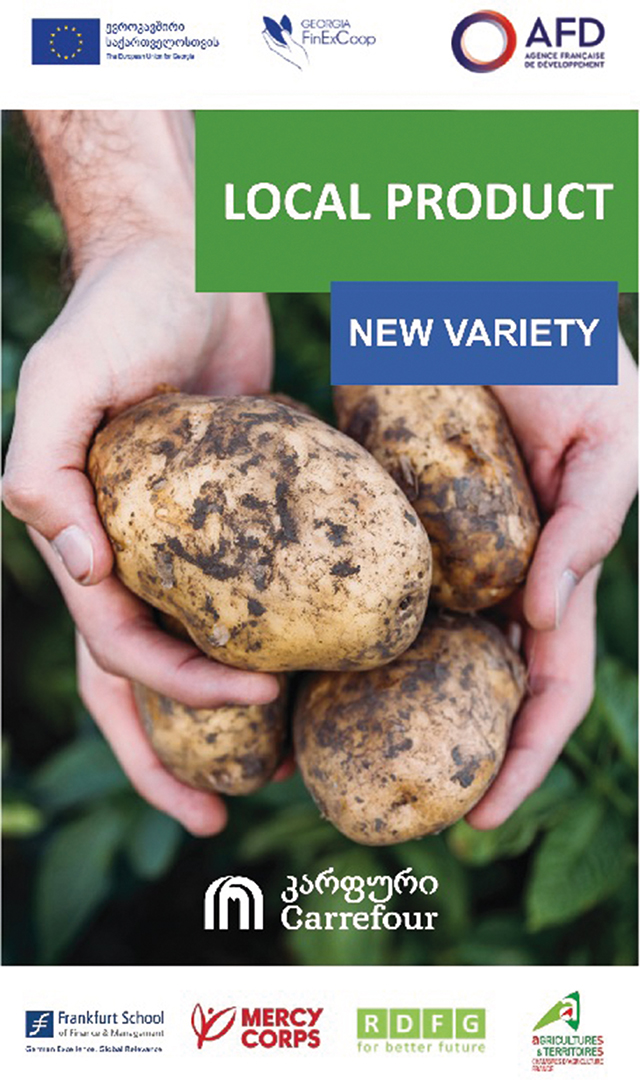 FinExCoop is a technical assistant project that provides support to the farmers, information consultation centers (ICCs) and cooperatives over the past two years. In the potato sector, the project works with seven individual partner pilots and one cooperative pilot in the following four municipalities: Tslaka, Akhalkalaki, Akhaltsikhe and Adigeni to promote better access to equipment, finance and to the market. One of the main objectives of the project is to increase demand and sales for locally produced high quality potatoes.
These municipalities were chosen as they are geographically best suited locations to produce potatoes.
One of the main purposes of this project is to connect farmers to new markets, and this is achieved by introducing customers to new varieties of potato. The international marketing expert and local team developed relations with leading players in the market, such as Carrefour and Entre, to promote better quality and taste.
Jerome Akel, Country Manager of Carrefour in Georgia, said: "We are delighted to host the Potato Festival and invite our long-standing local suppliers to participate. This event not only creates greater exposure and support for the farmers we collaborate with, but it also offers our customers the opportunity to interact with them and find out more about how their fresh produce is sourced. As we continue to support the growth and prosperity of our communities by partnering with local farmers, we look forward to introducing our customers to the hardworking people behind the freshly sourced produce."
Carrefour's ongoing efforts to support the growth and prosperity of communities they are part of is reflected through its contribution to the Georgian economy. It was named one of the ten largest investors in Georgia, due to the rapid physical and digital services that it offered its shoppers, making purchase easy no matter the location. Additionally, Carrefour has also created employment opportunities for the local citizens, supported local producers and suppliers, and conducted a variety of charitable and environmental initiatives.
According to Geostat, the contribution of foreign investors, such as Majid Al Futtaim, has become vital to the development and progress of the country's economy.
Carrefour's name is among the country's largest investors and this is largely due to the brand's impressive contribution to the development of the Georgian economy and modern trade. Since its establishment, the brand has brought a completely new, unbeatable trading experience to the country.
Carrefour continues to actively support Georgian farmers and provide customers with fresh, and healthy local products daily and directly from the farms.