It was 2011 when several new forms of transport first appeared in Upper Svaneti (in my experience), which I remember clearly. They no doubt had realized that the newly renovated road, President Saakashvili's doing, in cement and tarmac, was changing everything. The mafia had been "made an offer they couldn't refuse" too, making things much safer for foreign tourists.
Full-size buses, marked taxis, motorcycles and bicycles all began braving the journey in that year. Eventually, they would be followed by other more exotic vehicles, mostly for rent in Mestia: 4×4 quads, electric bikes, and at least one Segway. The typical form of tourism, coming in singly or in small groups only by set-route van-bus from Tbilisi or elsewhere, also changed. People were even making the journey on foot: some sticking to the road, but more and more trying the trails between villages which cars cannot take. The Transcaucasian Trail organization started renovating these trails and adding more, making themselves our heroes. Private vans brought whole loads of 15 or 16 people to trek, starting at Chuberi or Nakra and going via us to Mazeri, Mestia and Ushguli.
But yesterday… a new first arrived on our doorstep. Jurgen from Germany had been our guest some 5 years ago; now he was back, newly married, with his wife in tandem. Literally, on a tandem bike.

This dream machine, expensively handmade to order by a specialist on Lake Constance, folds in half. It has a multi-gear system, panniers, lights, everything necessary, and a weight of only about 24 kg. The couple flew with it into Georgia and are near the end of a three-week journey around the country, having a fantastic time. They did add pepper spray after a rather scary incident of being chased by a pack of six angry dogs, but have also had other dogs trot alongside them purely for companionship.
I checked: tandem bike patents date from the mid-1880s, a venerable age. The name refers to an arrangement of riders in a straight line, one in front of the other, never side by side, which is a different category. The world record tandem bike has 8 cyclists, and was built a few decades ago in Philadelphia, USA.
Other forms of locomotion which have come our way, though rarely, include people on horseback and skis. As of yet, no one has come through by unicycle, tricycle (pedaled or powered), motorcycle WITH sidecar, camel, ostrich, elephant, balloon, microlight plane, helicopter, dogsled, skidoo, roller skates, inline skates, skateboard, moped, canoe, kayak, other boat, or toboggan. Trendsetters, your moment awaits!
I must close with a strange tandem connection, lyrics from the song "Daisy Bell" written by Henry Dacre of Britain in 1892:
Daisy, Daisy, given me answer, do
I'm half crazy all for the love of you
It won't be a stylish marriage
I can't afford a carriage
But you'd look sweet, upon the seat
Of a bicycle built for two!
This song has the distinction of having been the first one ever sung by computer-voice, by the IBM 704 in 1961. And it was creepily made the dying murderous computer HAL's last words as it was unplugged in the Stanley Kubrick-directed science fiction film "2001: A Space Odyssey", from the story by Arthur C. Clarke. 2001 was nominated for a number of Academy Awards, including Best Director, and won for Best Special Visual Effects, later being recognized as one of the most influential films ever, a rare distinction for a sci-fi film. So, from the moons of far-flung Jupiter to the high roads of Upper Svaneti, the tandem bicycle appears to rule.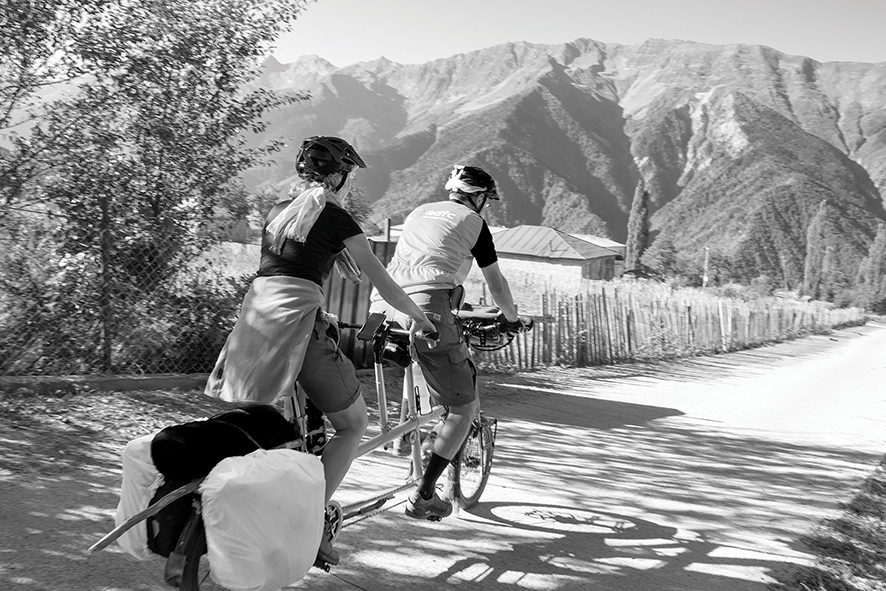 Tony Hanmer has lived in Georgia since 1999, in Svaneti since 2007, and been a weekly writer and photographer for GT since early 2011. He runs the "Svaneti Renaissance" Facebook group, now with over 2000 members, at www.facebook.com/groups/SvanetiRenaissance/
He and his wife also run their own guest house in Etseri: http://www.facebook.com/hanmer.house.svaneti
Blog by Tony Hanmer