As the pandemic runs its course and communities pull together to help one another, the action and conduct of businesses have also moved further into the spotlight as consumers look to brands to play their part.
Over the last few months, we have witnessed corporate citizenship in action. Organizations have responded swiftly to exceptional circumstances, adapted ably, and taken several leaps forward to become even more sustainable. They have accomplished all of this while giving back and contributing to the lives of the people they serve. This calls attention to the importance of corporate citizenship, and emphasizes the positive role brands can play in shaping their communities.
Carrefour, operated by Majid Al Futtaim in Georgia, is one example of a brand that is very active when it comes to Sustainability and Corporate Citizenship. Since its establishment in the country, not only has it introduced local customers to high-quality and best service through customer experience, but it has also prioritized its sustainability agenda.
Carrefour prides itself on its commitment to bettering the lives of its surrounding communities, and is guided by its desire to operate in an environmentally and socially-responsible manner. Its various sustainable projects have been successful in raising understanding around environmental protection and have also supported the socially vulnerable.
Focusing on sustainability, Carrefour has been at the forefront of championing reduced plastic-use through educational campaigns, community volunteering activities, and incentive programs.
The company's sustainability journey continues intensively. Most recently, in relation to Easter, Carrefour decided to once again bring happiness to people and congratulate them on this special date. 'the holiday saw the Carrefour Georgia team distributing traditional Easter cakes to doctors, nurses, firefighters, police and the general Georgian population using a Carrefour-branded open bus. It provided a pleasant surprise to all- recipients and passersby, and guaranteed a day to remember.

Showcasing Carrefour's commitment to the communities it serves, especially during the global crisis, has become especially important, as it gifted one pleasant day to citizens currently living under continuous stress and tried to bring joy and bright colors into the gloomy reality.
Following the Easter Holiday was Victory Day, celebrated on May 9, and seeing Georgia celebrating the World War II Victory Day with the global community which commemorates the surrender of Nazi Germany in 1945. On the day, Carrefour Georgia team, together with the Governor of the Shida Kartli region in eastern Georgia, Mamuka Sagareishvili, and mayors of Kaspi and Gori, visited war veterans living in the Shida Kartli and congratulated them on this important and historic occasion by handing over special gifts. With the support of Carrefour Georgia and the organization of the Shida Kartli Regional Administration, gift baskets were handed over to all World War II veterans living in the region.
Through this move, the company once again showed veterans that their great contribution and dedication to their homeland, its freedom and well-being, is well appreciated by their fellow citizens. In this way, Carrefour also set an example to other business representatives that people should never forget their heroes and should always respect and take care of them.
"For Carrefour, spending May 9 with World War II veterans has already become a sort of tradition. Every year, we greet veterans living in Tbilisi or different regions and congratulate them on Victory Day. This is the least we can do to make these heroes feel that we remember their devotion," said Nino Ramishvili, Head of PR and Communications of Carrefour Georgia.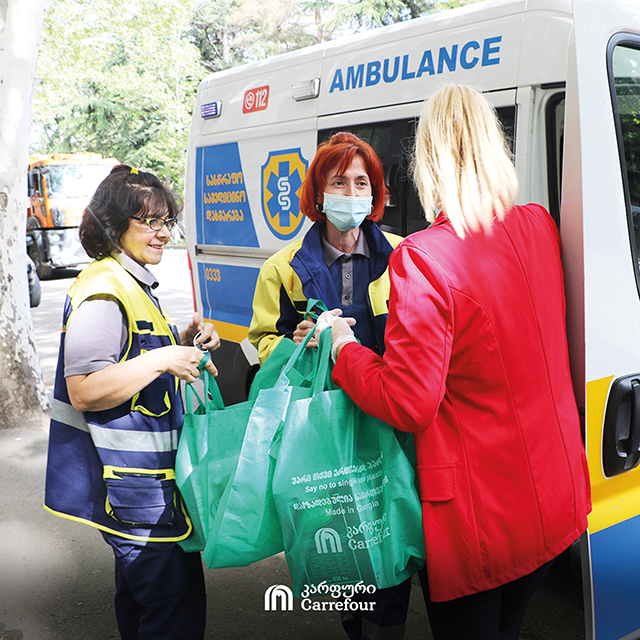 Yet another important action implemented by Carrefour, together with UNDP, was the recent gifting of reusable bags to customers at Carrefour Hypermarkets to promote environmental protection.
The above initiative was part of the UNDP-GEF Kura II Project: which is addressing priority needs in the ministerially endorsed Strategic Action Plan (SAP) through implementation of the SAP and national Integrated Water Resources Management Plans to strengthen and harmonize coordinated conjunctive transboundary ground and surface water management.
"Reduce plastic waste to save the environment, a single use plastic bag substitution means a world with less plastic pollution. Free the rivers from plastic waste to have better quality water because WATER IS LIFE! #SaveEnvironment #SaveWater #EveryDropMatters," – this is the main slogan of the project.
Notably, Carrefour Georgia was the first to introduce the locally produced reusable bag – MADE IN GEORGIA. Later, it also launched reusable bags with wheels as part of its Honor Nature campaign.

"Honor Nature. Purchase a bag and get infinite benefits," was the main motto of the campaign.
The campaign aimed to minimize plastic usage throughout Carrefour stores by increasing sales of Foldable Wheeled Bags and F&V eco-friendly bags, while continuing to raise awareness on how detrimental plastic bags are to the environment. It was another notable move by a brand which has already replaced single use plastic bags in its chains with compostable ones.
Launched in April 2018, the Honor Nature was a campaign to educate Carrefour customers on the environmental harm of plastic bags and the advantages of using reusable bags. Since the launch, sales of Carrefour reusable bags have increased by 120%. As an added incentive, Carrefour rewarded all customers who chose to use a reusable bag. During the campaign. more than one and a half million customers were offered rewards. The launch of these campaigns in Carrefour stores have since marked an 80% reduction in the use of single-use bags.
The French brand actively continues its sustainability journey in Georgia, just as in each other country it operates. As a company known for its particularly high social responsibility, constantly underlining its commitment to the people and communities it serves, Carrefour does not intend to stop, and is expected to continue its environmental and social activities in the future along with partner organizations, bringing more benefits and opportunities to society.
By Ana Dumbadze