Two GEORGIA TODAY editors – former and current – got together last weekend to pay respects to an ancient Georgian festival and to recharge our batteries in the sunny Kakhetian countryside. Our trip by minibus, alongside other local and non-native tourists, took around an hour out of Tbilisi. Didi Chailuri is a typical Georgian village, one that grew along the slope of a rolling hill near Sagarejo, centered around a small church and stretching down into the valley and toward the ruins of a castle beside the highway.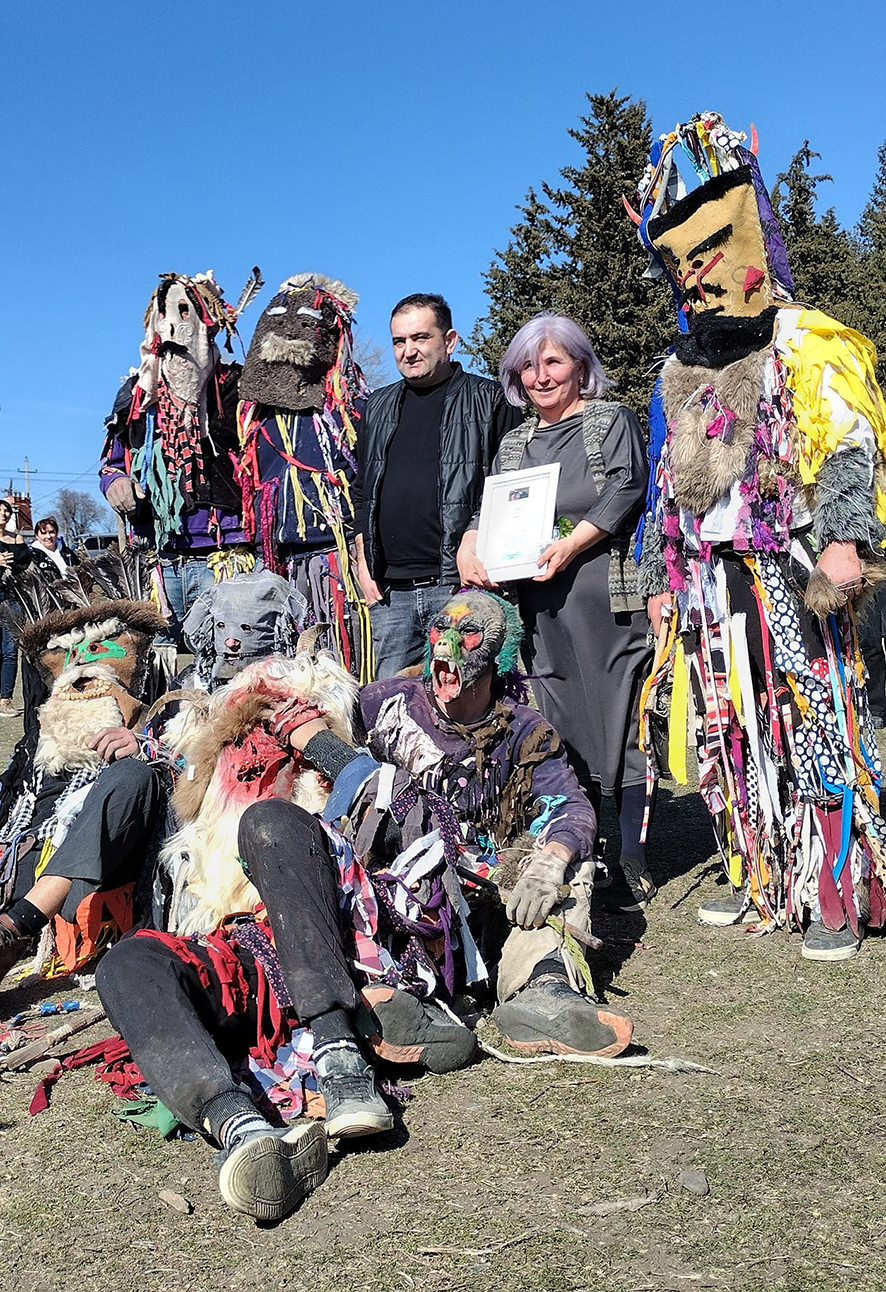 And it was from that small church that the Berikaoba madness began when, after a brief moment to pray, around 10 young men leapt out into the road, dressed in the best and most colorful examples of upcycling I've yet to see in Georgia- old clothing cut into strips and sewn onto multiple layers of trousers, jeans and jumpers; masks made of old carpet, pillow covers and t-shirts, all adorned with feathers, sheep hide, and pumpkin seeds. Their aim: To scare and delight us. In their hands they carried rope whips, which they smacked into the dry earth of the lane to keep us back as they danced down the street, jumping noisily and energetically into puddles, splashing us and smearing mud on our faces and hands at any cheeky move we made beyond the space set for us. By space, I mean at the back of the frolicking group, with the other journalists and tourists, giving space for the Berikas to do their high-spirited work for the village families: Pouncing, chattering in high-pitched voices, into peoples' yards, jumping and growling and smearing them with mud, only leaving when appeased by traditional gifts of churchkhela, wine, cheese, eggs or bread. Modernity crept in with stops to pose for a selfie with a Berika, or for the journalists to record a special moment of playfulness.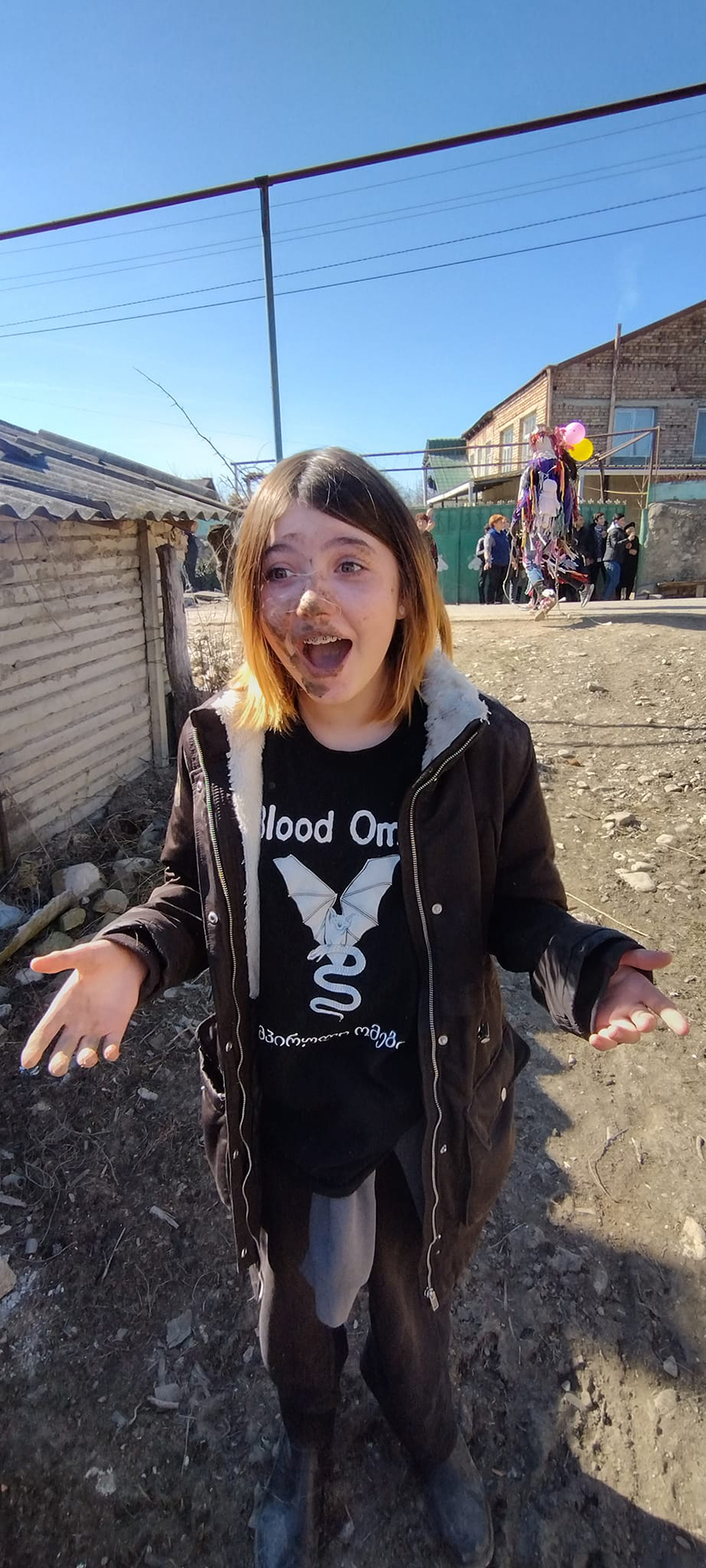 Berikaoba is a traditional public holiday that originated in pagan Georgia. Unfortunately, Georgian history books have very little information about the tradition, or precisely when it started, and some suppose it is over 2000 years old. Initially, it was a fertility ritual and the Berika costumes incorporated hanging phallic forms. However, the theme, costumes, customs, and procession have changed over time, today being much more playful and family-friendly.

"In the modern day, Berikaoba became an agricultural holiday connected with and celebrating the arrival of spring. In Didi Chailuri, Berikaoba is held on the last day of the Cheesefare Week," says Eka Chikadze-Veshapidze, a resident of Didi Chailuri, history teacher, and the main organizer of Berikaoba. She notes that, back in the day, it was celebrated all over the country, yet only around five villages keep the tradition today.
"The reason we keep Berikaoba alive in Didi Chailuri is probably our attachment to the Georgian identity. I'm a historian by profession, and I value the history and the path Georgians have taken to get where we are today. I want the next generation to walk firmly in the footsteps of their ancestors," Eka explains, adding that she feels responsible for maintaining this non-material cultural heritage.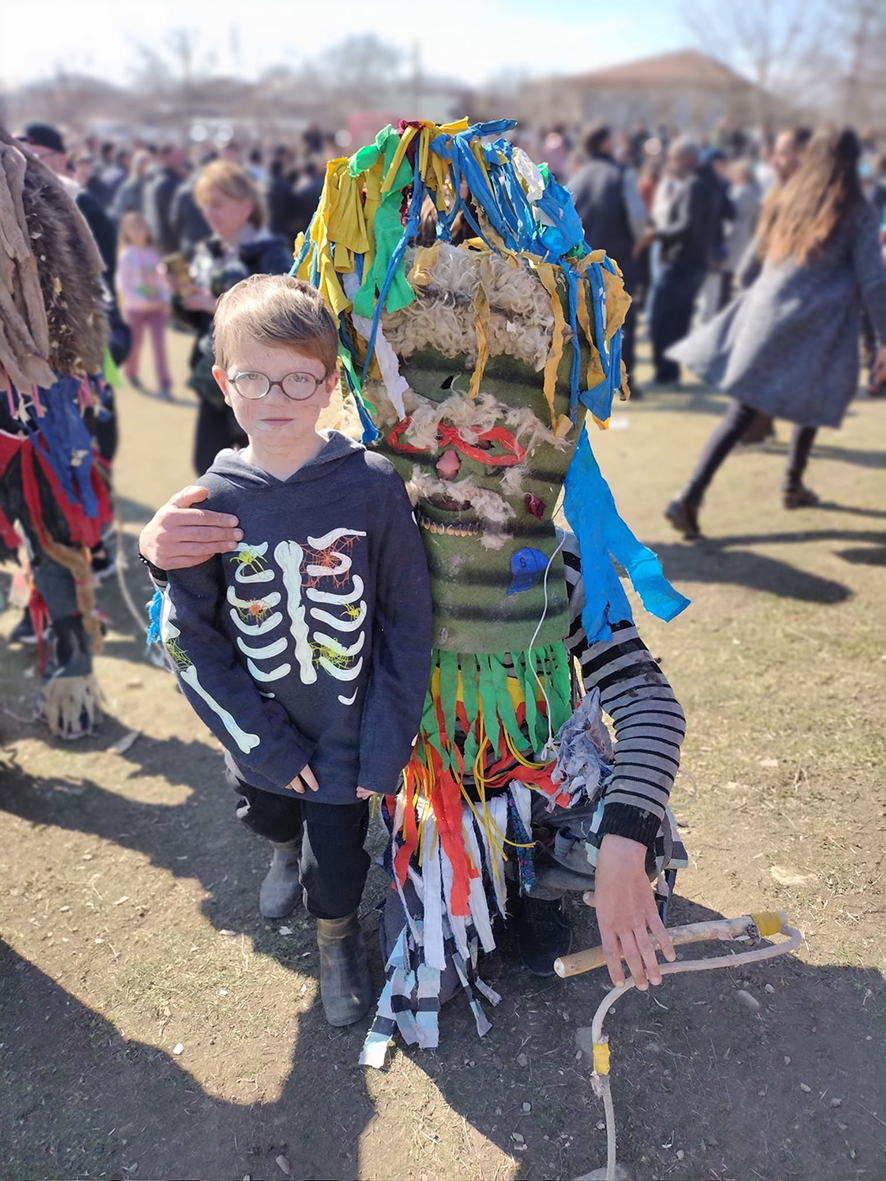 And alive it was, as, sneaking ahead of the Berikas, we entered the village sports field, where a saw-dust strewn circle had been prepared, with benches around it, for the soon-to-ensue wrestling event. Boys, teens, and men of various age and girth were roughly matched according to weight, to battle it out to the accompaniment of traditional Georgian instruments, until one of the pair was thrown to the ground, the champion making way for the next two fighters. Across from the game area, a bare tree-trunk had been stood upright, a horizontal wooden beam placed atop it, at each end of which a swing of rope and wood hung. For the following three hours, the two seats were never empty – delighting children and adults alike.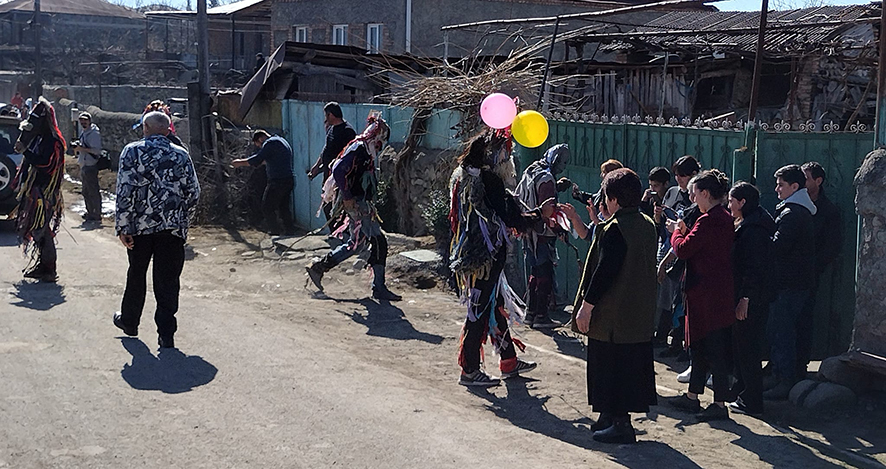 The guests were also treated to free local wine, cheese, nuts, grapes and a special local version of Kada (a more savory version than that served in Tbilisi), which Eka had pre-made the dough for. Guests were able to form the Kada and place their rounds into traditional clay dishes (ketsi) to cook next to the hot embers.
A few meters away, another pile of embers was used to barbecue locally-sourced meat. Guests could also have a go at making Churckhela (Georgian snickers) in a huge metal pot – the nuts were already threaded, and all guests had to do was dip them into the thick grape juice (Tatara), which had to be constantly stirred by alternating villagers to prevent it from sticking to the bottom of the pot and burning.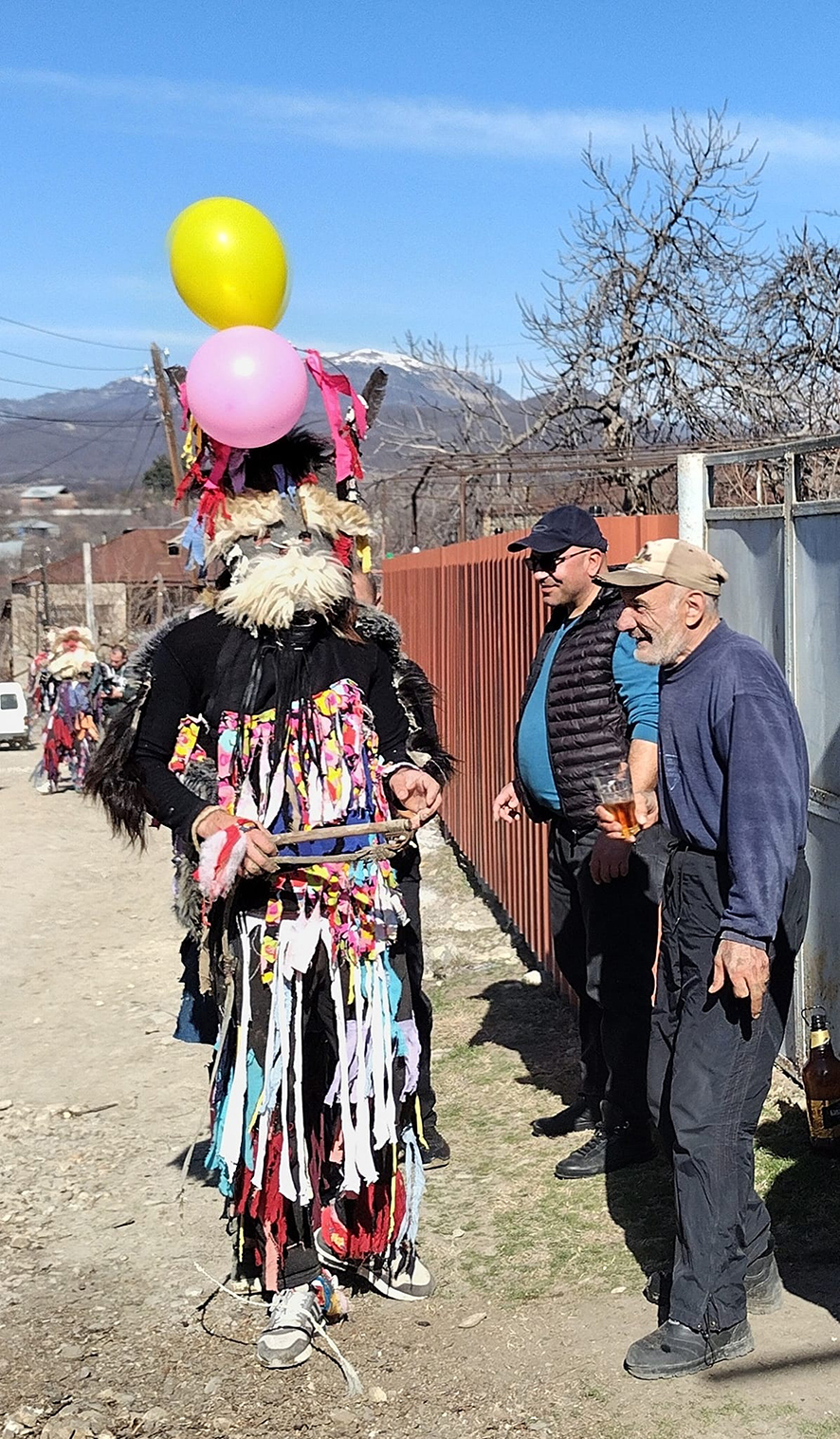 Whatever is happening in the outside world, Didi Chailuri always organizes the annual Berikaoba festival. Originally, it only involved the local community, and because of this, over time, the participants' motivation began to decrease.
"I saw how sad Berikas would leave the wrestling field, so I decided to do something to support them," Eka tells us. One idea she had was to introduce a gastronomy festival element, and with her students set up stands and tables for guests to try red and white local wine, bake Kada, and make Churchkhela.
One of her assistants this year is her student Lekso Malasidze. As Eka describes him, Lekso is hugely in love with his village, and without him, she wouldn't have been able to accomplish so much. She also gets help from her former and current students and the eco-club she runs, who took it upon themselves to clear up after this year's event.

The festival doesn't get any funding, and, as Eka explains, donations from the residents cover the expenses. For example, the municipal residents this year pulled together to buy a sheep as an award for the winning wrestler. On Sunday, with double the number of tourists and journalists than last year, they were able to collect more in donations than usual, which will be put back into next year's event. Among the ideas Eka has looking ahead are to invite Kakhetian craftspeople to display and sell their works.
"And, after seeing this much interest, we're thinking of recreating historical stories, in which the money collected by donations this year will help us to sew better masks for next year," she says.
At the peak of the festival, Eka was awarded a Diploma of Honorary Citizen by the grateful residents of Didi Chailuri for the services and exceptional contribution she is making to her village. That gratitude was clearly seen also in the shining eyes of the people who attended, leaving sun-kissed and proud to have been a part of such a positive and community-driven Georgian tradition.
By Katie Ruth Davies and Baia Dzagnidze