During the festive season, each of us wants an inspiring place to shop, a place where one can find all the necessary items for home and gifts, and have fun in a cozy environment.
Very much worth checking out in Tbilisi is Bazari Orbeliani, an innovative and unique facility that completely changes the customer experience. Unlike a traditional grocery store or supermarket, it's a perfect place for having a good time any day of the week, either alone or with friends and family, where together you'll discover a plethora of unique and high quality products.
There are many markets in Tbilisi, but, due to sanitary norms, customers are often reluctant to go. The Bazari Orbeliani company thus decided to arrange a new space with well-arranged infrastructure, a modern design and the highest observance of sanitary norms, where both locals and foreign tourists can buy agricultural products and taste Georgian cuisine from different regions.
Implemented by the company Mercado, and with its unique concept and characteristics, Bazari Orbeliani is a special place in Georgia and the region as a whole. The company notes that the project is the first of its kind in the region and that it was fully implemented with Georgian investment.
This is a space whose concept is to revive a bazaar that has existed on the spot since 1886, in the historical part of the capital, giving it a modern and cozy environment.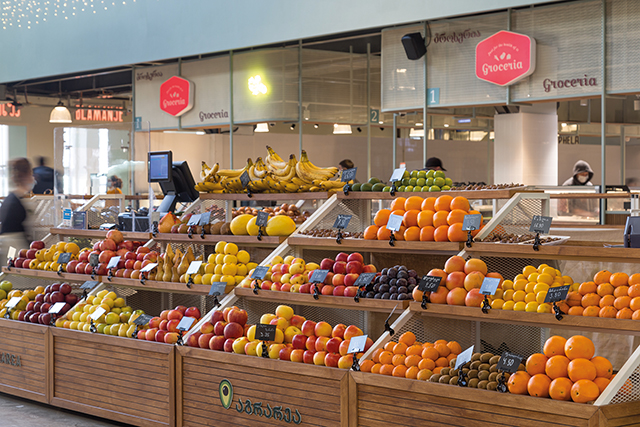 Bazari Orbeliani combines 35 modern food facilities and a food hall with various restaurants – both Georgian and offering other magnificent cuisines from all over the world.
The market started operating this autumn, and aims to support local entrepreneurs.
The project planned to create a modern agrarian market on the first floor and 35 different food facilities  on the second floor. Such a format allowed farmers and representatives of small and medium businesses from different regions of Georgia to personally present and sell their grown and produced products.
Furthermore, the visitors of the facility have an opportunity to see various production demonstrated at the venue, such as ceramics, making of traditional Georgian candy churchkhela and more, which makes the facility an even more attractive and exciting place for visitors.
All this allows the market to fully present and popularize Georgian culture, agriculture, cuisine and other important fields in one space, under one roof. This is also an important comfort for customers, who can buy all the necessary items for their homes in one space, quickly and conveniently.
The project plays an important part in supporting the local economy, as it directly employs hundreds of small entrepreneurs, farmers, cooks and those from many other professions, and indirectly employs hundreds of people from around the capital and in the countryside / regions.
As demand gradually increases, entrepreneurs and farmers are going to be able to expand their existing production.
In terms of tourism, the area represents a unique attraction for both locals and foreign visitors, where they can discover exciting Georgian food culture and traditions. By opening Bazari Orbeliani, a new landmark that has no similarity in the region was added to the city. Similar projects have long been successful in cities around the world: New York, Madrid, Barcelona, Florence, Rome, Budapest, London, Lisbon, Tokyo, Tel Aviv and many others, successfully operating and presenting the city; and now, Tbilisi also boasts such a space with a diverse concept.
The company that implemented the project is proud that such an important project for the region was implemented during the pandemic.
"This concept is well-proven in international markets, and in the process of creating 'Bazari Orbeliani,' we shared the experience and knowledge of developed countries," note the company representatives.

The management team of the facility is constantly focused on development and novelties, offering customers ever more innovative products and services. In future, there are plans to open a Bazari gastronomic school in the venue, equipped with the latest equipment, a platform for masterclasses that will interest both Georgians and tourists. Together with famous chefs, it will be possible for visitors to cook both Georgian and foreign dishes and have an unforgettable time with friends, colleagues or children.
It is also planned to open a cheese enterprise where cheese production will take place.
Every day, more and more renowned chefs, café-restaurants, and entrepreneurs are joining the market, making it even more diverse.
Most importantly, Bazari Orbeliani is big space, covering up to 10 000 sq.m., with a large terrace covering 2000 sq.m., and beautiful city views.
If you're looking for the perfect place to shop during the winter holidays or throughout the year, do not hesitate to visit Bazari Orbeliani!
Working hours:
I floor: 09:00 – 21:00
II floor: 10:00 – 23:00 (On weekends 10:00 – 24:00)
By Ana Dumbadze