Armenian Prime Minister Nikol Pashinyan announced on Sunday that he will resign next month ahead of the snap parliamentary elections scheduled for June 20, as part of an effort to curb the political crisis  in the country.
"I will resign in April, not to leave, but because of the early parliamentary elections," he said.
To ease the political crisis, Pashinyan called early parliamentary elections for the country on March 18.
Political unrest erupted in Armenia after the PM in November signed a Russian-brokered ceasefire agreement with Azerbaijan, ending six weeks of fighting for control over the disputed Nagorno-Karabakh region.
The opposition and most of the population believe Pashinyan "betrayed" the country by signing the above-mentioned agreement, while the PM himself claims there was no other solution at that time and it cannot be considered as a defeat for Armenia.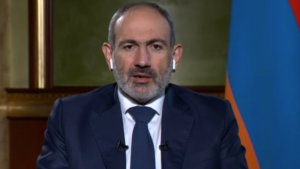 The political coalition formed by the Armenian opposition parties has been demanding the resignation of Nikol Pashinyan since November 10, after the end of the war in Karabakh, which led to periodic protests in Yerevan.
By Ana Dumbadze