Another protest rally of the media and civil society will be held in front of  Parliament today in connection with the death of TV Pirveli cameraman Lekso Lashkarava.
The deadline for the ultimatum given to the government by the protesters expires today at 12:00. They are demanding the resignation of the Prime Minister and are waiting for the government's decision before 12:00.
Yesterday's protest rally organized by the Shame Movement and media organizations in front of the Parliament lasted for several hours. Up to 10,000 people attended the rally.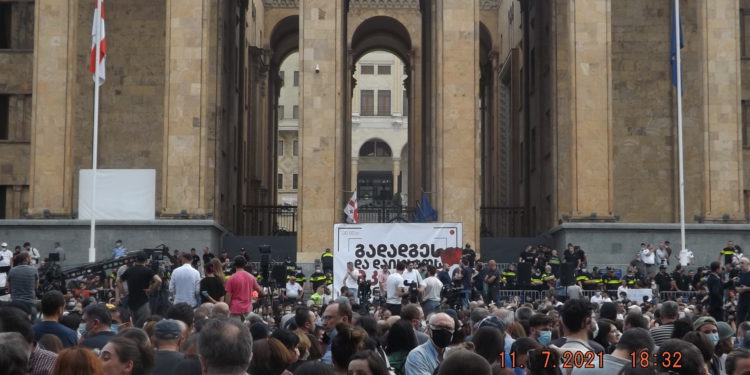 Protesters claim that they will not stop until the Prime Minister and the Minister of Internal Affairs take political responsibility for the death of the TV Pirveli cameraman.
The organizer of the rally, the Shame Movement, states:
"Lekso Lashkarava, a cameraman for TV Pirveli, who was brutally beaten by Putinist groups during an attack on Tbilisi Pride office on July 5, has died.
1. We demand the immediate resignation of Irakli Garibashvili's government;
2. We demand an investigation by independent experts;
3. We demand the arrest of all the perpetrators and the strict punishment of those who attacked Lekso, and holding the organizers of the violent rally accountable!"
Lekso Lashkarava, who was beaten by opponents of Tbilisi Pride on July 5 while performing his duties, has passed away.
The investigation is underway under article 115 of the Criminal Code of Georgia.
A relevant forensic medical examination has been conducted, the results of which are unknown yet.
By Ana Dumbadze
Related Story: Rally 'Murderous Gov't must Resign' to be Held in front of Parliament Today